Dan Wheldon, 1978-2011
October 17, 2011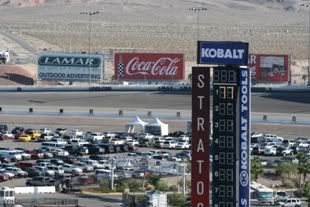 Dan Wheldon, 1978-2011
Under normal circumstances, I try to keep my blog postings in chronological order, as events happen, I try to document them as quickly as I am able. This week, even though Kathy and I have been in Las Vegas for five days, I was just too busy to keep up and have not posted anything. After the tragic event that we witnessed yesterday, I feel that I have to respond immediately, the rest just doesn't seem as significant at the moment. The tragic loss of Indy Car driver Dan Wheldon during yesterday's race at the Las Vegas Motor Speedway hit us hard and I feel it imperative to try and express our feelings immediately.
Dan with Kathy at St. Pete
Morning warm up
I first want to express my deepest sympathies to the family and friends of Dan Wheldon, his team, fans and the entire Indy Car community which today has to deal with the loss of a good friend, great man and a legendary driver. In forty plus years of attending Indy Car races, I have sadly witnessed or been at the track for a number of tragedies. I remember being at the Indianapolis Motor Speedway as a child on the day Art Pollard was killed and on too many similar days since then. They have each been horrible tragedies, but somehow this loss affected me on a much deeper level.
Wheldon (left) pulls away for his final time.
It could be that we had just seen a vibrant, happy Wheldon the previous day at the Indy Car fan fest, where he spent the day mingling with fans and really seemed on top of the world. He apparently had agreed to a deal to replace Danica Patrick next season at Andretti Autosports after only competing in a few races this year. He was also excited about the prospect of winning the five million dollar challenge, which he would win if he won the race here after starting last.
At Fan fest on Saturday
As always he seemed happy and enjoyed interacting with fans in a way that very few professional athletes do. He did a question and answer session on stage with championship contenders Dario Franchitti and Will Power and displayed the quick wit, humor and gift of gab that would have guaranteed him a long career in the announcers booth at the end of his racing career. I feel fortunate to have witnessed the two highest points of his career, his Indy 500 wins in 2005 and the amazing win earlier this year. He was one of the greatest drivers in Indy history and was a fantastic Indy Car champion.
2011 Indy 500
Yesterday, the day seemed so promising, it was a spectacularly beautiful day and the race started off well enough. The track is tragically not really suited to the incredibly close and fast racing and with thirty fours cars all bunched up together, it was evident right away that any incident would involve a huge pile-up and that is exactly what happened on lap twelve. It was easily the worst Indy Car crash that I have ever seen and probably the worst one ever. It was devastating and it became clear almost right away that something serious was wrong and after a two hour red flag delay, our worst fears were confirmed. The impromptu five lap memorial that the remaining drivers, most of whom were visibly shaken and stricken with grief, was remarkable and certainly was a small catharsis for the stunned and saddened crowd. It was a tough, tough day at the track.
Drivers three wide tribute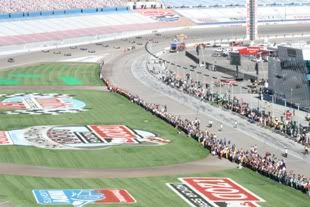 Teams tribute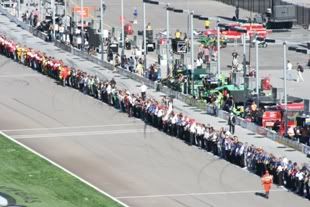 On the brutal and sad shuttle ride back to the hotel from the track, I realized that I had captured a remarkable series of photographs of the terrible crash, yet I really have a dilemma about sharing any of them. I know that there are some readily available via media outlets, but it seems ghoulish to share such a tragedy in such vivid detail. I have opted to post a single image, which captures the carnage, yet is not as graphic as some that I sadly captured. I certainly mean no offense to those who were close to Dan, personally I will always choose to recall the way that he lived, rather than how he passed, which is why I have also embedded a video of the final few laps of his most improbable and cherished win at this year's Indy 500. That is how I will always remember Dan Wheldon.
Fatal Crash
Indy 500 Finish 2011