Earth Day and more....
April 17, 2007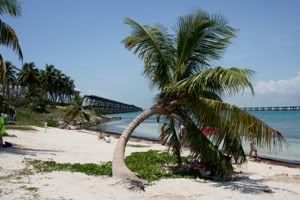 Bahia Honda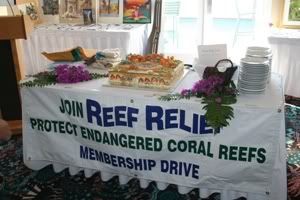 Reef Relief turns 20!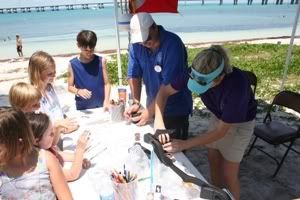 Jacqueline at Earth Day
Earth Day and more…
This year marks the 37th year that Earth Day has been celebrated in the US, while certainly not as popular as it once was, Earth Day is still recognized with a few celebrations held during the month of April each year (Earth Day is April 22). In the past, working for a conservation organization made Earth Day a big deal as each year, we would select various events to attend and help spread the word about the dire need for more conservation. This year, having no official reason to attend, I couldn't keep away from the annual Earth Day celebration at Bahia Honda State Park.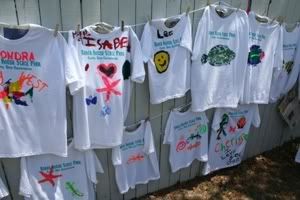 Earth Day
It's a great little annual event organized by Monet Markey and the rangers who invite the various environmental and conservation groups to set up activities and displays which promote environmental awareness. It was a perfect, beautiful day and there was a huge crowd in attendance. Sadly, I did not see a booth from Reef Relief there, I guess they were too busy preparing for their big meeting, held this year to celebrate 20 years of Coral Reef conservation at the top of the La Concha Hotel on Tuesday evening.
Joel, DeeVon & Key West Mayor McPherson
Alex & Laurie Pacheco with Peter Anderson
I volunteered to work at the meeting, checking people in as they arrived. It gave me a chance to see all my old friends and cronies from the 15 years I spent working with Reef Relief. It was great to see old friends like Paul & Tina Johnson, down from Tallahassee and Alex & Laurie Pacheco from Pompano Beach. Alex was the co-founder of the famous animal-rights organization PETA and I have included a link below to his current project All American Animals. The meeting was a bittersweet recollection of the past 20 years that Reef Relief has spent battling to save the coral reef. DeeVon surprised Joel Biddle & me with awards for our long service to the cause. It was a nice surprise.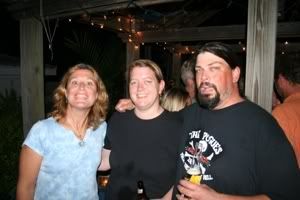 Kathy, Nancy & Mark
Haven & Elena
The remainder of the week was high-lighted by a couple of great parties. The first held at the home of our friends Nancy & Mark was organized to welcome back Haven & Elena, who have been gone for the past couple of years studying and cavorting about Europe. Their choice to return to Key West was certainly worth celebrating, we seem to go to plenty of "good-bye" parties and not nearly enough "welcome back" celebrations.
Carrie
The Mexican Day of the Dead celebration is traditionally held the last weekend of October and each year our friend Lori Kelly has a party to honor the tradition, for some reason the party had to be postponed this past year and she finally got around to hosting it this past weekend. It was worth the wait as much of the Key West arts community arrived to the artist studios on Stock Island for the party. Kathy & I honored those close to us who were lost in the past few years, Mary Kilroy, Bill Blades & Paul Schunke.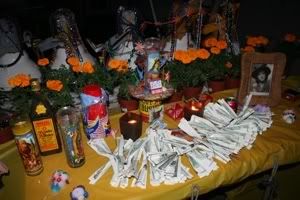 Day of Dead alter
http://conchrepublic.com/
http://stepitup2007.org/
http://www.allamericananimals.com/
http://www.reefrelief.org