Guster, Edward Sharpe & the Magnetic Zeros & Folks Fest
August 14, 2010
Guster
Bruce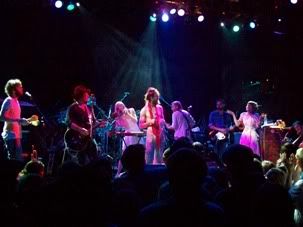 Edward Sharpe & The Magnetic Zeros
Guster, Edward Sharpe & the Magnetic Zeros & Folks Fest
One of the main reasons for our visit to Colorado at least at this time, is to attend the Rocky Mountain Folks Fest music festival in Lyons. This year marks the fifth out of the last six years that we have made the trek to Folks Fest, missing last year after the somewhat scarring experience of "Soaks Fest' the rainy, cold and somewhat miserable event two years ago.
Edward Sharpe & the Magnetic Zeros
We were back this year in full force for the entire experience, camping on-site and partaking in all the strange yet fun rituals that make the Folks Fest experience so unique. We had a big camping group of close to a dozen friends including Kathy, Jim & I along with Kerry and her friends Jill & Kathryn, Rick and her sister T & her husband Chuck and their kids Nathan & Ella. With Estes being such a small town and Kerry & Bruce owning such a popular restaurant, they also had all sorts of additional friends and acquaintances around. Kerry's parents Mike & Donna also joined us during the day at the festival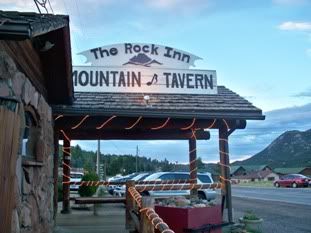 The Rock Inn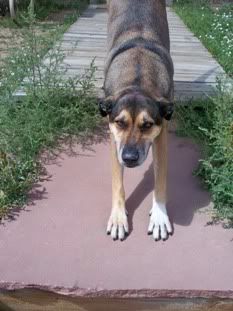 Daisy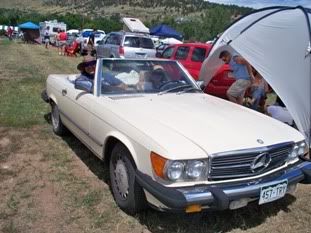 Rick & Kerry
Our first stop was at the Rock Inn where we loaded up our camping gear, ice, beer, wine jagermeister and the like. Unfortunately Bruce had decided that there was too much work going on during the Rock's busy season for him to take the weekend off and he opted out of attending the festival. He did help us load up and sent us on our way to the line-up.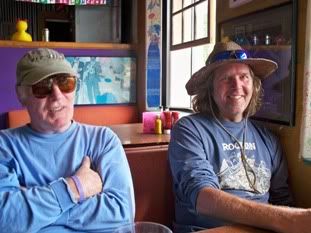 Jim & Rick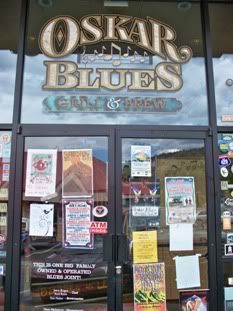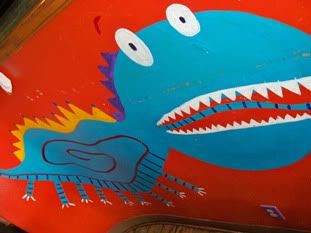 Campers at Folk Fest line up in a nearby park where they are assigned a number and placed in a line that lasts all day Thursday, for us at least. At 5 PM there is a convoy over to the Planet Bluegrass grounds and a mad scramble to secure a camp site. The line itself is somewhat of a party and we started the celebrating there. For lunch we walked over to the nearby Oskar Blues brewery and restaurant for a delicious meal and some of their tasty brew, they brew the likes of Dale's Pale Ale, Old Chub and Mama's Little Pils.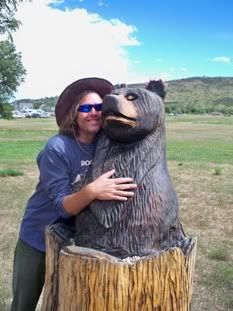 Rick
Edward Sharpe & the Magnetic Zeros
After camp was set up, Kathy & I hustled down to Boulder, about 15 miles away. Kerry loaned us her Mercedes convertible for the drive to the Fox Theatre where we had tickets to even more music, a concert featuring the bands Delta Spirit, Edward Sharpe & the Magnetic Zeros and Guster.
Guster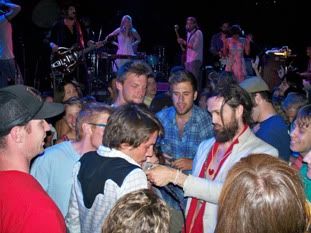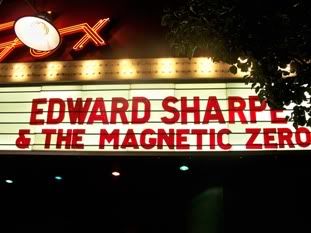 We often try to pack as much in to a vacation as possible and we cut this one a little close having to rush from camp set-up to the Fox, but I really wanted to see Edward Sharpe and Guster is one of our favorite bands. It was well worth the effort as both bands put on terrific shows for a sold-out theatre. The crowd was primed and the energy in the place was electric.
Guster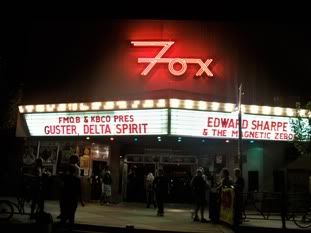 We arrived back at camp well after one AM and were surprised to find Kathy's dad Jim in line with our friends to collect entry lottery numbers for Folks Fest. This is one of the magical, crazy things at Folks Fest is hold a lottery for spaces in line each night between midnight and 4 AM creating a line of hundreds waiting in a well organized party line. It wasn't until 2:30 on Thursday night that they gave out the Friday numbers, allowing us all time to drink Jager and watch the incredible Perseid Meteor shower. Another magical day in Colorado.