Bruce and Farewell to Indiana
June 1, 2006
With the arrival of June, it's time to begin another leg of our journey. We depart today to head to the East Coast after a week in the Hoosier state. We stayed an extra day so that we could go to the Bruce Springsteen concert at the Verizon Wireless Music center last night. The day we spent riding our bikes around the northside of Indianapolis, along the Canal towpath and down the Monon Trail, an old train track coverted to beautiful trail. We stopped to say goodbye to many of our friends here before heading out to the concert.
Hamaker Pharmacy
Dan Wild of D&Z Gifts
Bruce is on tour in support of his new folk album and his 17 piece "Seeger Session Band" was in top form even though this was only the 4th stop of the tour. The show was incredible, 2 1/2 hours of staggering music, mostly from the new album but with totally reworked versions of some of his older songs as well. His new up-beat New Oreans style redition of "Open All Night" was incredible. The show featured a couple of amazing tributes to New Orleans including a fantastic version of the song "City of Ruins". We have had a great time here, having a ton of friends and family here has made our stay wonderful. Thanks to my sister Michele for putting us up and to my mother Marta for opening her home for Kathy's father & brother. Though we still have heavy hearts, we are looking forward to the next chapter in our journey.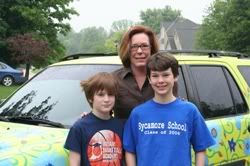 Michele, Chris & Will Noel
Mike & Patience Rizzo
Rusty