Happy Birthday TSKW!
March 9, 2012
Lauren, Jay, Elena & Martha
Happy Birthday TSKW!
Since opening back in 2006, The Studios of Key West has become such an important and integral part of our cultural life here in Key West that it is difficult to recall what it was like before they came in to existence. This week, The Studios celebrated their fifth birthday with a party that Kathy & I attended with great appreciation for the tremendous impact that they have had on our lives and the standard of living here.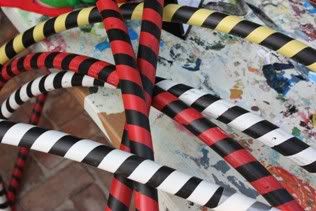 Rosi
TSKW serves as the artistic heart and soul of our island and has grown in to a multi-faceted community that is constantly in a state of change and flux, always finding new ways to enrich the lives of the artistic community and those who love it. It is hard to see a day go by when there is not some activity at the Studios (In fact many days there are multiple events). Home to art openings, concerts, plays, art classes, lectures and just about all manner of artistic expression, the place has been host to some of my favorite Key West moments in the past five years and if you have read this blog before, chances are good that you have read about something happening there.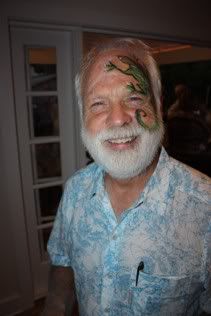 Bill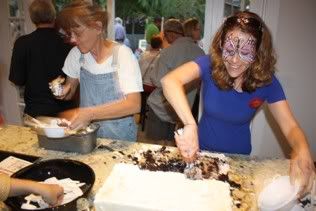 Lauren & Elena
The staff and volunteers, led by the calm guiding hand of Jay Scott (who is sadly stepping down), Elena Devers, Martha Barnes and Lauren McAloon are probably among the hardest working and most dedicated employees of any business in Key West. I don't know how many hours a week they work during season, but it is a staggering number and they always seem to have a smile and positive attitude no matter how exhausted they may be. It is a pleasure to just walk in the place and see them.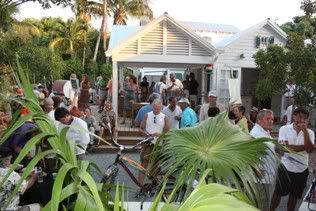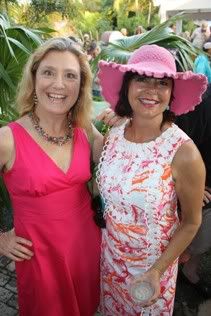 Kathy & Sherry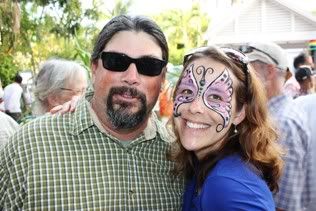 Mark & Elena
The party was a well-attended successful celebration packed with supporters, artists, volunteers and well wishers. A well deserved moment to briefly pause and recognize those who make the Studios possible, the patrons, board, staff, artists and volunteers as well as those who just love the wonderful arts community that TSKW has been responsible for fostering and nurturing. Kudos to everyone involved. Here's hoping for many more happy birthdays to come.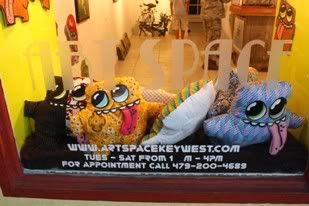 Art Space
In addition to the Studios party, we attended another art gallery opening this week, this one at the hip new gallery Art Space on Truman. The theme of this month's show was "The Conch Show" and it featured art that was created strictly by artists born in Key West or "Conchs" as true locals are called. Featuring the talents of Jorge & Michael Marrero, David Sloan, Ronny Bailey, Cayman Smith-Martin, Sparky Carbonell, Grace Calleja, Garth Holtkamp and Audra Gootee, (and new work from the Key West Mystery Blob) the show was a huge draw and seemingly big success.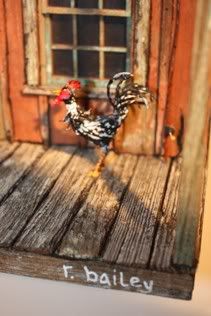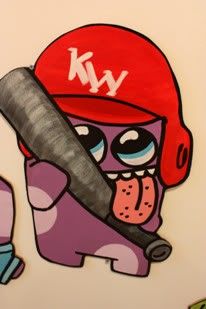 This week also found us wrapping up a great visit from Kathy's Uncle Al & Aunt Kathy as they headed back up to Massachusetts this week. Not before we were able to spend some time hanging out. Taking them out to a nice dinner at Two Cents restaurant and then heading over for some farewell drinks at the Porch the night prior to their departure.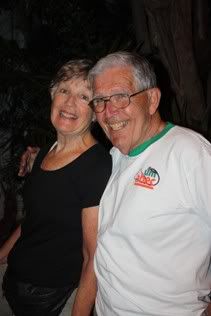 Kathy & Al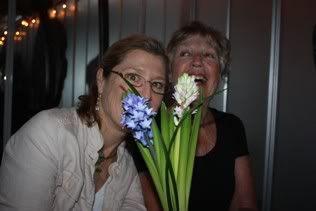 Kathy & Kathy
The week concluded with some more visitors. It actually happens a lot when you live in a tourist destination that you get visitors that you don't even really know. Mutual friends from Indianapolis gave our names to a couple who was visiting and we ended up going down and meeting Ryan & Rachel at the Porch and spending a fantastic evening drinking and catching up on our mutual friends. How we haven't met previously is somewhat beyond me but it was great to get to know them now.
Rachel, Michael & Ryan
Finally, we were back at The Studios of Key West again this week, this time to catch the Friends of the Library lecture series presentation by one of our favorite writers, the lovely and talented Diana Abu-Jaber. We became friendly with Diana & her husband when they were here previously for the Literary Seminar and she was back in town this week speaking on her fantastic latest novel, "The Birds of Paradise". As eloquent and moving a speaker as she is talented as a writer, Diana charmed the crowd as we have seen her do many times before. If you ever get a chance to see her read, go and if not then reading one of her wonderful novels will have to suffice.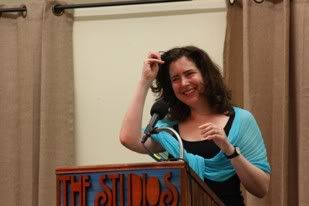 Diana