Fabuloso!
February 16, 2011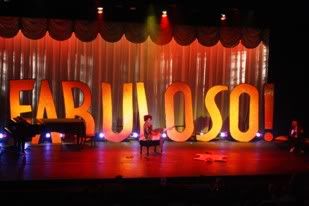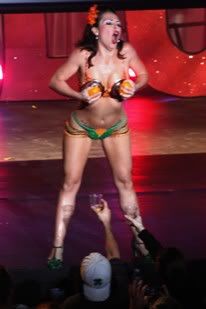 Marci, Chad & Kathy
Fabuloso!
In honor of Valentine's Day, Key West Burlesque & WonderDog Productions hosted a single night only performance of their annual Burlesque Comedy & Variety Carnival at the Tennessee Williams Fine Arts Center on the campus of Florida Keys Community College last week. Kathy & I waited until the last minute to decide to go and we almost missed out because the show was a massive success and was a sell-out with more than 500 seats sold.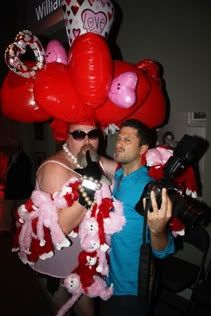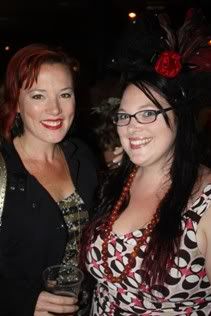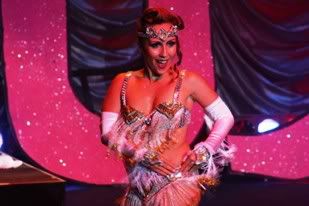 There was no particular reason that we waited so long, we just had other things going on and thought maybe it would be ok to actually miss a performance by the local burlesque troupe. We are so glad that we decided to go, it was yet another in a series of stellar triumphs for Marky P and everyone associated with Key West Burlesque.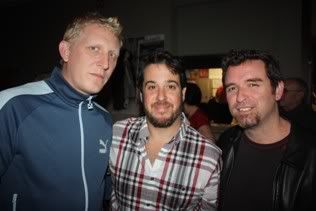 Chris, Michael & David
Liz & Chad
We figured out pretty quickly upon entering the theatre lobby that this was the place to be in Key West as the place with packed with the unique mix of Key West hipsters, TWFAC snowbirds and a who's who of the artsy crowd. It was jam packed and the mood was full of excitement and anticipation.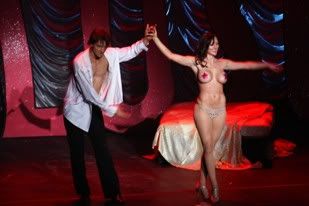 Rock & Pinky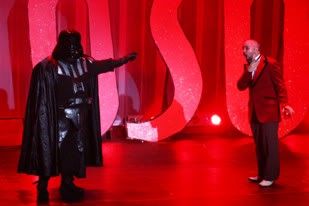 We had not made it to any of the shows in the large main auditorium and when we took our seats, I really wondered if the performers would not be lost on the massive stage with a huge crowd in attendance. We are way more used to seeing the shows in the intimate confines of much, much smaller spaces and I wasn't sure if it would hold the same magic in such a large space. I really had no reason to worry, as from the first opening monologue by the fantastic MC and host Frankie, the show grabbed a hold of the crowd and didn't let go until the last sprinkle of glitter and twirl of a tassel some ninety fantastic minutes of show later.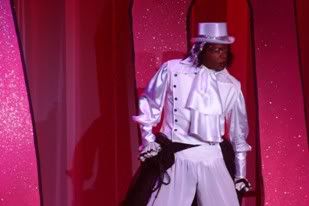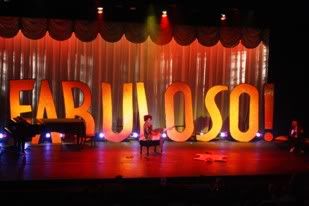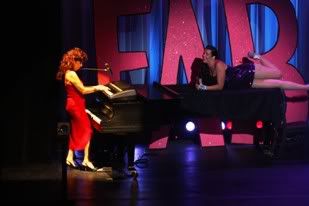 The show featured a mix of old favorites, out of town special guest performers and new faces that meshed incredibly well. The diversity in styles and types of acts was something akin to classic vaudeville and rather than seeming disjointed and separate came across as unique ingredients in one spectacular dish, served up with the sexiness, comedic fun and irreverence that we have come to expect from Key West Burlesque.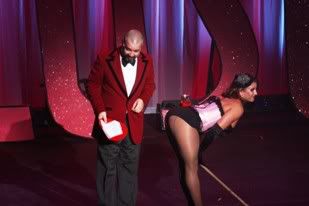 Trying to pick favorites would be impossible as all of the performers were excellent and the show as a whole was wonderful. A number of our friends performed, which is always fun to see. Rock Solomon & Pinky Starlight were awesome as were regulars Rocky Bottom, Moana Amour, Hunny Bunz and Marquee VonPhister. Melody Cooper was superb as well and the incredible Dark N Stormy just about blew the roof off with a sizzling Etta James number.
Now we can't wait until March 10th for the next Key West Burlesque installment, the Soul & Motown Burlesque Cabaret which will be held in the small cabaret theatre at Tennessee Williams. Tix are on-sale now at KeysTix.com and are sure to sell out. If I were you, I would lock them in as soon as you read this- you will not be disappointed.