July 4, 2010
July 4, 2010
Kathy
July 4th Strollin'
Rick
The July 4th weekend was a busy one for us. In addition to the traditional celebration of American independence, we joined our friend Alison to help her celebrate her 50th birthday and participated in two very different events that involved walking, a 5K walk/run at 7 AM on July 4th and the 2nd annual July 4th Bar Stroll later the same day, all this before heading to Sugarloaf Key to watch a traditional fireworks celebration.
Alison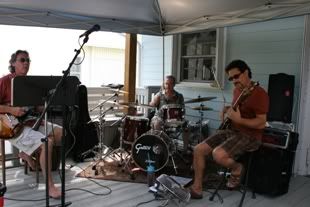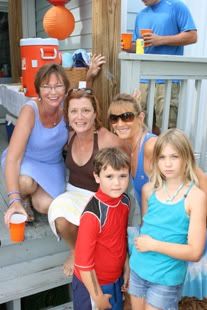 The birthday party for Alison which was held at her home was really nice, complete with homemade beer, delicious food and even wonderful live jazz music (including a few songs featuring Alison's impressive singing talent. Alison is a fellow preschool teacher at the Key West Preschool Co-op with Kathy and the party included a good number of students, who joined Kathy & I in escaping the heat of the day by lounging in Alison's pool. Kathy was able to give her new Olympus waterproof camera a try.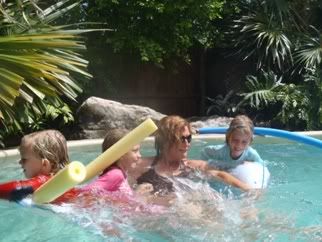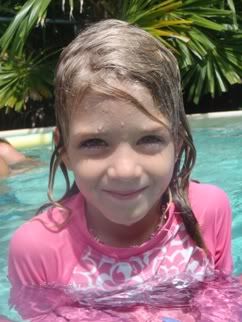 The party was great fun and we stayed as long as possible, departing only to go and register for the Crimestopper 5K walk/run at the Sheraton hotel at Smather's Beach. Kathy signed up as a runner, and I of course registered as a walker.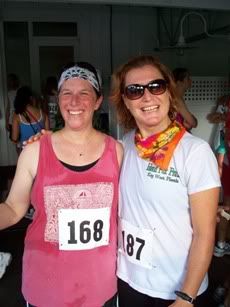 Ellen & Kathy
The event begun at 7 AM on July 4th, to avoid the July heat as much as possible and the route made its way along Smather's and back. Kathy did a great job running and I managed to actually finish in a sweaty heap, amazingly taking a medal for finishing in 5th place among the men walkers. We stayed around for the post race party before heading home to rest up for the next, very different sort of stroll.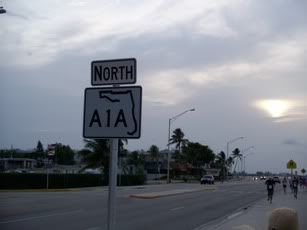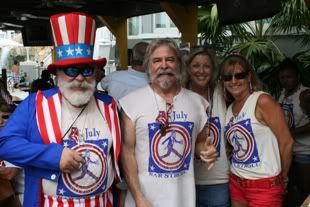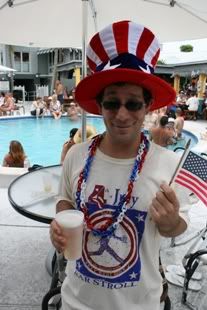 The 2nd Annual Fourth of July Bar Stroll is organized by our friend Rick Dostal, who also organizes the wildly popular St. Patty's Day Bar Stroll. This one is a little different in that it sticks to bars located along the water, mostly in the area of the Key West Bight. The event began at 2 PM at Dante's then hit stops such as B.O.'s Fish Wagon, the Schooner Wharf Bar, the Tiki Bar at the Galleon, Island Dogs and more, eventually wrapping up at Mallory Square.
Mike Mongo & Rick
Kevin
One of the cooler aspects of this stroll was a stop at Kermit's Key Lime Shoppe
where participants got a free slice of Key Lime Pie. It was a fun day, and an event that certainly has a chance to establish itself as a permanent fixture on the holiday calendar. Kathy & I only made it just past half way, time constraints and the desire not to get too tipsy prior to driving up to Sugarloaf for fireworks made that decision for us, but we wanted to get out and check it out and support Rick, who works hard to deliver a quality event.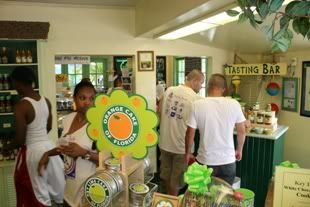 Key Lime Shoppe