21st Annual Spring Fair
March 17, 2009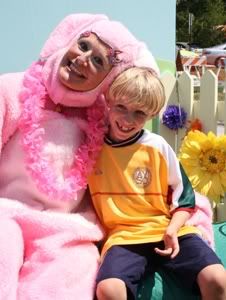 Easter Bunny & George
21st Annual Spring Fair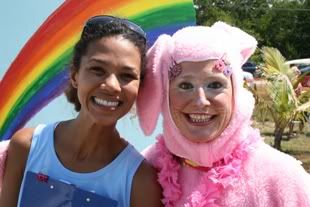 Jasmine & Bunny
The Key West Preschool Co-op where Kathy works as a teacher for the 3s class held their 21st annual Spring Fair fund raising fair last weekend and it was thankfully, a big success. There was some concern because for the first time the fair itself was held on the property of the Peace Covenant Church where the school is located, rather than Bayview Park- where it had been traditionally held. The new location and the uncertainty about the economy combined were a concern that turned out to be unfounded.
Annie & Abby
Caya, Joanna & Andreas with the Bunny
The weather was great, warm and sunny and a great crowd turned out for the games, rides, food and entertainment. Kathy once again reprised her role as the Easter Bunny and I was called into action to photograph children with the Easter Bunny.
Katie
Tara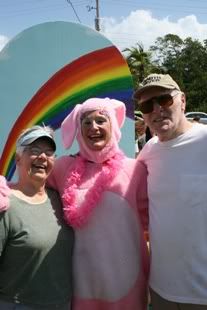 Carolyn, Bunny & Jimmy
There were all sorts of activities for kids of all ages. Minor rides included the land train and the bounce house and games ranged from mini-golf to bowling to dart throwing and many more. There was a full line-up of musical entertainment including such favorites as Larry Baeder, The Michael Dixon Band and the Muse Gurus.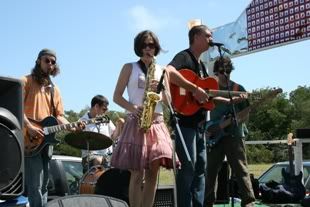 The Michael Dixon Band
Larry Baeder
One of the hi-lights for the kids was the interactive exhibit featuring live animals from the Monroe County Sherriff's Department Animal Farm. They had everything from a small pony, to a pot-bellied pig, a collection of rabbits and ferrets and even a small alligator for the kids to see.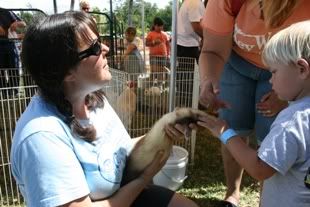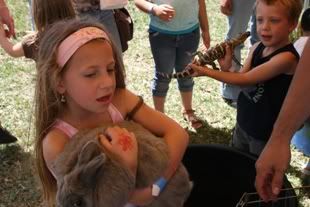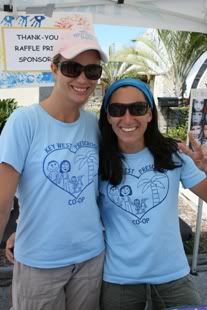 Tami & Jodie
The parents and teachers at the Co-op did a great job this year, led by this year's Spring Fair Chair, Jasmine Kenna. Of the many fairs that we have been involved with, it seemed like this one was especially well organized, especially considering the new venue. Kathy had a great, though somewhat hot time as the Easter Bunny and it seemed as if everyone was pleased with how the fair turned out.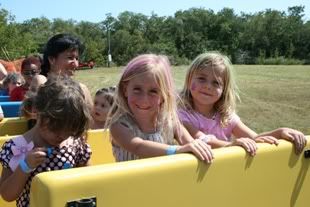 Izzy & Kaila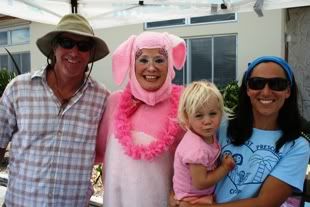 Keeping Up With the Joneses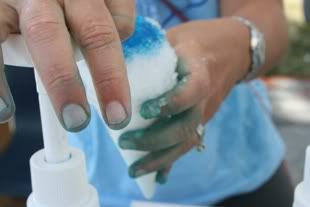 One of the best things about the fair was getting to see our friend Carla Bellenger win one of the two $2,500 cash prizes in the big raffle. It sometimes seems like no-one that we know ever wins the grand prize in things like this and to see one of our good friends win was pretty cool.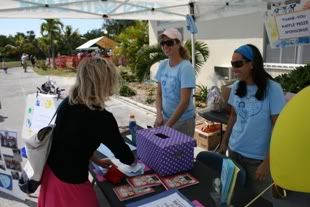 Carla purchasing the winning ticket.
Tami, Bunny, Carla & Jasmine
One other note- this week was Spring Break for the Florida colleges and universities and as always, Key West was packed with college students on break. This becomes more of an annoyance to us each year, but this year we were happy to see our friend Dakota who was back here on her break from the University of Florida.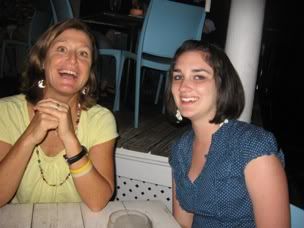 Kathy & Dakota