Miami Book Fair
November 15, 2009
Al Gore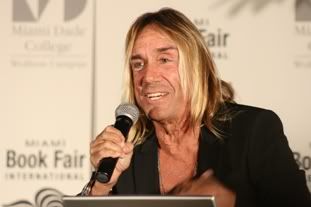 Iggy Pop
Miami Book Fair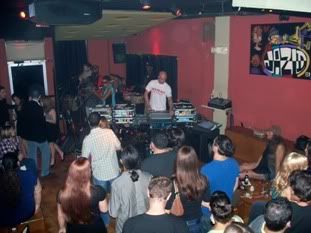 The Spam Allstars
My first full day at the Miami Book Fair was nearly perfect. The weather was incredible, sunny and breezy, but no heat or humidity and the plethora of choices of the over 300 writers in attendance was staggering. Where else could you begin the day with Al Gore and end it with Iggy Pop?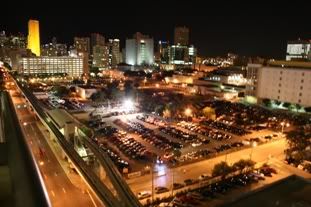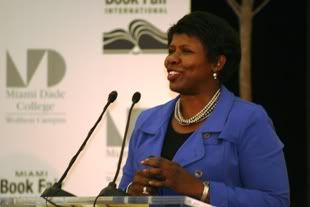 Gwen Ifill
A full day is an understatement as I was there bright and early to see the opening presentation by former Vice-President Al Gore, who delivered a riveting, funny and sobering presentation on the topic he has now devoted his life to, global climate change. Maybe it is the passion with which he tackles the subject, but if he had been as engaging during his run for the Presidency as he was here, he would have won the election. It was a fascinating and fantastic presentation to a packed and enthusiastic crowd.
Al Gore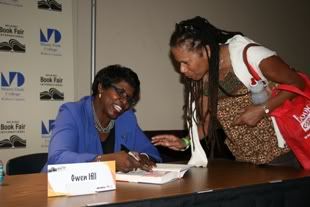 Gwen Ifill
That was only the beginning of what was a stellar line-up of author presentations that I attended. During the day I managed to squeeze in a wide range including Joyce Carol Oates, NPR's voice of books Alan Cheuse, Pulitzer Prize winner Robert Olen Butler, Political insiders Taylor Branch and Gwen Ifill and more.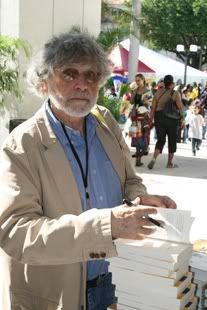 Alan Cheuse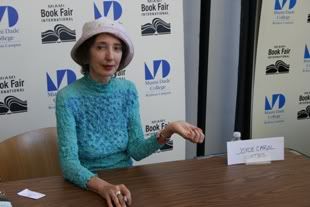 Joyce Carol Oates
Among my favorites of many were Wally Lamb, who read from his latest novella "Wishin' and Hopin' ", "Daily Show" contributors John Hodgman & Larry Wilmore, who delivered a hysterical presentation despite having never appeared together, and author of the bloody "Dexter" series on which the popular TV show is based, Jeff Lindsay.
Wally Lamb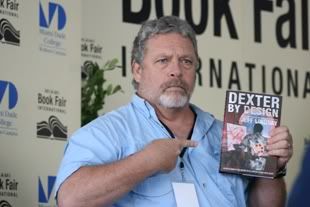 Jeff Lindsay
I also got the chance to meet former Senator Bob Graham, which was pretty cool. But the real highlight for me was the awesome presentation by the incredible Iggy Pop. Why would Iggy be at the book fair you may ask? Well he collaborated with photographer Robert Matheu on a new illustrated history of the Stooges, the influential band that helped usher in the punk rock scene. It was a great presentation and exceedingly insightful. Iggy Pop has had one of those Rock n Roll careers that would be a cliché if it were not all true and much of it was documented in some incredible photos.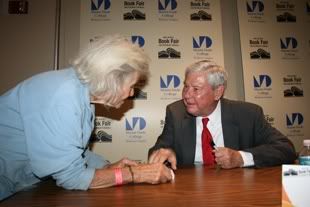 Bob Graham
Iggy with his dog Lucky
If the day wasn't full enough, I had a long night as well. First heading over to attend the author's party at a swanky Biscayne Avenue high-rise, I had scored the coveted author party invite for becoming a "Friend" of the fair. The party was quite swanky and there was free food and drinks, but I have to say that it was a pretty dull affair. Since most of the people there had no idea who the others were it was all sort of forced. I didn't stay long, opting to head over to South Beach.
Jazid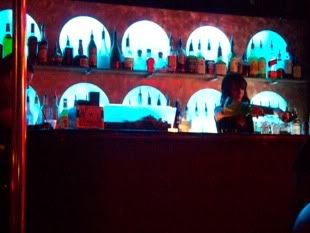 There I had the pleasure of catching one of my favorite bands, The Spam All-Stars, playing on their home turf at the groovy little South Beach hangout, Jazid. The small club has a hip little lounge upstairs and the bands play in the tight downstairs area that soon became jammed with a dancing, partying mass of people who obviously love the band as much as I do. It made for a long, but wonderful day and night.