Fantasy Fest
November 1, 2009
Zombeez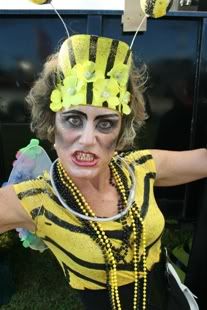 Kathy
Fantasy Fest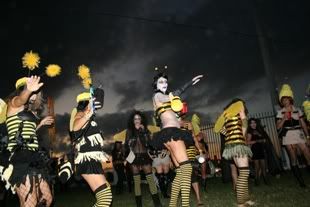 In all the fun and frivolity that surround the biggest party of the year in Key West, there have been some troubling trends in recent years as the focus seems to have shifted away from the creative spirit and more towards a more raunchy celebration of drunkenness. By promoting Fantasy Fest with more focus on sex and partying (such as having as Grand Marshall a former Playboy Playmate) and having numerous officially sanctioned parties hosted by Porn Stars and Playmates perhaps it should come as no surprise that the nature of the crowd has changed, drawing a seedier element that has not been overly prevalent in the past.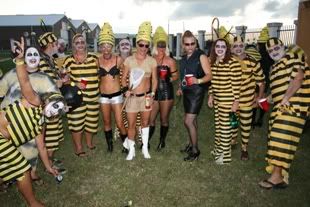 Things came to a tragic head this year with the first homicide in the 30 year history of Fantasy Fest when a 23 year old local man was tragically knifed to death in a fight. Reports are that Marques Butler was in the wrong place at the wrong time and that he was not directly involved in the fight, rumored to be over members of one group taking photos of a woman in a different group. Whatever the details may be, there is no escaping the tragic loss of a young man who though I did not know personally, I spent many hours watching when he was a player for the Key West High basketball team. He was by all accounts a wonderful man.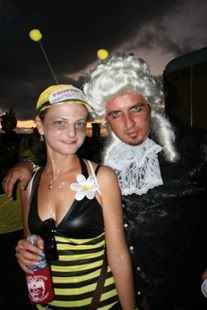 Najada & Elliot
It cast a pall over the parade for many of us and our deepest sympathy goes out to his family and many friends here in Key West. Hopefully this tragic incident will lead to a shift away from the sordid focus that Fantasy Fest has had the past few years. If not, then I fear that this tragedy will become the first of many.
Steve, Suzyjo, Autumn & Rick
Kim
Of course the show went on, and we as always were there. Our float, sponsored by Blue Heaven restaurant and masterminded by our friend Rick Keith had the theme of Zombeez. Undead bees provided a unique theme and we, being way behind this year scrambled on Saturday to create our Zombie Bee costumes. Costume central was held at our friend Melissa Jean's home and both Kathy & I were able to scramble and get our costumes done in time for the float marshalling time Saturday evening.
Miles
David & Martha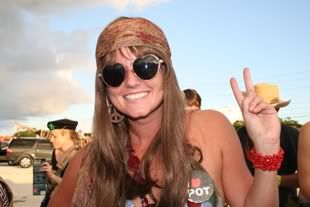 Esme
Our float this year was not one of finest efforts, we went for practicality rather than spending weeks building. It was fairly simple, yet provided the optimum of comfort with AC for our driver Howard and a comfortable back deck that was roomy enough for the sound system, our 6 kegs of beer, cases of beads and even a couch. We towed a porta-potty behind, thus having all the necessities for a comfortable float experience.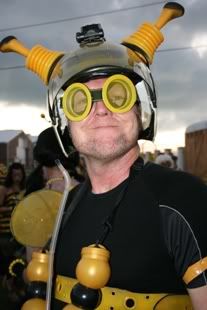 Steve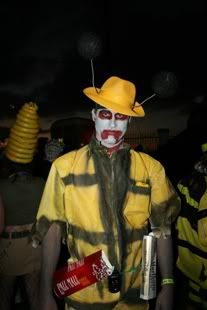 Paul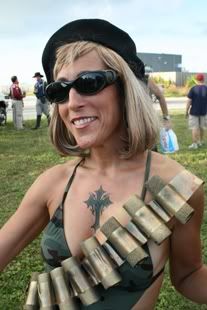 Martha
One of my favorite times of the week, is the gathering of floats just prior to the parade. As parade participants, it is really the only time we get a chance to see the other floats, many of which have been built by other friends of ours. This year there were a number of excellent entries, including great efforts by our friends Rich & Penny from the Key West Chevron Stations and an inspired entry by Cayman Smith-Martin and friends called "Smuggler's Blues" that focused on the drug smuggling that was part of Key West's seemy past.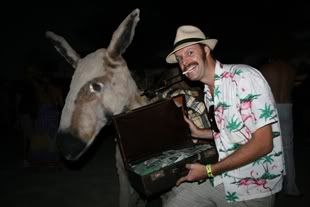 Ian
Kim, Chris & Erin