Blues Traveler
October 26, 2009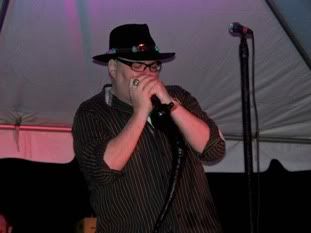 John Popper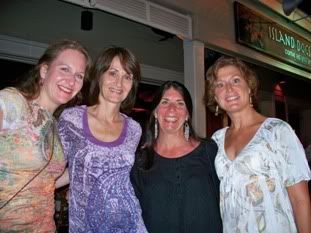 Janine, Bonnie, Gae & Kathy
Blues Traveler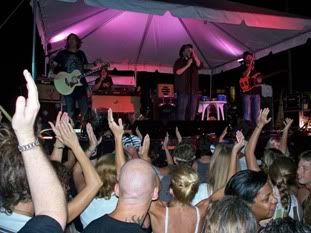 Back in the mid 90s, I went a couple of times to the huge traveling music festival known as the H.O.R.D.E. festival that featured a variety of jam bands that played at big outdoor stadiums that held crowds in the 20,000 + range. One of the founding bands of that tour was the harmonica driven jam band known as Blues Traveler. And this week as part of the awesome Ocean Key House concert series, Blues Traveler was actually playing here, in Key West.
Mutzee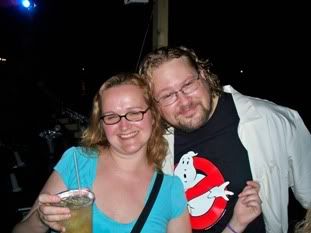 Ann & Dan
The show was held late Sunday evening on the Pier at the Ocean Key House. The scheduling during an open evening between Goombay and Fantasy Fest was inspired, but I'm pretty sure the place would have been packed regardless as Key West rarely gets bands of this caliber to play here on a regular basis.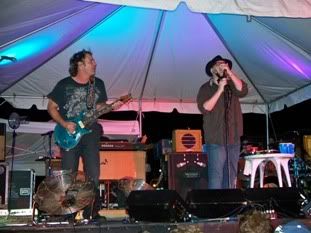 Our friends Bonnie, Janine and Gae joined us in heading down for the show and the pier was full of a mostly local crowd, at least it seemed that way because we saw so many friends there. There was no opening act and the show was late, starting around 10:30, but it didn't seem to bother the crowd, that cheered wildly as the band was delivered to the stage atop the Fury catamaran.
I have seen Blues Traveler a few times live, twice back in the 90s and most recently at the ACL festival a couple of years ago. They were awesome back in the day, but I had been somewhat disappointed at the more recent show, so I was a little nervous as to how they would sound.
George, Carla, Kathy & Suzy Jo
I need not have worried. Perhaps it was the perfect breezy, Key West night or the sea air, whatever the case, the band was in top form. Lead singer John Popper is a harmonica virtuoso and he played all of the bands hits such as "Hook", Runaround" and "But Anyway". They also played excellent cover versions of Sublime's song, "What I Got" and a wonderful The Charlie Daniels Band classic, "The Devil Went Down to Georgia" that featured harmonica solos in place of the original violins.
The late start time made for another late night, three in a row to kick off the Fantasy Fest week, but the lack of sleep was more than made up for by the quality of the entertainment. It was a great show. Hopefully, this is just the start of many more good bands that will be playing Key West as part of the Ocean Key House concert series.
Rich & Penny
Hannah & Alicia