The Roaring Twenties
November 6, 2011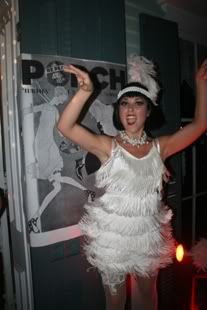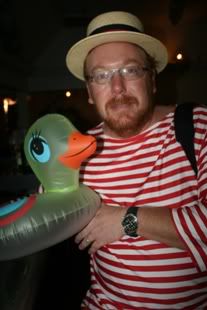 Kathy
The Roaring Twenties
Thursday night of Fantasy Fest features an explosion of parties and even more unchecked craziness and spectacle along Duval Street and in the various bars and lounges around town. The biggest and most crazy party is the annual Toga party hosted by Sloppy Joe's. The Toga party is so massive that it dominates the scene and spills out to all the surrounding streets as thousands of toga clad partiers fill the streets.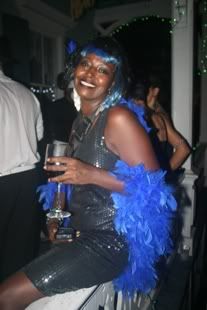 Few locals participate in the Toga party and many people avoid it simply because of the plethora of drunken tourists that swarm the area. There is something about it that just lacks creativity and it has never been a favorite of the more creative element of Fantasy Fest. For years there were few options for the more discriminating reveler and we rarely ventured out on Thursday evening.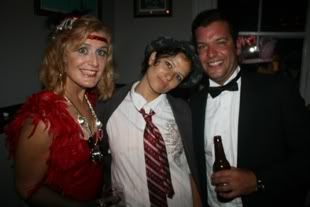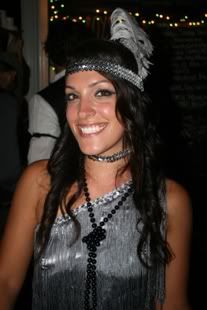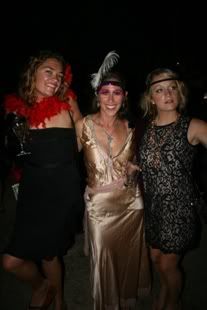 Last year, the Porch introduced a party that lured us and many local friends out on Thursday night and they brought the Twenties party back again this year for the second straight year. The party is cool because the location of the Porch, set back off of Duval street, yet close to the action, means that the party is like having a cool, private Fantasy Fest function, populated by fun and creative locals and those tourists hip enough to find the local hot spot.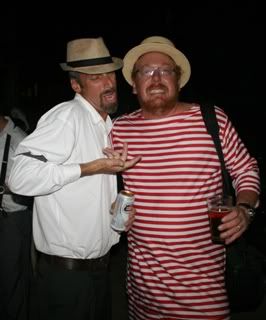 Bruce & Michael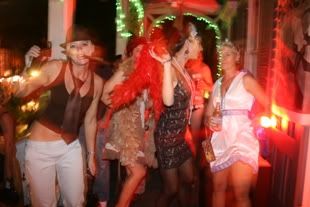 Flappers, Gangsters, Bootleggers and the like filled the party, which was definitely more popular than last years' inaugural event, yet still a very manageable and not overcrowded party. Kathy created a fantastic Flapper look and I pulled out the same 1920s bathing suit costume that I had donned last year and we joined bunches of our friends in twenties style attire at the party.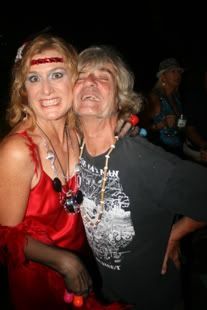 Kathy & "Cat Man" Dominique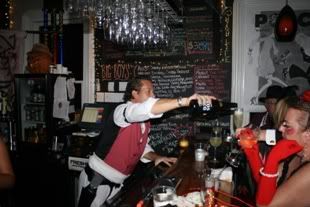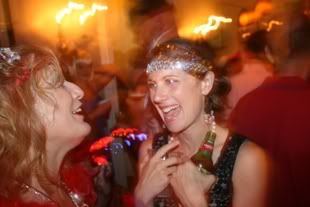 It was another fun and smashing success, an excellent addition to our Fantasy Fest calendar. We just love the Porch and we love the crowd of friends that we have that love the place as well. We always have a great time there and love the sense of fun, creativity and of being home that we get when we are there.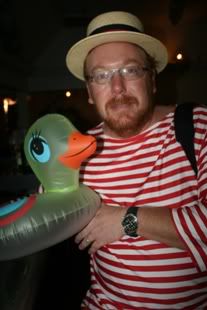 Michael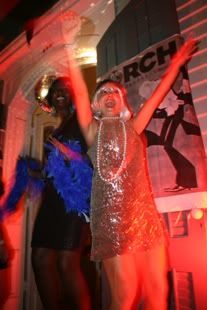 On a personal note, the night of the Porch Twenties party, I was pretty much a basket case. I had learned of my friend Matt Elliott's sudden and unexpected passing mere hours before we were scheduled to go out. I was stunned and saddened and really in no mood to go out and pretend to have a good time, all I wanted was to be with my friends in Indianapolis. Not being able to fly up immediately, I was not sure what to do, how to feel and wanted to just stay home. My wife Kathy, was totally understanding, and was ready to stay home with me when I changed my mind and decided at the last minute to continue with all of our Fantasy Fest plans.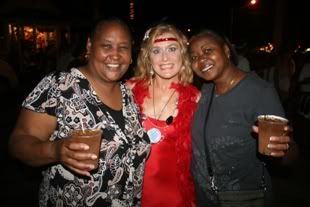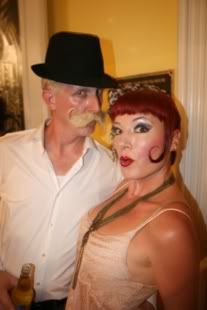 Chris & Erin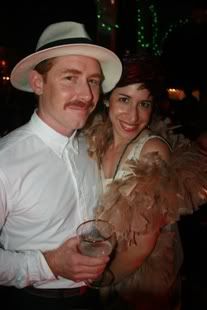 Arlo & Ashley
If it were any other place hosting the party, we most likely would have just stayed home, but much like Matt and my ODC friends in Indianapolis are my family, I feel much the same way about the wonderful group of friends we have here in Key West and as distraught as I was, being around close friends was the best choice I could have made. I would like to thank everyone who was at the Porch that night who supported me during an amazingly difficult time, both those who were aware of the situation and those who weren't. It was something of a surreal experience being in the middle of a party when your heart has been ripped out, but my wife and friends helped support me and get me through.