Rocking Around the Christmas Tree
December 15, 2011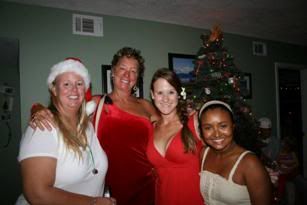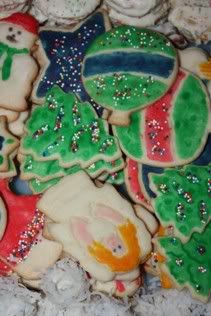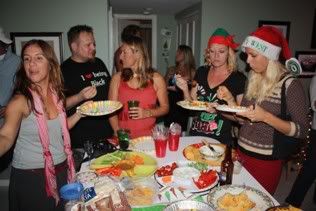 Rocking Around the Christmas Tree
The holiday season in Key West is a month long celebration of the holidays and is so full of parties and events that it is almost impossible to do everything, many evenings there are multiple options and the weekends in December are especially packed with fun options. We love it. After preparing the house, we carve out some time to participate in as much as we can and this week was no different.
This week we attended a new (for us at least) party at the beautiful La Brisa home of our friend Kathy. La Brisa is located on Smathers beach, a short bike ride from our house and we headed over to join a great group of friends old and new to Kathy's beautifully decorated and festive home.
Sue & Eliza
Kathy & Bethany
It was an incredibly beautiful evening under a full moon with the gentle ocean breeze flowing through Kathy's place from the open balcony. There was a huge and yummy selection of food and libations and a wonderful holiday atmosphere. We feel so fortunate to live in a place with so many wonderful and fun people and Kathy's party was packed with so many of our favorite Key West friends.
The holiday season finds almost everyone in a good mood and the holiday spirit seems to permeate every party and event and the mood of the island is so great this time of year. Thanks so much to Kathy for including us and for the wonderful party. It was a great time.
Another Key West holiday tradition was held on Sunday afternoon when the SPCA hosted Christmas at the Dog Park, another of my favorite holiday events. India used to love and go and get her photo taken with Santa, but in her advancing years, she is much more of a homebody, so she had to stay home this year.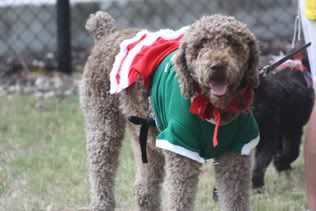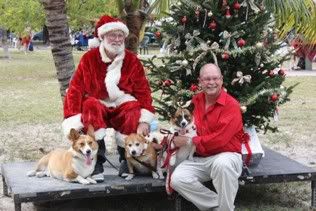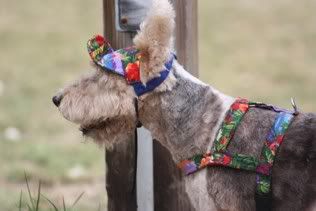 That did not stop me from heading over to the dog park to watch the festivities and support the SPCA. There was a decent crowd of people and pets and many people lined up to get their pet photos with Santa. The event was great, in spite of being interrupted by a freak rainstorm about half way through. It was brief though and did not dampen the spirits of the people and dogs on hand for the fun.