Hanging Rock
November 28, 2011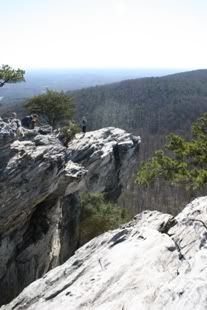 Hanging Rock
With the Thanksgiving Holiday over, we still had a couple of days in North Carolina before heading back home to Key West. The weather remained incredibly beautiful so we decided to take full advantage of the spectacular fall weather and head outdoors and do a little hiking. The best option close to my sister's home is the beautiful Hanging Rock State Park which is only a few miles away in nearby Danbury.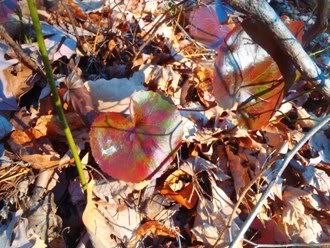 Hanging Rock is a beautiful little park that is part of the Sauratown Mountain Range. The Sauratown mountains are a series of smallish mountains with peaks that top out at around 2500 ft, but are beautiful nonetheless. They are located exclusively in Stokes and Surry Counties in North Carolina and are probably most famous because of references to Mount Pilot (Pilot Mountain) that were frequently made in the old classic TV show, "The Andy Griffith Show". The setting for the fictional Mayberry was based on the actual boyhood home of Griffith, the nearby Mount Airy.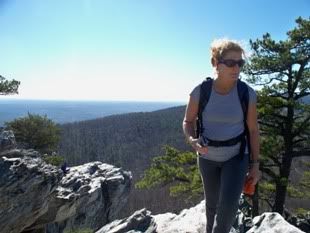 Kathy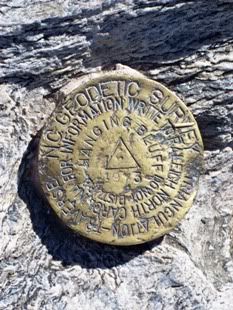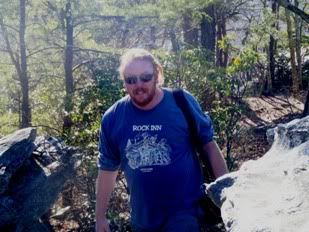 Michael
The park is home to more than 18 miles of trails and paths leading to various peaks and beautiful waterfalls. We opted to take what is probably the most famous and well traveled trail the 2.2 mile trail to Hanging Rock itself. The park was packed with tons of people out to enjoy the beautiful weather, young couples, families, and rugged looking college students packed the trail, but it never seemed overwhelming and there were long segments where we seemed totally alone.
The hike leads up to the craggly peak of Hanging Rock, which juts out over just about everything in the park and offers stunning 360 degree vistas where you can see the entire area and even the buildings in Winston-Salem some thirty miles south. The rocky flattish outcropping offers a perfect spot to sit and lounge and Kathy & I enjoyed a nice picnic at Hanging Rock before heading back down the trail.
Our final day in North Carolina, we drove Marta back to her home in Winston-Salem and then decided to head over to catch the final Wake Forest football game of the season at BB& T Field, just up the street from Marta's home. My nephew Pat attends Wake Forest, but sadly he was on a Thanksgiving trip of his own, having traveled to Indianapolis to spend the holiday with his family. We thought we would check out his school in their final match-up at home against Vanderbilt.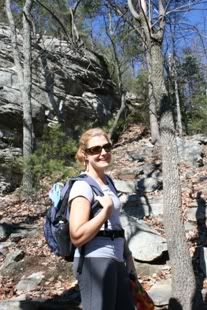 Kathy
We easily obtained decent tickets at about the twenty yard line on the home side to watch what on paper appeared to be a competitive game. Unfortunately for Wake Forest, the game is played on the field and not on paper and Vandy, playing to reach six wins and become bowl eligible took it to the Demon Deacons pretty much right from the start.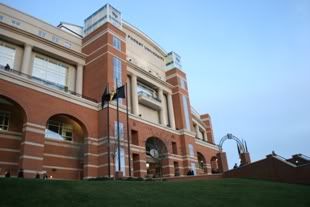 Wake had won their sixth game the previous week and was already bowl eligible, it showed as they came out flat, fell behind early and looked totally out of it most of the game as Vanderbilt rolled to an easy 41-7 victory. Vandy scored on their first five possessions and was never really challenged. It was a tough defeat, but Kathy & I had a great time and it was fun to be outside in the fall, watching ACC football under sunny blue skies.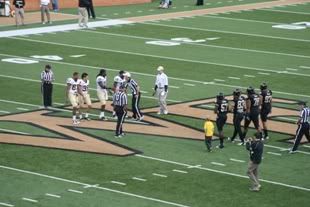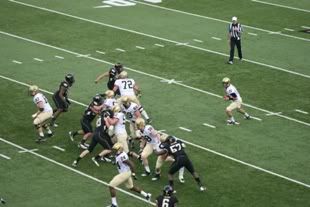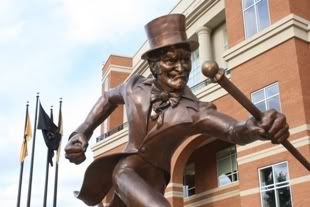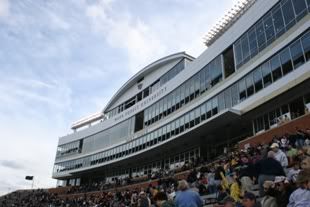 After the game, we drove back to Charlotte, where we checked in to an airport hotel in anticipation of our early morning flight back to Key West. Another fun family holiday behind us and ready to get back to Key West where the busiest season of the year was just ready to get started.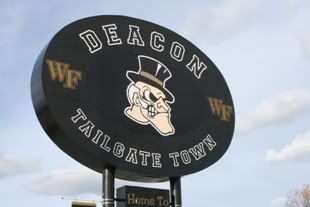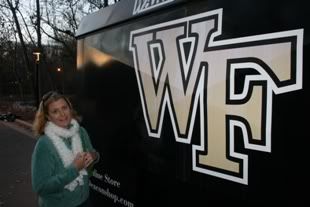 Kathy