Emotions in Motion (RibFest Part II)
September 7, 2009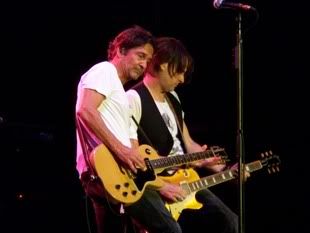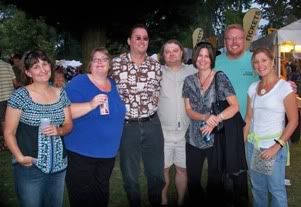 Jody, Amanda, Kevin, Tim, Kristi, Michael & Kathy
Emotions in Motion (RibFest Part II)
Billy Squier Live
We returned to RibFest for the main attraction on Saturday night, in a way it was more like a return to the roots of my love of music and taking a mysterious ride back some 28 years to the very first time I saw Billy Squier perform live. I was already a music fan, but in 1981, I attended my very first Rock Festival. It was held at the Citrus Bowl in Orlando and featured the likes of REO Speedwagon, Bryan Adams, The Rossington-Collins Band and a guy named Billy Squier. I was hooked and through the 80s, I must have seen Billy Squier live close to 20 times. Including some of the best concerts I have ever seen like when he opened for Queen.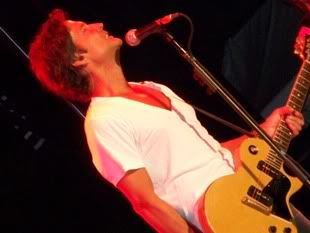 Anyway, he has toured very infrequently of late, mostly appearing as part of Ringo Starr's traveling band for the past few years. So when it was announced that he was doing a headlining tour for the first time in years and that one of the stops was in Indianapolis, I vowed to gather as many of my best friends from the 80s and get out to Ribfest to recapture a little of the magic I felt when I first saw him perform.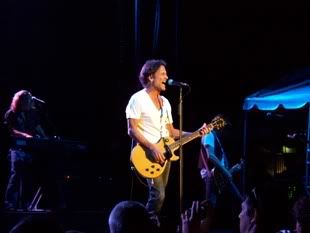 I was amazed at how many of my friends felt the same way. Billy Squier was a big part of the soundtrack to our collective youth and I had plenty of interest in joining us at the show. He didn't seem to be a draw for just us either as RibFest was absolutely packed for the evening 80s doubleheader that featured Loverboy and Billy Squier.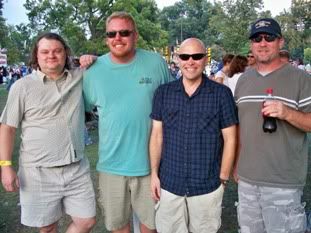 Tim, Michael, Ed & David
Sage & Russ
Loverboy played first, but we mostly hung back, ate ribs, hung with friends and listened as they cranked out 80s hit after 80s hit. It was so great to hang with so many really lifelong friends. I hadn't seen my friend Ed Gordon in years, he has spent much of the past few years in Iraq and it was great to see him.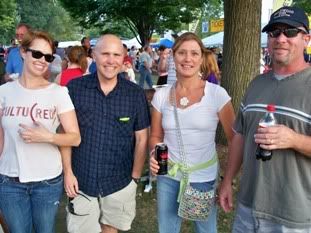 Melissa, Ed, Kathy & David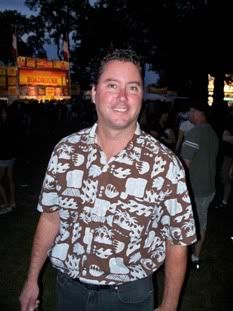 Kevin
Many of my favorite people on earth joined Kathy & I and it was just awesome to be able to hang out with them all again. Many of them had accompanied me on one or more previous Billy Squier shows back in the day and we seem to have all remained fans, though his music may have fallen out of favor for a time, for this night at least- he was back on top. I'm not sure what Kathy made out of all of our crazy attitudes about this singer, but she played along gamely and had a good time as well.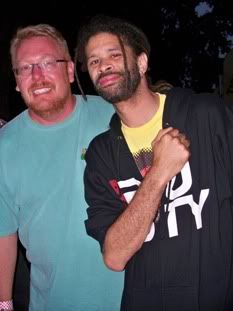 Michael & Russ
Jody, Amanda & Kristi
When Billy came onstage to the strains of "Lonely is the Night", it was time to make our way through the massive crowd to our third row seats to enjoy a great evening. At 59, Squier may not be able to leap about as he once did, but he can still play guitar and his voice was strong as well as he played a great set, that, unlike Loverboy's hit parade, covered the breadth and depth of his catalog.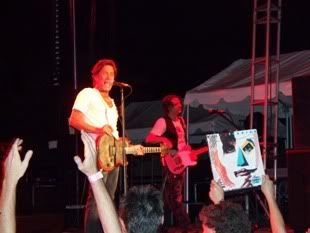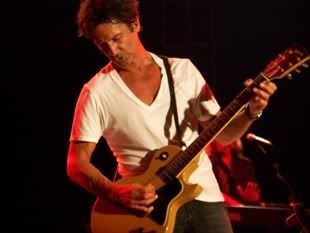 Amanda, Tim, Kevin, Kristi, Kathy, Jody & Todd
I've always felt that he was a vastly underrated performer who was actually hurt rather than helped by the onset of MTV. The silly videos of songs like "Rock Me Tonight" still make me cringe, but the music itself was always awesome. Thanks to all my friends who came out, Kathy & I really, really had a great time. Hope we get a chance to do it again soon.
Russ, Shannon, Sage & Ted