Ribfest America (Part I)
September 6, 2009
Lucas Oil Stadium
Ribfest America (Part I)
In spite of the issues with family that we were dealing with, Kathy & I had made all sorts of plans to attend events, visit friends and enjoy ourselves as much as possible over the Labor Day weekend and thankfully most of our plans were not impacted too much over the weekend. On Saturday, we had big plans to attend RibFest America as well as a football game featuring my high school alma mater, Cathedral High School.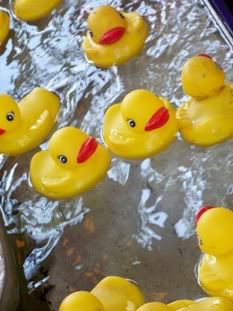 The weather was nearly perfect, sunny and 74, a perfect early fall Indiana day to attend RibFest and some football. RibFest is held in downtown Indianapolis in Miltary Park for four days over the weekend and features live music, which was the draw for us, and restaurants from around the country serving award winning Ribs, as well as games and other activities.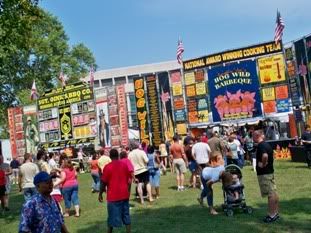 We actually attended the festival twice, this time it was to see our friends and one of our favorite Indiana bands, Rev. Peyton & His Big Damn Band. The three piece band is made up of brothers Josh (The Reverend) & Jayme Peyton and Breezy who plays the washboard. Trying to categorize or explain their style is near impossible. They play a high powered rock style Americana blues. This was their first show since coming off the Van's Warped tour which featured mostly punk bands.
Rev. Peyton on the Warped tour.
The music isn't for everyone, but they are slowly but surely developing a big following and they put on a great performance to a nice crowd of receptive hometown supporters. They are really talented, especially Rev. Peyton, who plays amazing blues guitar.
From RibFest, we were able to walk over to the cool new home of The Indianapolis Colts, Lucas Oil Stadium. Just opened last year to replace the old Hoosier Dome, the stadium was hosting some of the best High School Football teams in the State and the Country as part of the Colts sponsored Horseshoe Classic.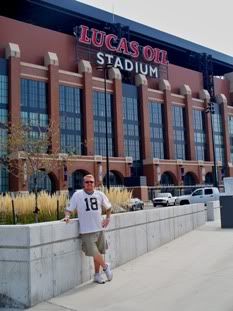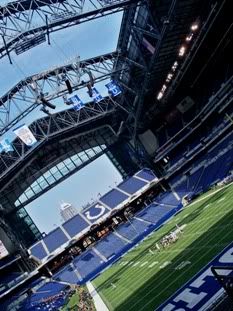 My alma mater, Cathedral High School was playing the St. Xavier Bombers from Cincinnati who are currently ranked in the top 20 high school teams in the nation. Cathedral is no slouch, defending Indiana 4A State Champions and coming off beating the #1 ranked 5A teams in Indiana on consecutive weekends to open the season.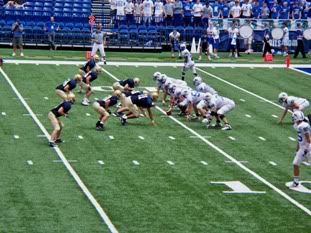 Getting a chance to play in the new stadium is an amazing opportunity for the teams. It is an impressive place, the roof opens when they weather is good and it was open for the game. Sadly the Irish lost a close game 19-10, doomed by mistakes that had two long plays, including a touchdown called back due to penalties.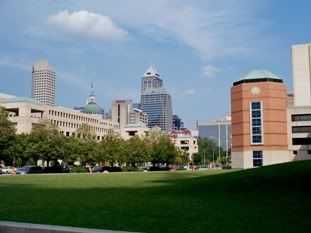 But it was still fun to get to see some quality high school football. I have friends who have (yikes) kids on the team and I still have a lot of friends who are involved with the school, so it is always good to see the Irish in action.
After the game, we headed back to our hotel, The University Place hotel on the campus of IUPUI in downtown Indianapolis. A campus which has grown by leaps and bounds since I took classes there some 20 years ago, all in all it was a fun day in Indianapolis.