"A short story is like a kiss in the dark from a stranger."- Stephen King
January 10, 2016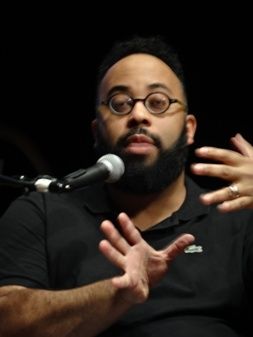 Kevin Young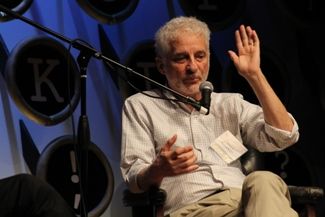 Dan Menaker
Mia,Jamie, Ian, Junot and Arlo
"A short story is like a kiss in the dark from a stranger."- Stephen King
The thirty-fourth annual Key West Literary Seminar kicked in to high gear on Friday, with a full day of presentations at the historic San Carlos Institute. A collection of twenty of the finest writers in America working in the short format which includes short stories, poems, essays and articles had come to Key West at the invitation of the program committee of the 2015 seminar led this year by Cynthia Crossen and Judith Gaddis. They did a fabulous job in securing a wonderful line-up of writers that included this year Hilton Als, Molly Antopol, Ann Beattie, Billy Collins, Junot Diaz,Gish Gen,Victor LaVelle, Yiyun Li, Kelly Link, Harry Mathews, Thomas McGuane,Daniel Menaker,Antonya Nelson, Claudia Rankine, Ron Rash,Karen Russell, Jim Shepard, Brad Watson, Joy Williams and Kevin Young.
Dan Menaker and Ann Beattie
Tom McGunae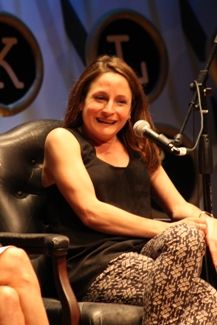 Karen Russell
Cynthia Crossen
The seminar features a number of different formats as far as what is heard from the stage, with readings, panel discussions, moderated and unmoderated conversations and presentations about the nature of the subject matter by individual writers. This keeps things fresh and interesting for those in attendance and allows the subject of the seminar to expand and grow as the event goes along.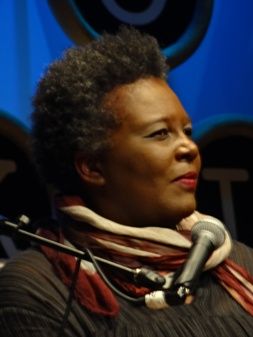 Claudia Rankine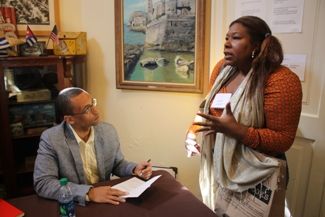 Victor LaVelle
Hopefully by the time the weekend concludes, attendees have been treated to an immersion in short stories that they would never get from the average literary event. The fact that the writers spend so much time mingling and interacting with the audience is rare as well and we feel that attendees get a special experience that goes somewhat beyond simply writers and their readers.
KWHS student Hannah and Junot Diaz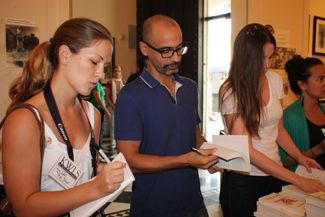 This year, for the first time in ages, we also sent one of the writers, Junot Diaz, over to Key West High School to give a presentation directly to AP English students. What an amazing opportunity for those students as Diaz is a great representative who can at once relate to and inspire the young students. In spite of his use of some salty language that made the principal and a few administrators nervous, Diaz really connected with many of the students. Some of whom even came to attend sessions on their own later in the weekend. It was so awesome to be able to connect directly with students in this way. Kudos to Mrs. Ford and everyone at KWHS, Junot Diaz for not just agreeing but suggesting this and the KWLS staff and Kate Peters especially for arranging this event.
Ann Beattie
Junot Diaz and Gish Jen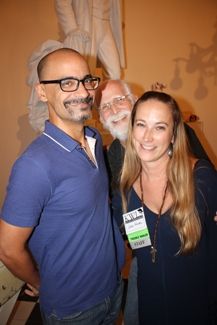 Junot, Alex and Jenni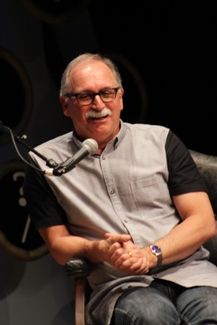 Jim Shepard
Back at the seminar, Friday was a full day that began with Antonya Nelson discussing "Write What You Know" and featuring an incredible discussion with Karen Russell, Joy Williams and Tom McGuane and readings from Ron Rash, Jim Shepard and Molly Antopol and discussions with Gish Jen, Ann Beattie, Dan Menaker, Claudia Rankine and Kevin Young. There is something so powerful about hearing writers read their own work and the discussions are always so casual and interesting that it feels like the audience is sitting at a small table over coffee listening in to a private conversation between gifted artists.
Claudia Rankine & Kevin Young
Karen Russell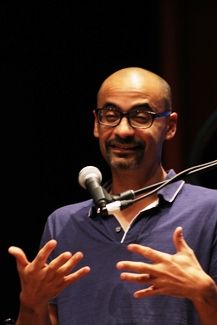 Junot Diaz
During each break, the writers do book signings for the audience, who purchase books from the on-site temporary bookstore set up by Books and Books from Miami. Once again the wonderful founder of Book and Books, Mitchell Kaplan was on hand to see how things were going. I see Mitch each year at my other favorite literary event, The Miami Book Fair that he helped found as well, but here I get to spend a bit more time talking with him as he is slightly less busy. Mitch knows almost all of the writers personally and many are his good friends like Tom McGuane and his family so it makes for some fun reunions to witness.
Tom McGuane and Mitch Kaplan
Mitch and the McGuane family.
Yiyun Li, Billy Collins and Victor LaVelle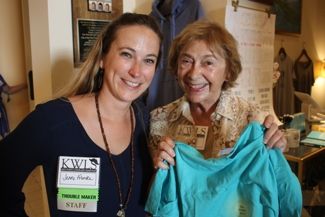 Jenni and Betty
For the first time that I can recall, we did not schedule any official function on Friday evening, giving the attendees the opportunity to enjoy an evening in Key West and perhaps a meal that is not catered. For the staff, speakers, board and other special guests, Friday night has been the time for one of the most secret, interesting and eclectic private parties in Key West each year as the iconic Key West figure David Wolkowsky hosts a party in his roof-top apartment overlooking Duval Street. Almost all of the writers attend as do many of Key West's most interesting people including writers, artists and special guests. It is always to me one of the highlights of the weekend and just a special occasion due to the uniqueness of the host, the location and the guest list. I feel so fortunate that I have been able to attend all these years and want to thank Mr. Wolkowsky for being such a gracious host yet again.
Dan Menaker
John and Junot
It was a great start to the seminar and one that I really felt very proud to be a part of. Thanks so much to Arlo, Lindsay, Ian and the amazing team they assembled, my fellow Board Members, the writers in attendance,
Raquel, Mitch, Mia and everyone at Books & Books, the wonderful crew of volunteers that worked for me this year, to Jack Farley, Alex and the San Carlos Institute, Doug Mack and most of all my lovely wife Kathy. The KWLS is truly a team effort and it is no small feat to pull off such a fantastic event.
Arlo and Tom McGuane
Jim Gleick and Dan Menaker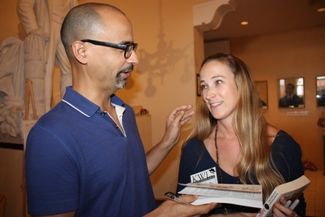 Karen Russell, Doug and Jim Shepard