KWLS: Shorts
January 8, 2016
KWLS: Shorts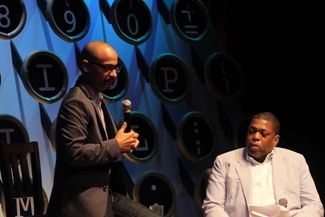 Junot Diaz and Hilton Als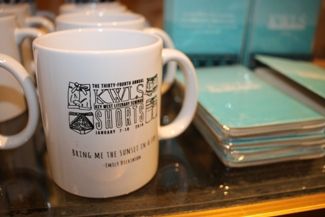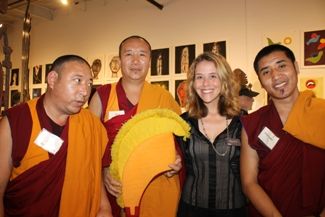 Monks with Elena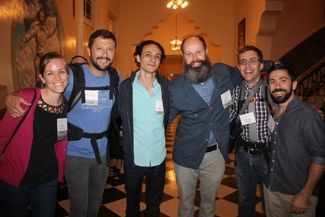 Lindsay,Nick, Nick,Ian, Doug and Steven
The 34
th
Annual Key West Literary Seminar started early this year, with a single session on the first full weekend of January with the subject being, "SHORTS, Stories, Essays & Other Briefs". As both the Vice-President of the Board and as the Volunteer Coordinator, I always have my work cut out for me in the time leading up to the event as well as during the event itself, but it is a chore that I do not really mind all that much as there are a lot of awesome perks that come with the job including getting to meet and spend quality time with some of the finest writers in the world and working with a dedicated, professional and interesting group of Board Members, Staff and Volunteers. In addition the attendees are a great group, many have become personal friends since this is my 21
st
year of being involved and it is a pretty exciting time.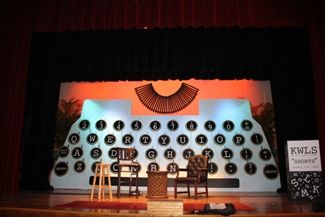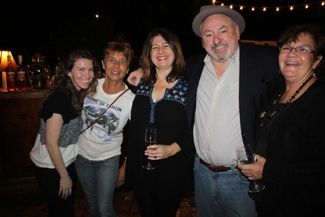 Arlo and Kate
The week of the seminar began with a cool private party to welcome the panelists on Wednesday evening, this gave the board and staff a chance to meet and mingle with the writers who were here in advance of the start of the actual seminar and it is always a fun and interesting evening. The next day is a long one with registration all day followed by the opening Keynote address and then an after party for all at the beautiful Audubon House.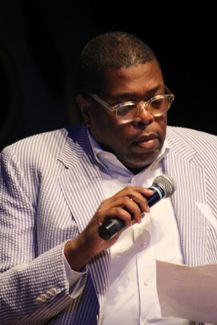 Hilton Als
I have over fifty volunteers to coordinate and thankfully they are as wonderful a group of people as you can have to assist with a great mix of long-time helpers and new ones at their first seminar. We have a new Executive Director who was coordinating his first seminar so it was slightly different not having my wonderful friend Miles here for the first time in 20 years, thankfully he has established a wonderful template for the event and the new Director Arlo was able to pick up the mantle easily and run with it.
Amy and Jamie
The Keynote Speech featured a conversation with two brilliant writers, Junot Diaz and Hilton Als, which was somewhat different from what we are used to, but that worked well. People were excited coming out of the session and it was a fantastic start to what would be a sensational seminar. The party at the Audubon House was fantastic as well and as always it gave me a chance to wind down from what is always the most hectic day and hang out with many old and new friends, including my buddy Doug who has for years been coming down at his own expense from Minneapolis to volunteer for the entire weekend. Having a beautiful new baby, I was not sure that he would be able to make it this year, but he made it and stayed with Kathy and I the entire weekend. He is not only a great help, but a good friend and I just want to shout out to his wife Maren for watching the baby all weekend so that Doug could make the trip. Hopefully the entire family can start making the trip down soon.
Doug and Kathy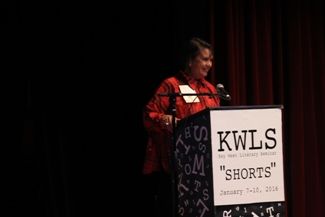 Diane
During breaks in the busy seminar schedule, I found time to check out a couple of other interesting events that were taking place in Key West over the weekend, First was an amazing art opening at the Studios of Key West featuring two local Key West artists, the iconic John Martini and the up and coming Garth Holtkamp. There was also a preview of the new space which will soon be home to the newest Books and Books location in South Florida at the Studios. It was all pretty exciting and it brought out a huge crowd of locals, snowbirds and tourists.
Freddie, John Martini and Judith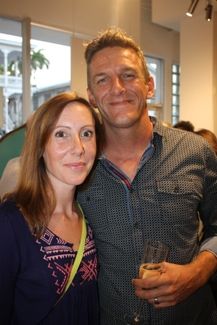 Katie and Garth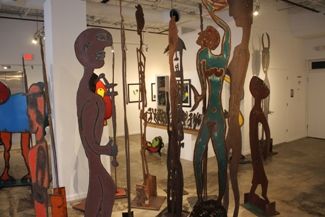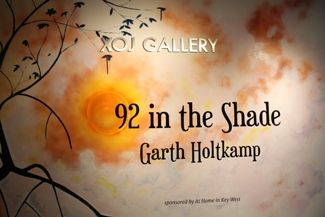 Garth had asked that I photograph some of his wonderful paintings and I was able to get that done just before the masses arrived, then it was downstairs to the main space where John Martini had a great collection of his amazing metal sculptures on display. The entire show was beautiful and what made it even more interesting was that a group of the Tibetan Monks who were in Key West for the week, stopped in to offer their blessing of the exhibit. It was fascinating and magical to hear the deep, low chanting of the Monks as they performed the blessing. You just never know what you are going to see in Key West.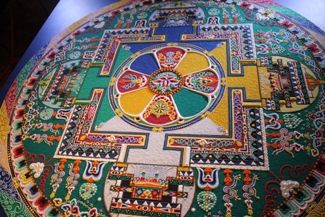 Darene and Monks
The actual reason for the Monks visit, they are a large group of Tibetan Monks from India, is to construct a sand mandala. A sand mandala is an ancient art form of creating intricate works much like a painting with grains of sand. The Monks worked all week long at St. Paul's Church, where they painstakingly constructed a beautiful and very symbolic sand mandala. Millions of colored grains of sand were carefully laid out in specific patterns and diagrams which represent sacred textual Buddhist imagery as the Drepung Gomang monks demonstrated the ancient Tibetan art form in a beautiful week-long process of creation and dissolution.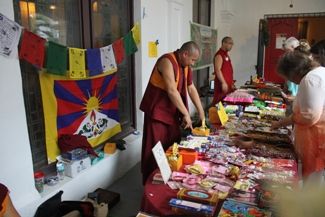 It was a fun, busy and hectic kick-off to what looks to be another fantastic weekend at the Key West Literary Seminar. Getting to spend time with, listen to, discuss with and generally just interact with such a cool and distinguished complement of amazing people is something that I relish about living in Key West. The seminar is one of my absolute favorite events of the year here and it is always one of the highlights of the season.