Wheelie Fast
May 18, 2014
James Davison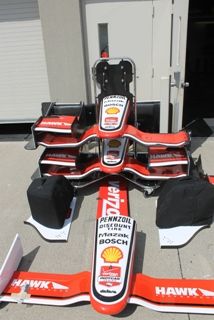 Wheelie Fast
The crew at the Indianapolis Motor Speedway worked through the night after the completion of the inaugural Grand Prix of Indianapolis to transform the track from the street circuit configuration that the Indy Cars ran on during that race to the traditional oval circuit that the Indy 500 cars are more used to running and less than 24 hours after the race finished, practice for the 98
th
Indianapolis 500 was underway on the famed 2 and a half mile oval.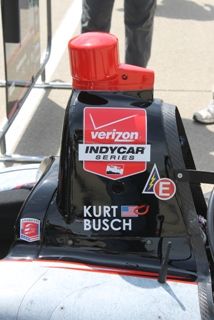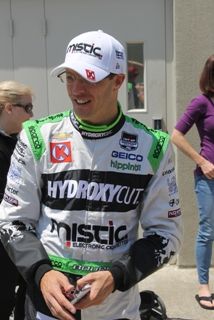 Martin Plowman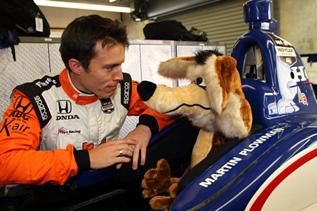 Martin
Townsend Bell
Most of the cars and drivers from the Indy Car series were back at it, preparing for the big prize right out of the gate on opening day, putting pressure on not just the track staff but on all the teams and drivers as they had to switch the car set-ups to the high speed oval rather than the much slower twisty road course. In addition there were the usual additions as teams added extra cars and drivers for the 500 and one-off entries for the big race were added to the mix.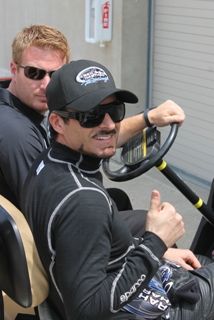 Alex Tagliani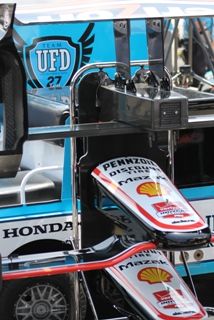 Thirty-three car and driver combinations were attempting to qualify for the big race including seven rookie drivers and 6 former winners of the 500.
Among the more interesting story lines were the addition of former NASCAR champion Kurt Busch, who joined Andretti Autosports in a fifth entry and will attempt to be the fourth driver ever to do "the double" by competing in the Indy 500 and NASCAR's Charlotte 600 in the same day. Previously John Andretti, Robby Gordon and Tony Stewart have done it.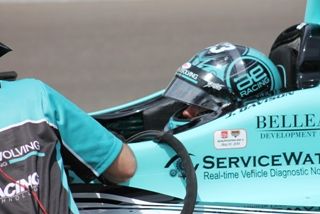 Josef Newgarden *photo by Kate Shoup
Kanaan's shoes *photo by Kate Shoup
Having a prominent NASCAR star make an attempt at Indy has not really happened since the 70s and it will be interesting to see how it works out. Another cool story is the return after seventeen years away from Indy Car of 1995 Indy 500 winner Jacques Villenueve. After winning the last 500 before the big split, Villeneuve went to Formula 1 where he captured the World Championship and then spent some years in NASCAR as well. His return is something of a surprise.
Jacques Villenueve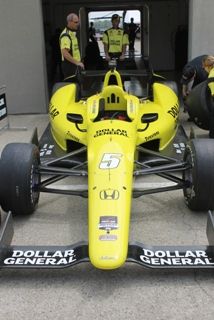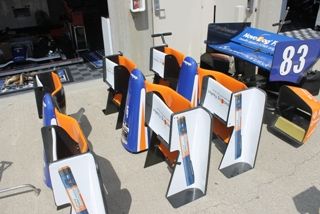 Other interesting storylines include the return of 2000 winner Juan Pablo Montoya, who dominated the race in his only appearance before spending years racing in both Formula 1 and NASCAR and the rookie campaign of 19 year old Sage Karem who will miss his high school prom to compete here this year after coming up from Indy Lights.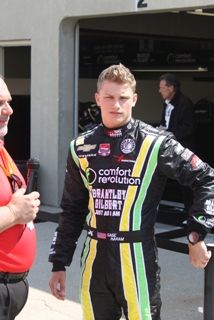 Sage Karem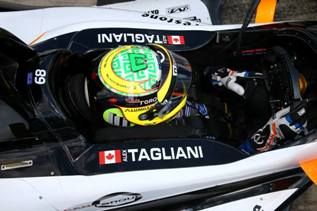 Other interesting factors include whether Helio Castroneves will claim his fourth Indy 500 victory and if Tony Kanaan can win back-to-back since joining a new team. All in all there are a number of interesting aspects to the 500 this year and getting practice underway is just the beginning of a long and awesome month and gets me fired up about attending yet another Indy 500.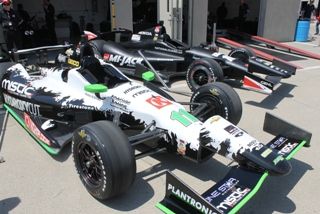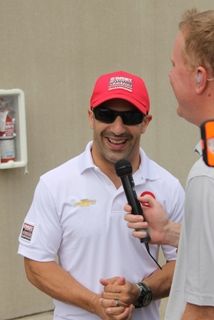 Tony Kanaan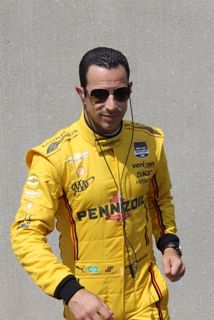 Helio Castroneves