Perfect Day
April 27, 2014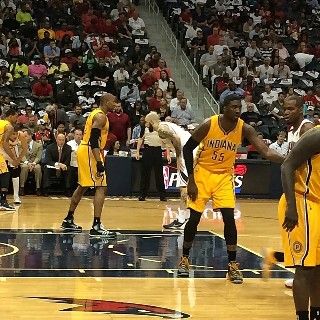 Bruce Springsteen
Perfect Day
Sometimes in life, you are fortunate to have a day where everything just works out, where you get the pleasure of enjoying doing things that you love to do and share moments with people that you love. I think everyone experiences this sort of day every now and again and when it happens, it is something that should be treasured and enjoyed and something that makes me thankful everyday that I have the good fortune to experience every so often.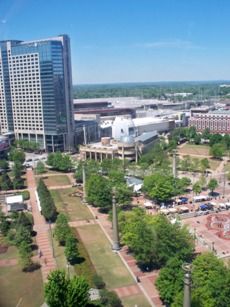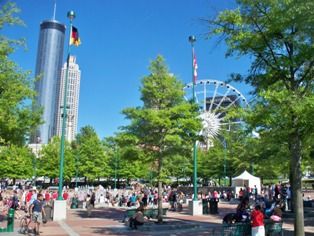 One of those rare and wonderful days happened for me on Saturday. I figured it was going to be pretty good, after all any day you get to go see Bruce Springsteen is pretty good, but somehow everything just was perfect the entire day. It started off rather dubiously, as we overslept our free breakfast at the hotel and had to walk from our hotel located next to Centennial Park in downtown Atlanta to a nearby Waffle House.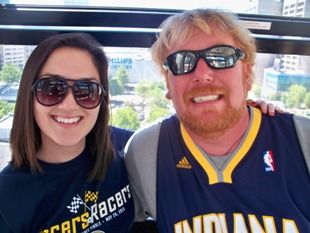 Dakota & Michael
Now Waffle House has never been atop my must-dine list and we rarely go there, but this particular Waffle House was fantastic. The staff was excellent, the service great and it might possibly have been the most exquisite waffle that I have ever had. Even better, just as we were finishing, our friend Dakota arrived from Lake City.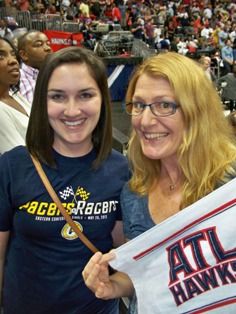 In what can only be said was a stroke of luck, my favorite NBA team, the Indiana Pacers were in town to play the Atlanta Hawks in game four of the first round of the NBA playoffs and I had scored club seats about four rows off the floor on the baseline across from the Pacers bench. Before the game we walked around Centennial Park, riding the huge sky- ferris wheel and taking the gentle ribbing from Hawks fans for sporting our Pacers gear.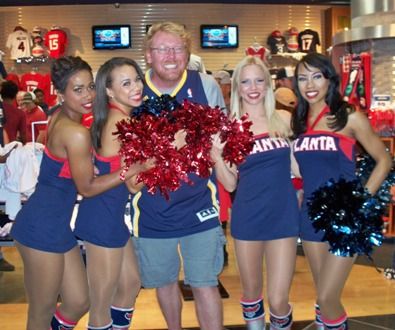 The game was spectacular, the Pacers pulling out a tight contest that went right down to the nerve-wracking wire to win 91-88 and even the best of seven series and two games each. It was so fun and exciting and I have to say the Hawks fans were about as nice as you could expect to us who were infiltrating their arena. I wish them well in the future and if they manage to pull out this series, I will be rooting for them simply because of the hospitality and friendliness of their fans.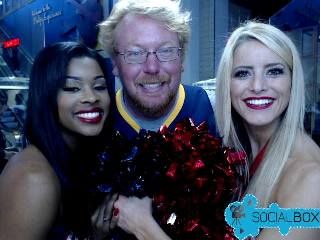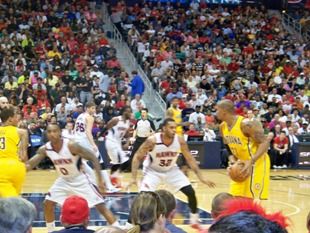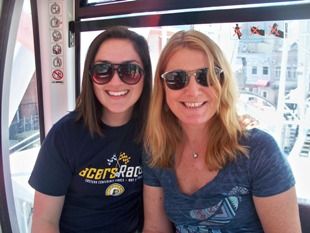 After a brief rest at the hotel, we were off on the short drive south to Aaron's Lakefront Amphitheatre to see Bruce Springsteen. Neither Kathy or Dakota had been to a Springsteen show with the E-Street band and they were not disappointed. He played a typical long set of just over three hours that was a mix of rarities, hits and cool cover songs. This particular show he focused on his release the River and played a large number of songs from that record.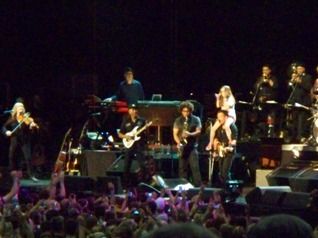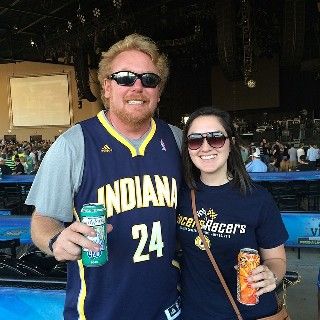 It was a great, great show and the old guy has still got it displaying and energy and enthusiasm that are more like a 20 year old. He still sounds and plays amazingly well and the band, which featured guest guitarist Tom Morello from Rage Against the Machine was as amazing as ever. Jake Clemons is a great fill-in for his late uncle Clarence on the sax and at once honors the big man's legacy while creating one of his own.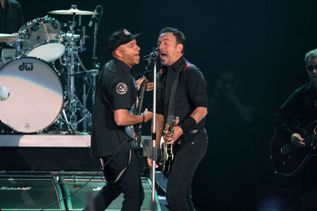 Tom Morello & Bruce
If you get the chance, go see Bruce, not just because it is a chance to see one of the iconic figures of American Rock history, but because it s just a great fun and incredibly good experience. It was just about a perfect show that completed just about a perfect day with two of the people who I love more than anything in the world.