Key West's Third Annual Bike Parade
April 15, 2011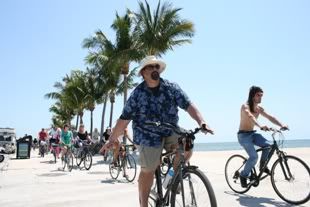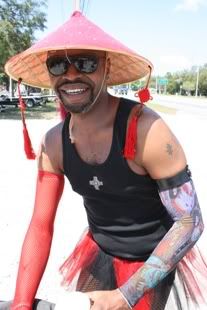 Key West's Third Annual Bike Parade
Key West has always been home to a large contingent of bicycle riders. It is not only the best means of conveyance around the island, for many it is their primary form of transportation. In celebration of Bike Appreciation Day, my friends at Wonderdog Productions (Marky) and ReCycle Bike Shop (Evan), organized another cool biking event, the third annual Bike Parade.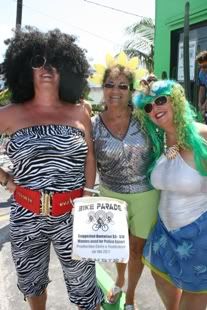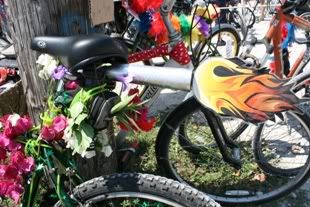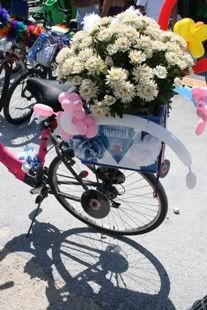 Like the previous bike events that they have organized, including the spectacular Zombie Bike Ride that was held during Fantasy Fest, hundreds of local bicycle aficionados gathered at ReCycle Bike Shop on Stock Island at noon on a Sunday. This parade featured the theme of Rock n' Roll with a costume contest featuring cool prizes for the best rocking costume.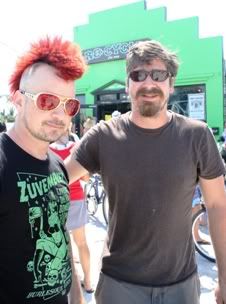 Marky & Evan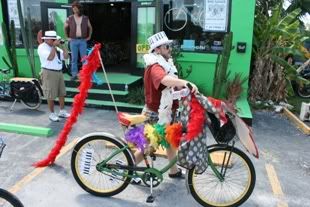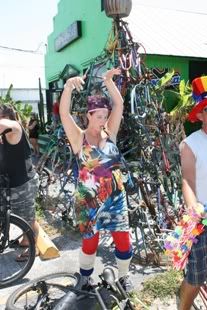 A bright, warm sunny day greeted the riders as they gathered for the afternoon long ride which departed ReCycle under the watchful eye of three of Key West's finest, motorcycle police officers who blocked off traffic as the parade of bicyclists made their way out on to US 1 towards Key West. The parade headed down the beach towards the first stop at Salute restaurant.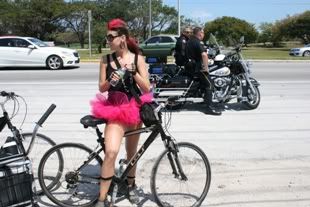 Tom & Greta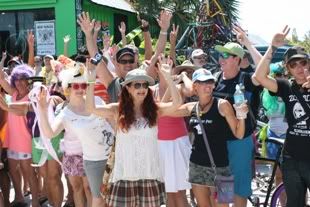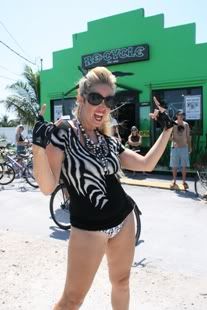 Christa
After a stop at Salute, the parade headed into downtown Key West, heading down Duval Street before finally heading over to Dante's ; where the participants could cool off and relax after the ride in the pool at Dante's.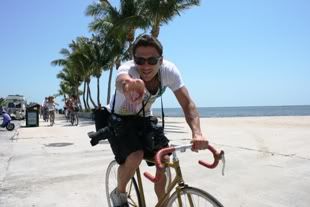 Nick
Mark, Arlo & Bill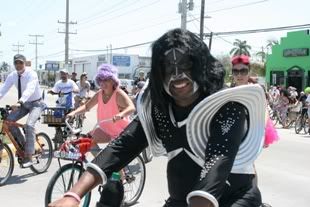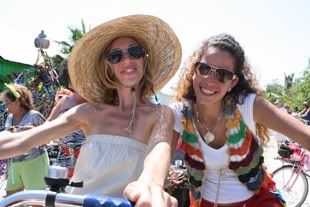 I didn't make it all the way to the final stop, but I was around long enough to take some good photos of many of the best costumed participants. It was great to see that so many people took the theme to heart and go into the spirit of the event. It was also cool to see literally hundreds of Key Westers enjoying celebrating the bicycle.
Hopefully these photos help capture yet another cool Key West event. Thanks so much to Evan & Marky and everyone who came out to make it happen. I can't wait until the next bike parade, which I am sure will be even bigger and better.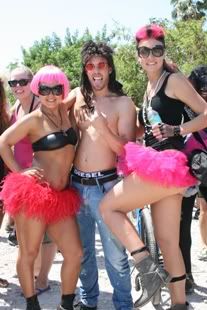 Zombie Bike Ride Blog