Indy Carnage
March 30, 2011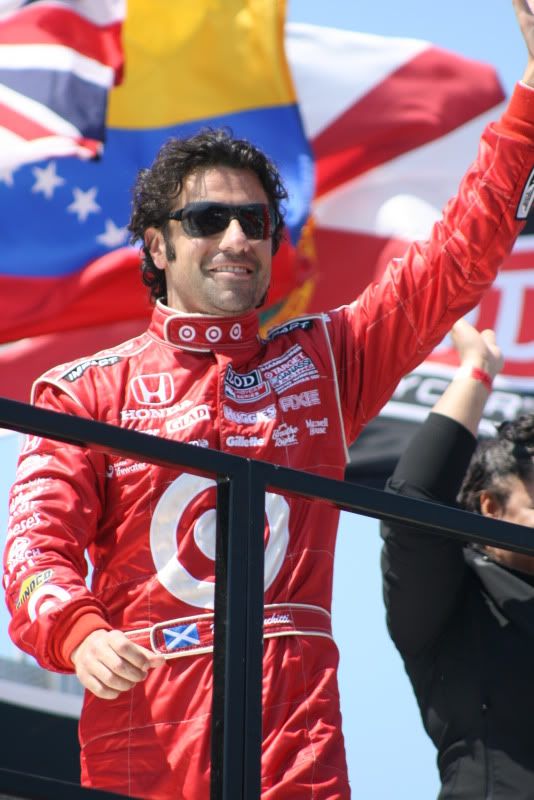 Dario Franchitti
Mike Conway
Indy Carnage
The opening round of the 2011 Indy Car series at St. Petersburg featured all sorts of action, much of it not the sort that many of the drivers and teams were hoping for as the start and the new double-file restarts that are being instituted this year created a plethora of spinning and wrecked cars. It added excitement for the fans, not so much for the mechanics who had to hustle to get the cars pieced back together.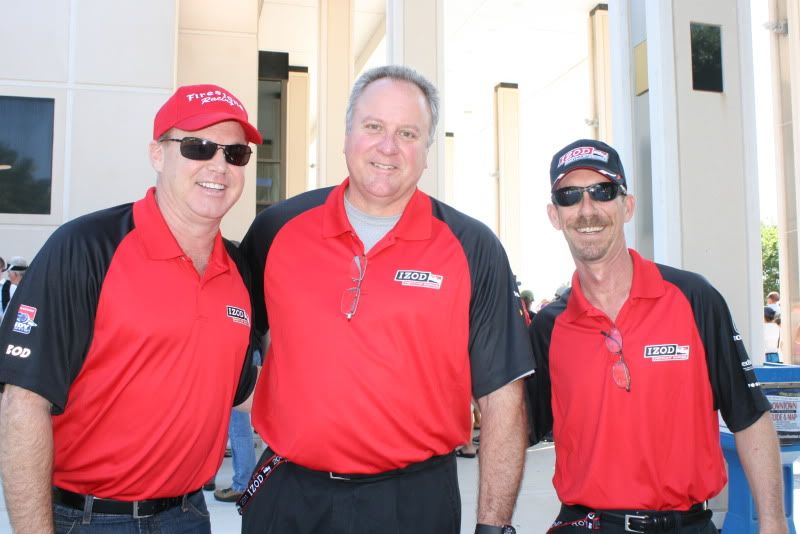 Al Unser, Jr., Brian Barnhart, & Kevin Savoree
Tampa Bay Cheerleaders
Unlike the monsoon filled race day that we suffered though last year in St. Pete, this year the weather was picture perfect. There was a decent crowd to watch both the Indy Lights race and the headlining Indy Car race. After checking out of my b&b, I walked the short distance down to the track and watched most of the Indy Lights race before meeting up with some members of Indy Car Nation to head over to victory lane. We had scored access to the Indy Lights victory lane celebration as well as the pre-race ceremonies for the Indy Car race.
First Lap Crash
This included getting a front row seat for the driver introductions and all the other pre-race hoopla. It was interesting, especially since they have built and entirely new fancy stage that comes complete with hydraulic lifts, flames that shoot into the air and fireworks. It was quite a show.
Oriol Servia
Ana Beatriz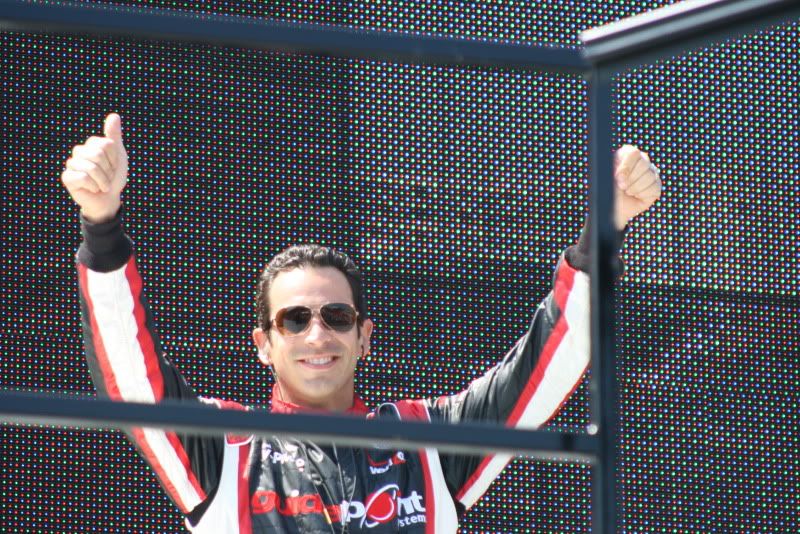 Helio Castroneves
The Indy Lights drivers were celebrating their race, which was won by Josef Newgarden of Sam Schmidt Motorsports over his teammate Conor Daly (son of former F1 & Indy Car driver Derek Daly) and Peter Dempsey.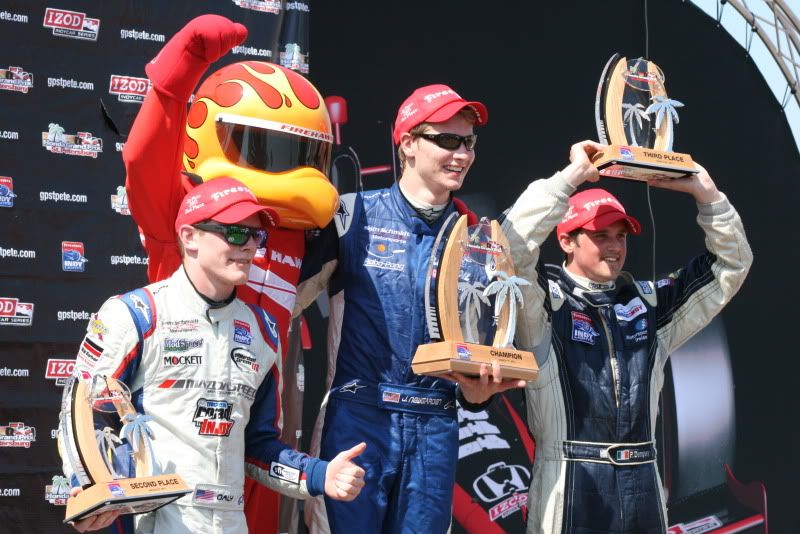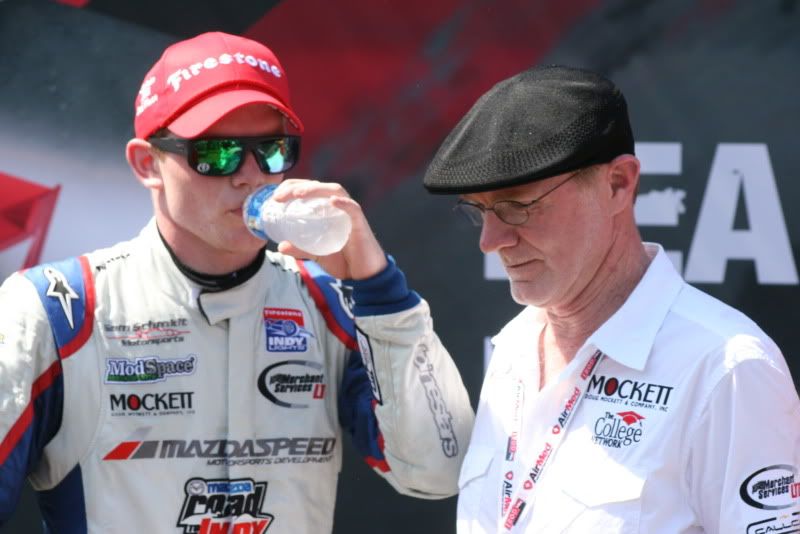 Conor & Derek Daly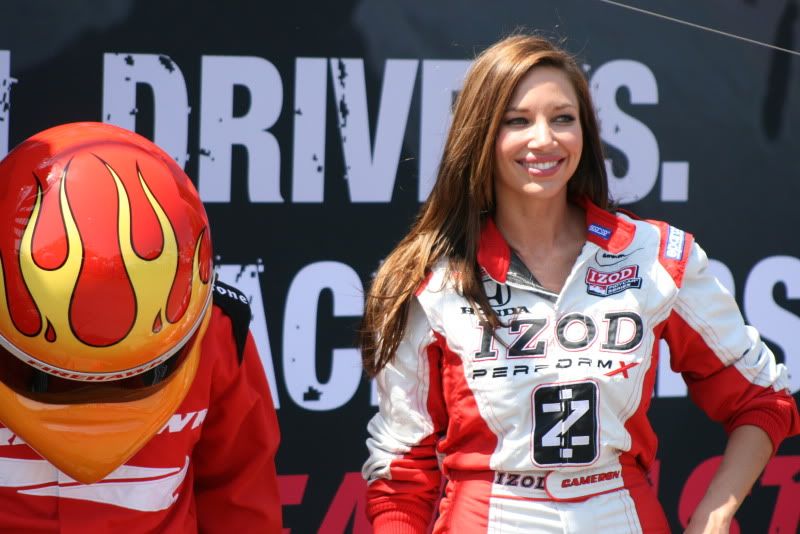 As soon as the intros were completed, I headed the short distance to my Grandstand seat along the front straight as was in place to see the huge first corner pile-up that was triggered by Helio Castroneves being somewhat too anxious to move up and causing a five car crash that involved himself, teammate Ryan Briscoe, Mike Conway, Scott Dixon and Marco Andretti. Andretti ended up flipped over on his head and his day was done 100 yards into the first race.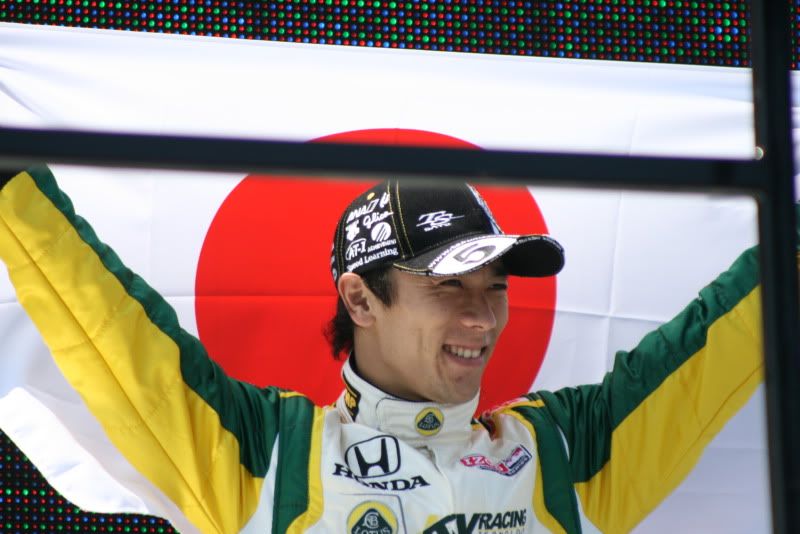 Takuma Sato
Ryan Briscoe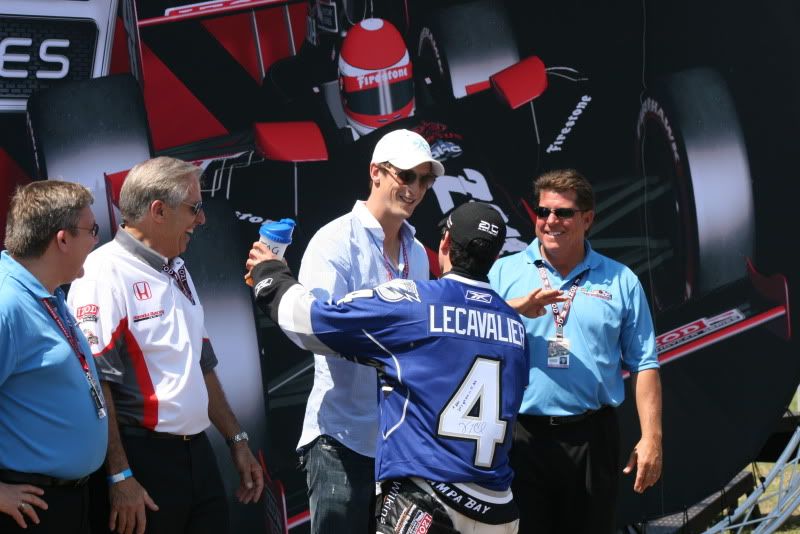 Alex Tagliani hugs Tampa Bay Lightning player & Grand Marshall Vincent LaCavalier
Multiple mishaps followed as the drivers had trouble keeping themselves in check during the early restarts and chaos seemed to come with each successive attempt to get started. Eventually it calmed down and Dario Franchitti who darted to the front early on in an impressive outside pass, was rarely challenged and led 94 of 100 laps on his way to a dominating victory.
Dario Franchitti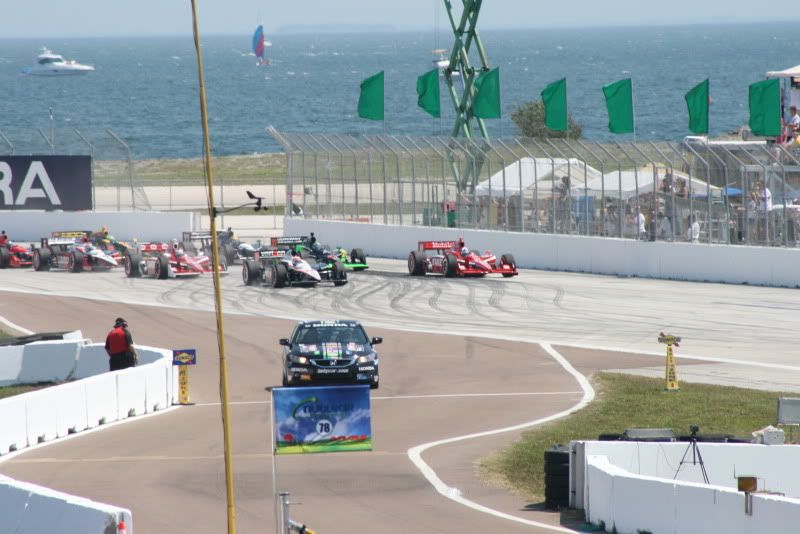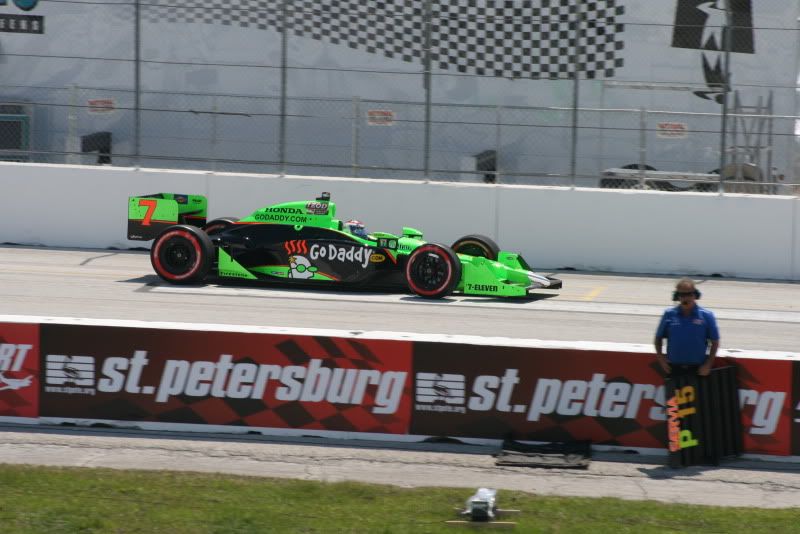 Danica Patrick
Will Power ended up second, though he was surprisingly uncompetitive (at least with Dario). The real battle was for third where Tony Kanaan in his first race with KV racing, held off a charging Simona De Silvestro, who drove a spectacular race. It was a really enjoyable race, especially watching the dicing between TK & Simona and watching Danica Patrick close in and eventually punt rookie J.R. Hildebrand out of the way in a battle for 11th place. Danica got around , but was penalized back to 12th place for her aggressive driving.
Simona De Silvesto
Tony Kanaan
It was a good start to the season, a lot of fun to attend and a good way to get me excited for this year's 100th anniversary Indy 500 which is coming up in May. I can't wait to see it!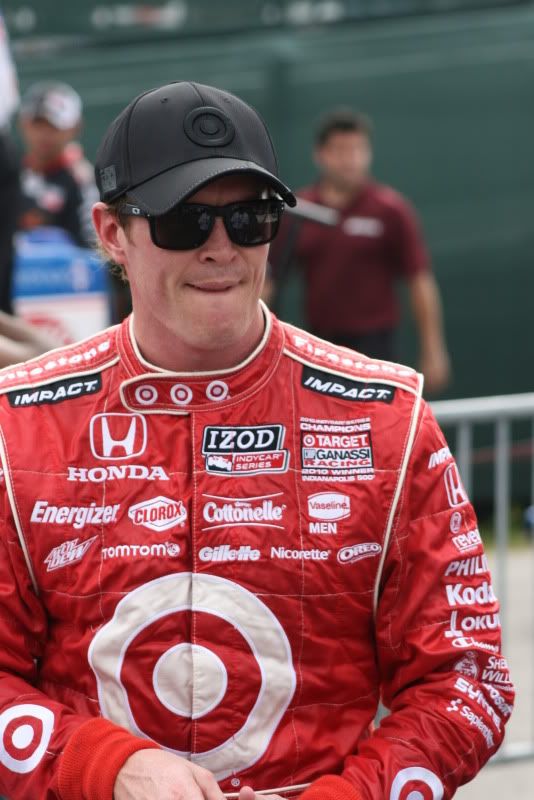 Scott Dixon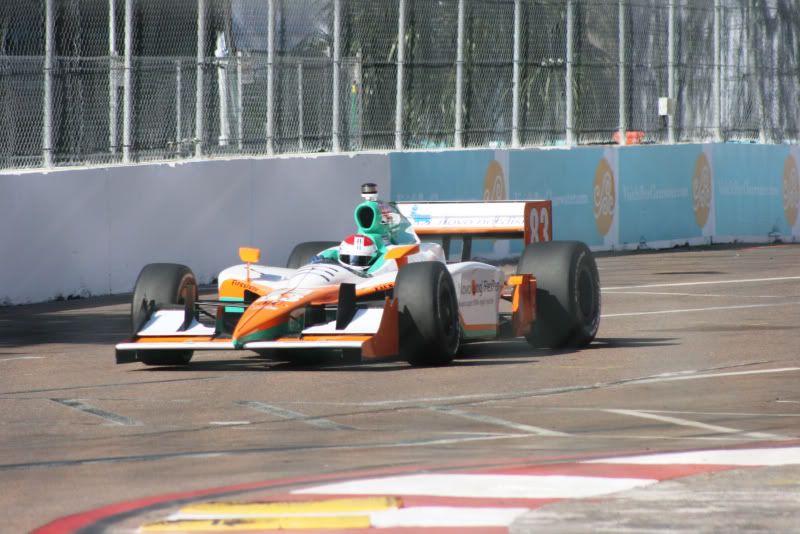 Race Hi-lights!