Field Trip
March 19, 2011
Field Trip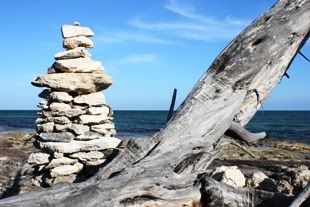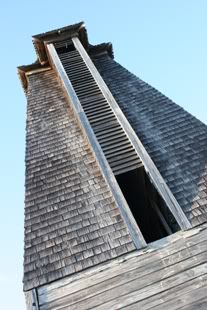 Bat Tower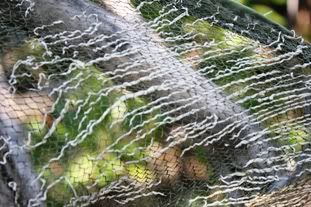 Big Pine Key is located about 30 miles up US Highway1 from Key West and is a popular place for us to get away and visit a very different part of the Keys. Since our friend and resident artist at the Studios of Key West, Liz Murphy Thomas is currently doing a project on US 1, we thought that it was a good opportunity to take her on a photo shoot for her project.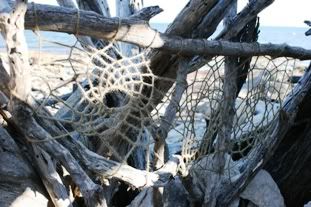 Kathy & I, thought it best to start at the beach on Boca Chica road and then head on up the Keys at a leisurely pace in time to stop for dinner in Big Pine before heading home. Boca Chica beach is an isolated stretch of beach that runs along the back side of the Naval Air Station along Boca Chica road. It attracts an eclectic mix of characters due to its isolation and is also a popular spot for single gay men to meet. You can almost always spot single men headed to the very far end of the beach and there is a sign about a mile down that warns of nude sunbathing beyond that point.
Of course that was not the reason for our visit; we were there to see if anything still remains of the drift wood and rock house that was built on the beach some years ago by a local hermit. The beach house is located about a mile after the paved road crumbles away (just before the nudity warning).
The beach was virtually deserted when we arrived, save for a few single men who headed to the far end and a few people walking their dogs, we were the only people on the long stretch of beach. The Naval airfield was very active though with military jets and larger planes practicing touch and go landings on the runway that is mere feet from the beach. It made for some very loud interruptions of an otherwise fairly silent and beautiful walk along the beach.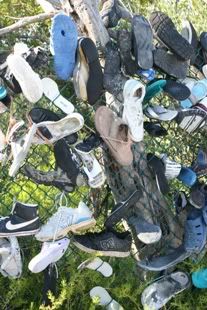 The old hermit house is still there. Deserted but intact, it stands a little worse for the wear, but relatively in the same condition as when I last saw it a few years ago. It is fairly evident that other than an occasional squatter, the place sits empty most of the time. After checking it out, we were headed back up the highway towards our next stop.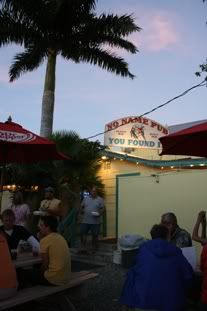 The bat Tower on Sugarloaf Key is another out of the way icon of the Keys. The bat tower is located at MM 17 and was built in 1929 by a local fish lodge owner as a way to combat mosquitoes in the lower Keys, Unfortunately bats never made the tower a home and it has stood empty from that time till today. It is listed on the National Register of Historic Places and is one of only 3 bat towers of its kind still in existence. It also makes an interesting subject for a photograph.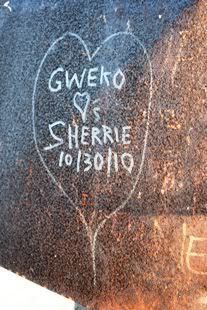 Finally we drove on up the Keys to Big Pine, where we watched Key Deer frolicking around people's yards as we made our way to the popular No Name Pub to eat. The No Name Pub is on Big Pine just before the bridge over to No Name Key and is hugely popular for being so damn hard to find. The food is pretty decent as well and we gorged ourselves on their delicious pizza before returning to Key West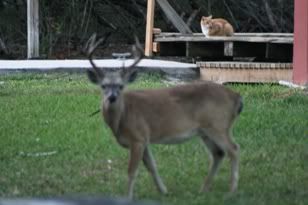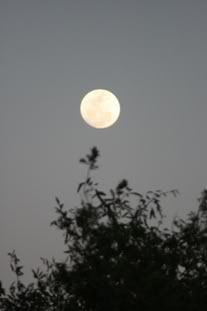 Bruce & Susan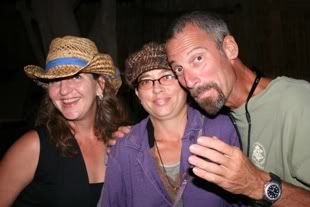 Erin, Beth & Bruce
One other fun event that I attended over the weekend was the Solstice Party held by my friend Bruce at his new home on Stock Island. Bruce recently relocated to Key West from Estes Park and he is currently in the process of building a huge catamaran at a boatyard on Stock Island along with our mutual friend Rick. Bruce and his girlfriend Susan have made an awesome home at one of the spaces at the yard, transforming it in a matter of a few weeks from a dump into a funky artsy Key West abode. They hosted a great little party/ cookout to celebrate the Super Moon and Spring Solstice.