Miami Book Fair 2010
November 22, 2010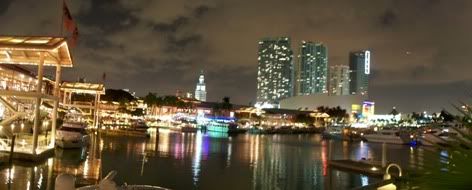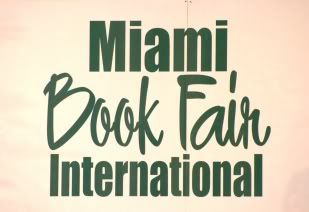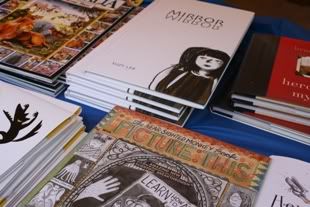 Miami Book Fair 2010
Salman Rushdie
The 27th annual Miami Book Fair International was held this week and as I have been for the past 15 years, I once again made the journey to participate in what is arguably one of the largest and best literary events of its kind. In the years that I have been attending, the fair has enjoyed staggering growth and yet managed to maintain an enjoyable atmosphere in spite of the ever larger crowds.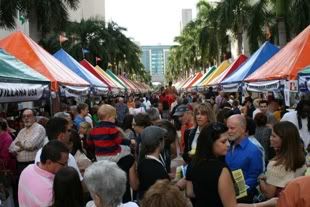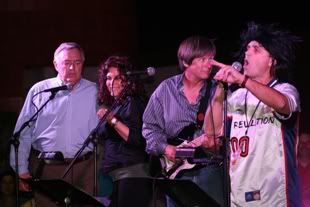 Rock Bottom Remainders
This year, Kathy & I headed up on Friday evening bringing along our friend Ashley who was to meet her boyfriend Arlo who was already there manning the first ever street fair booth of The Key West Literary Seminar. For various reasons, the seminar had never been involved directly with the book fair, but in many ways it makes a great deal of sense to expose ourselves to a much larger and hopefully interested audience.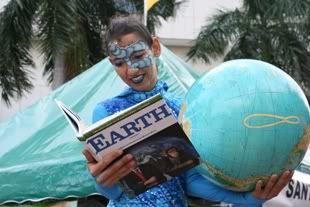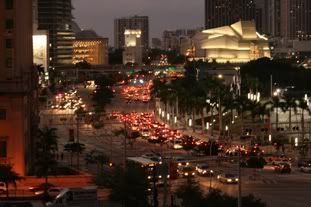 Arlo had worked the fair all day Sunday, then attended the final "Evenings With…" session which are held each evening during the week preceding the street festival. This year featured another stellar line-up at the evening sessions that included President George W. Bush, Nora Ephron, Robert Goorick, Pat Conroy, E.O. Wilson and the incomparable rocker Patti Smith who was appearing on Friday evening.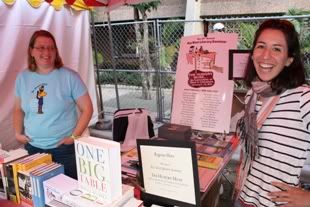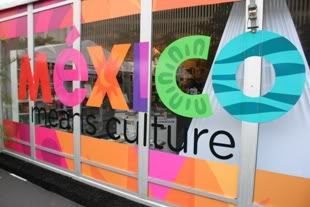 Yeah Yeah Yeahs' Nick Zinner, Stacy Wakefield and Zachary Lipez- authors of "Please Take Me Off the Guest List"
Smith had just been awarded the prestigious National Book Award for her memoir of her life and involvement in New York with photographer Robert Mapplethorpe, "Just Kids". After the reading there was a party for Patti at the Swanky South Beach hotel the Standard, where we got to hang out with literary types under a nearly full moon with the ocean breeze rolling in to the waterfront deck where the party was held.
Patti Smith- "Because the Night"
Saturday was our first full day at the book fair and we started off first thing in the morning with a hilarious presentation by satirists Dave Barry and Willie Geist. Barry has a perfectly titled new book called, "I'll Mature When I'm Dead" and as always he provided an opening session that had the crowd laughing out loud at the absurdity of the true events that inspire his writing. South Florida is as he suggests a target-rich environment for a satirist.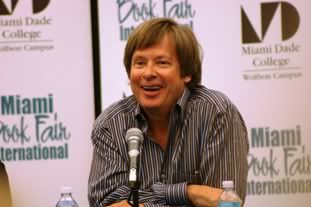 Dave Barry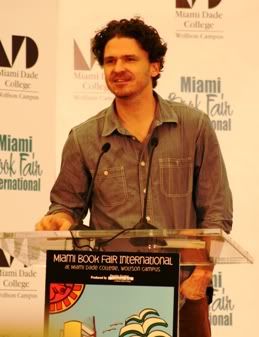 Dave Eggers
Next up was an amazing presentation by the amazing Dave Eggers. Easily my favorite of the weekend, Eggers spoke on both his recent book, "Zeitoun" as well as a long discussion of the amazing work he and the publishing house he founded, "McSweeney's" are involved in. At once hip, literate, inspiring and funny, Eggers delivered a talk as diverse and interesting as the typical issue of McSweeney's quarterly, which if you are unfamiliar, I'd suggest checking out the link below.
Ashley, Erin & Nancy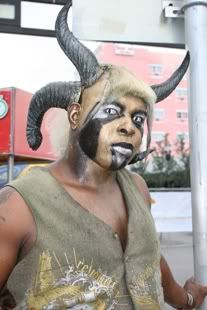 After Eggers, we split up and covered more ground (and were able to see our own favorites). The afternoon found Kathy & I catching presentations by authors that included Sebastian Junger, Karl Marlantes, Edwidge Danticat, Carlos Eire, Ngugi Wa Thiong, Emilio Estefan, Vendela Vida, Jennifer Egan and Julie Orringer,
Ashley, Gecko, & Kathy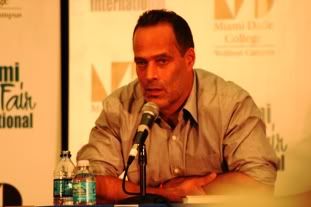 Sebastian Junger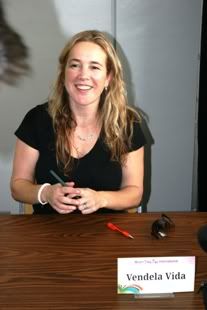 The list of authors that we missed was easily as impressive as those we saw, with 14 venues presenting readings and presentations simultaneously it is impossible not to miss some that we would have loved to see. We also have to leave time to peruse the incredible street fair with the amazing and diverse collection of vendors. The final author presentation that we saw was by the amazingly talented and interesting Salman Rushdie who spoke and read from on his new adventure book for children, "Luka and the Fire of Life".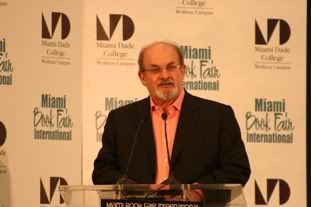 Salman Rushdie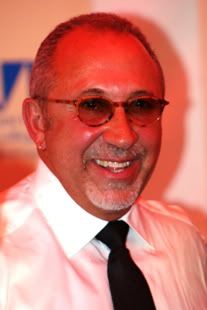 Emilio Estefan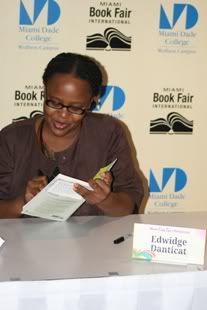 Edwidge Danticat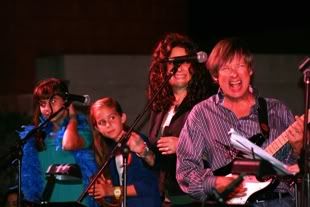 We wrapped up our day at the book fair by joining our group of friends who made the drive from Key West at the evening concert by the band made up of writers, The Rock Bottom Remainders. Fronted by Dave Barry and with a cast made up this year of the likes of Scott Turow, Ridley Pearson, Kathi Kamen Goldmark, Sam Barry, Les Standiford and Miami radio personality Paul Castronovo, the band is delightfully terrible and we enjoyed a few beers watching them butcher rock classics with delight.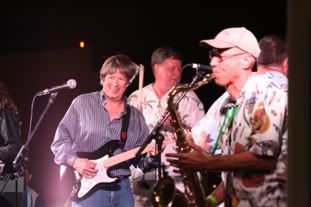 Rock Bottom Remainders
McSweeney's Store
Miami Book Fair