Fantasy Fest Pre-parade and Party
October 31, 2010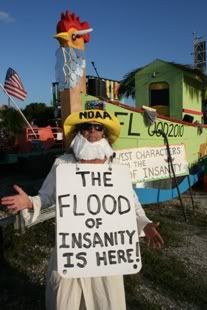 Rick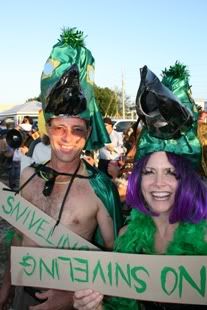 Eric & Jacqueline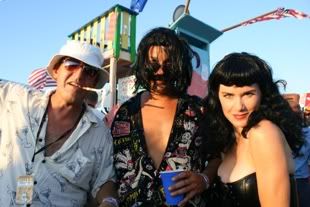 Fantasy Fest Pre-parade and Party
The largest and most anticipated event of Fantasy Fest is the culminating huge Saturady night parade. This year marks the 20th straight year that I have participated or attended the parade which attracts over 60,000 tourists to join the locals for the finale of the massive week of partying. I have been involved with our friend Rick Keith's float for about 15 of those years because of the creative themes and fun people who he attracts each year.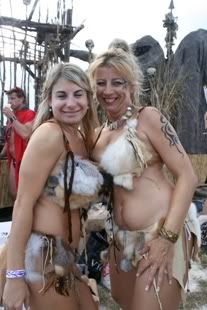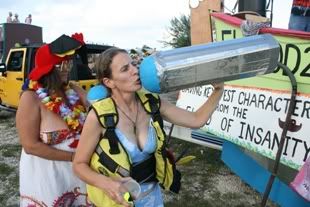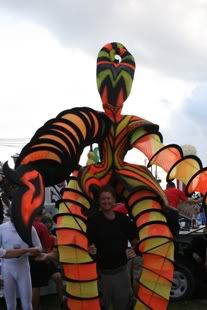 Initially this year Kathy sort of wanted to take a year off from being in the parade and some friends had invited us to their parade viewing party at the Mel Fisher Museum that they had rented out for a private viewing party. I was gung-ho to do the parade, especially since our former Key West friends, Eric & Jacqueline, were back for the float festivities from their new home in Washington State.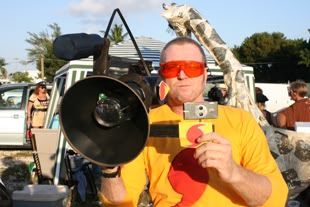 Steve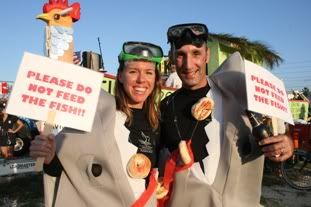 Celia & Todd
How to be in two places at once is always an issue with the crowded social schedule of our island home, but I came up with an inventive solution. We would split up initially, I would go to the float staging area to participate in the pre-float activity which is always one of my favorite things to do. Something about seeing all the floats in their final stages of prep and all the riders arrive all decked out is cool to me.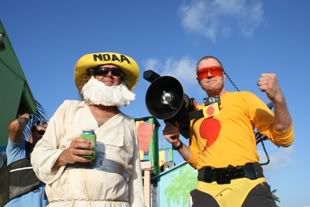 Rick & Steve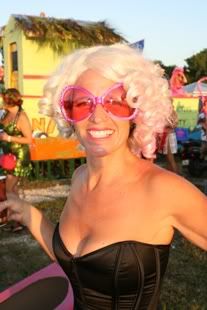 Carol
Kathy headed straight to Mel Fisher to join our hosts Graf & Eileen at their viewing party. Just before the parade actually started, I headed over to join that party and actually watched the first 34 floats as they passed by, then we both would jump into the parade as it passed. The party was less than half-way through the parade route and that way we still got to experience the best of both worlds.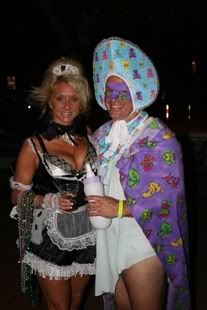 Rhett & Melissa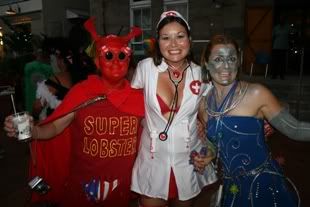 It worked to perfection. Our float this year was a play on Noah's Ark- A giant ark that Rick and friends built by hand around a boat trailer that was populated by 2 of each sort of Key West character. Thus we had two Jimmy Buffets singing, two Capt. Tonys, two lionfish, two Green Parrots, two trolleys, two taxis, two chicken catchers and chickens etc. Some of the group could only be identified by locals familiar with very specific Key West characters such as the Frisbee Guy or the guy that runs in the red hat. Having such inside jokes may have been lost on the vast majority of the crowd, but the locals loved it.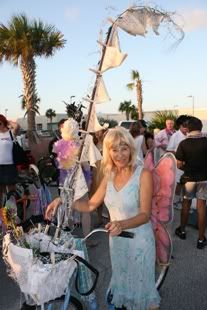 Erika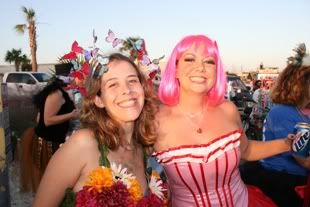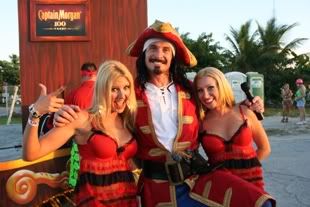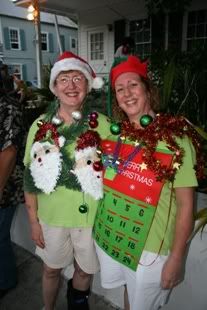 Kathy & I being exhausted and out of time from our busy week, choose to re-cycle our popular Plutonian outfits from the float four years ago. This time we were "Illegal Aliens", who are a large part of the character of Key West, but generally aren't from anywhere as exotic as Pluto.