Zombie Bike Ride I
October 25, 2010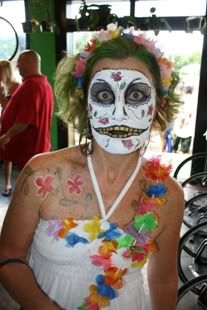 Kathy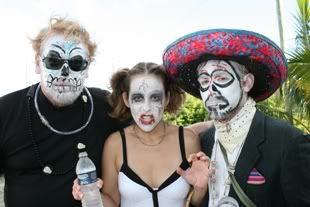 Michael, Elena & Arlo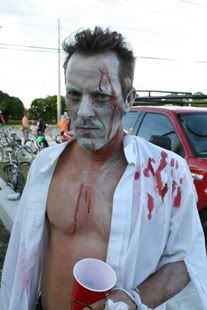 Tom
Tony
Zombie Bike Ride I
Having lived in Key West and participated in Fantasy Fest for twenty years, you might think that we had seen and done it all, but each year there is some exciting new event that is either a new addition to the roster of Fantasy Fest events or one that is established but has somehow escaped our notice. This year the first annual Zombie Bike Ride was added to our calendar and after participating once, already ranks among my favorite Fantasy Fest events.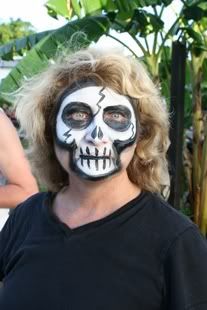 Fran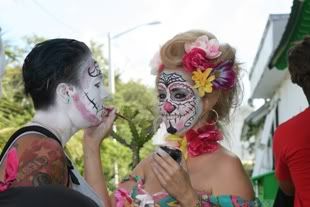 Christa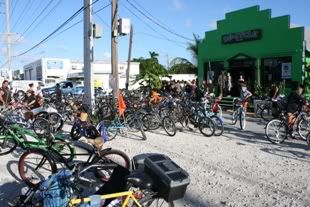 Organized by the Folks at ReCycle bike shop (Evan & crew) and Marky from Key West Burlesque, the Zombie Bike ride seemed like a ready-made success as over 150 people had signed up that they were attending on the event's facebook page. It is no surprise since pretty much everything that the Burlesque group is involved with is both fun and first class.
Ashley, Christa & Marky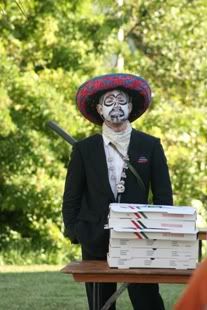 Arlo
Participants were asked to show up starting at 4 PM at ReCycle on Stock Island where a group of Key West's best face painters were gathered to create Zombie make-up for participants who needed assistance with their Zombie make-up. Kathy opted to stay at home and do her own face painting, creating a Zombie skull face based on the Mexican Day of the Dead.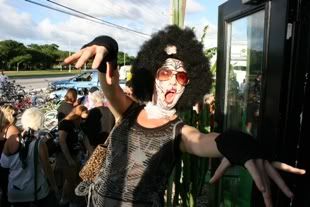 Erin
I headed out to Stock Island at 4, knowing that I don't possess anything close to the artistic skill that Kathy has and also because I wanted to watch the human masses being transformed into their Zombie equivalents. There was a large crowd already gathered and I waited patiently in line to get my face painted.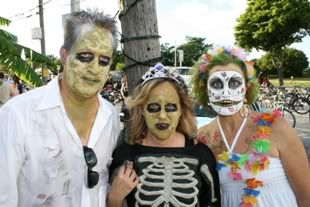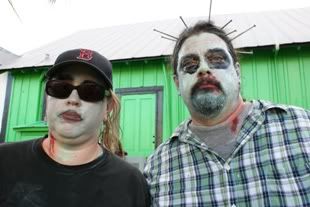 Nan & Mark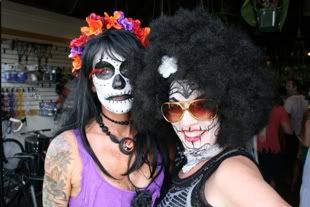 Wendy & Erin
I made sure to get into the line for acclaimed Key West artist and body-painter extraordinaire Tony Gregory, mostly due to the fact that in 20 years, I have never had a Gregory original face painting done. I was really impressed at the skill, speed and quality of all the face painters there and they actually managed to work their way through literally hundreds of people who were there to participate.
Evan
Mike & Lynn
Natalia
The event was scheduled to depart on a slow ride along the beach into Key West just after six in the evening but the pre-ride assembly was pretty cool on its own. I'll call it organized chaos as people scrambled to get painted in time to join the ride. The crowd swelled and by my estimate some 400 people on bikes were ready to roll with a police escort as the start time grew closer.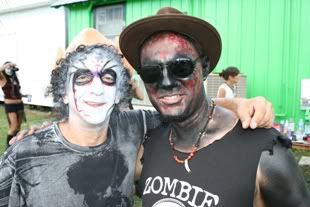 Lou & Haig
The event was too much to cover in a single blog entry, so I will be posting an additional entry that covers the actual ride into town and downtown. I had so many photos that it was really hard to select a representation for the blog. Hope you enjoy the ones that I have picked.