Prohibition Thursday
October 29, 2010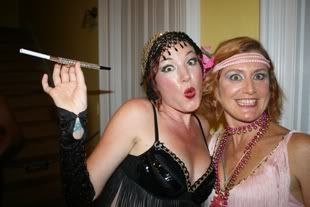 Erin & Kathy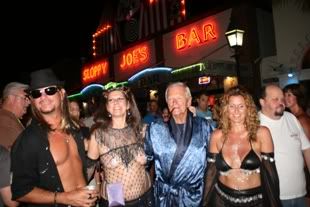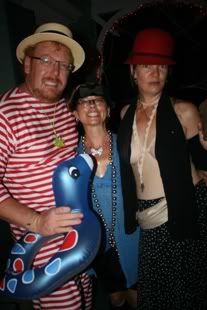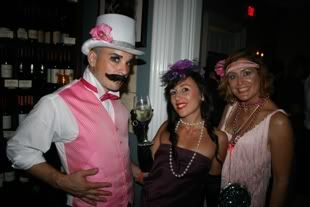 Prohibition Thursday
Thursday night of Fantasy Fest week is a night that we generally take it somewhat easy, not so much because there is not much to do, as that we need to take a bit of a break to conserve a bit of energy for the weekend. The parties on Thursday which include the incredible Pretenders in Paradise and the Toga party at Sloppy Joe's are fun, but the ratio of local to tourist tips heavily in favor of tourist and makes them somewhat less enjoyable for us.
Kathy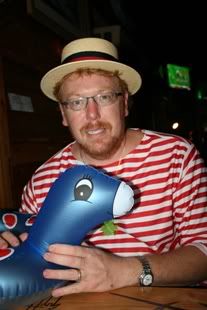 Michael
Of course this year's incredible Fantasy Fest is once again different as there was another new party that drew us out when we might otherwise have kept a low profile. The 1920s prohibition party at the incredible new bar in town, The Porch was the reason to venture out and it did not disappoint.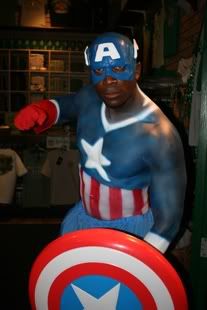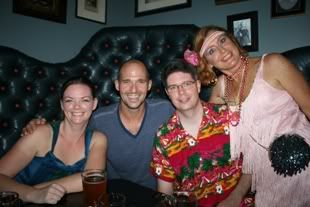 Kathy & I started by heading down into the heart of the madness, walking Duval outside of Sloppy's where the Toga party was in full swing. We stopped by the Key West Preschool Co-op booth where they were serving up drinks and jello shots to raise money. In Key West it is not at all unusual to sell booze for kids, "Shots for Tots" as it were. Next we headed over to nearby Guy Harvey's restaurant for a quick bite and some shots with Captain Morgan before heading to the Porch.
Shots for Tots
The Porch is my new favorite bar. In addition to having the best craft beer selection and cool owners, it has a great ambiance and is always full of friendly locals. We were a little early, but soon the place began getting crowded with gangsters, flappers and others decked out in the latest 1920s fashion. Kathy was a terrific flapper and I opted to go with the 1920s era swimsuit.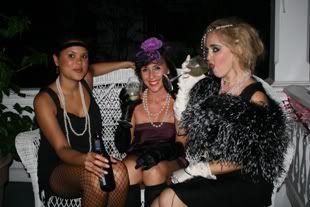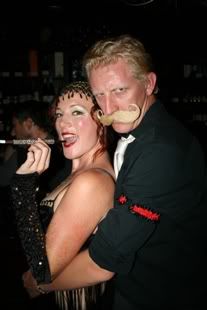 Erin & Chris
It was yet another amazing evening as we mingled with friends, took breaks and walked the Duval madness then came back to the 20s again. We were there for a few hours before meandering down Duval and over to the Green Parrot to see the band.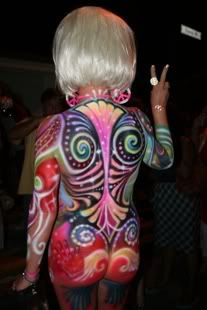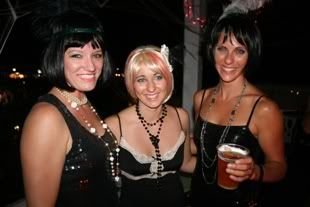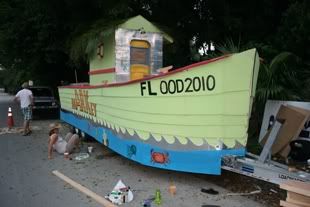 Float Building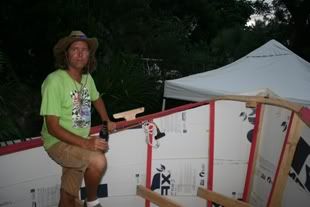 Rick
They always have a stellar musical line-up during the Fantasy Fest week and this year was no exception. Thursday it was the wonderful Red Elvises rocking the place.
Christa
As always, we ran in to more friends at the Parrot and closed out the evening there before riding our bikes home and trying to get some rest so that we can keep pace. It was another long and fun night in what is developing into one of my favorite Fantasy Fests in my 20 years of attending.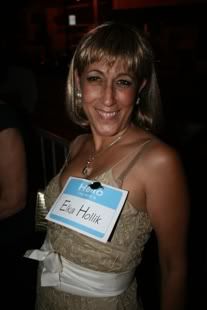 Martha