Zombie Bike Ride Part II
October 25, 2010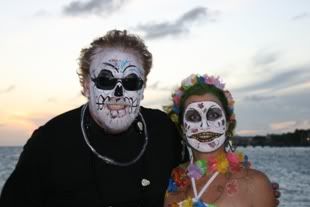 Michael & Kathy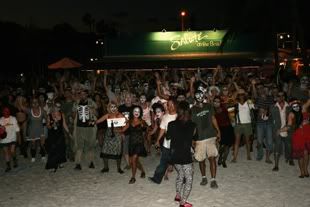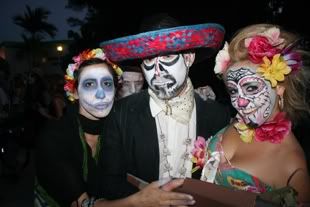 Ashley, Arlo & Christa
Zombie Bike Ride Part II
The first annual Zombie bike ride departed ReCycle bike shop on Stock Island for a long slow cruise into Key West just about on time just after six. The 400 or so riders basically took over US 1 with a police escort and headed into Key West along the beach and South Roosevelt Boulevard. It was an amazing sight and even more amazing to be a participant as hundreds of Zombies biked their way into town.
Kathy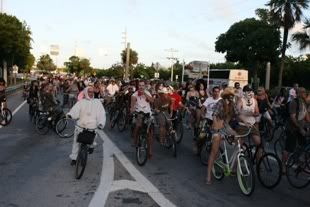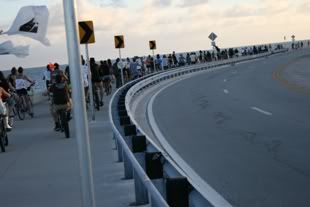 The timing was pretty much perfect as the sun was setting just as we made our way along Smather's beach, around to Atlantic Boulevard and on to the White Street Pier. The weather was great and the sunset another Key West beauty as we stayed on the Pier and watched it sink into the sea before heading on to the first planned stop at Salute restaurant at Higgs' Beach.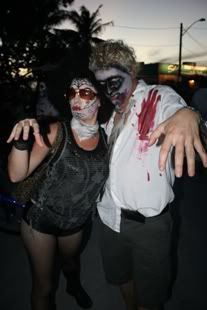 Erin & Chris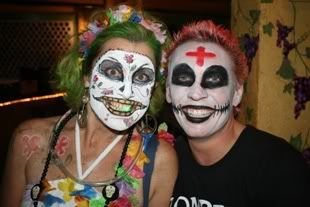 Kathy & Carrie
One of the best things about the event and what made it special is that like the Friday Masquerade March, this event drew mostly a local crowd and bunches of our friends were there dressed as Zombies and joining in on the fun. The stop at Salute gave everyone enough time to get a drink and to try to get together for a group photo- which was like herding undead cats.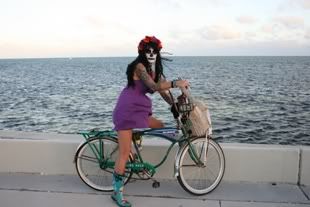 Wendy
Kathy
Kathy & Erika
We next headed in to the heart of Old Town and onto Duval Street where thousands of surprised tourists and locals met the blocks long parade of Zombies that took over the street with cheers. It was a very cool experience and everyone watching seemed to appreciate the appearance of the Zombies.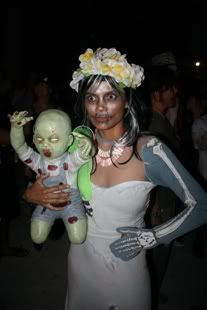 Shawna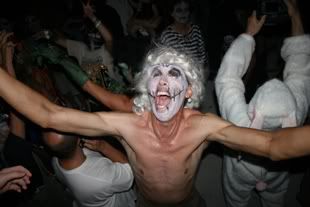 Mongo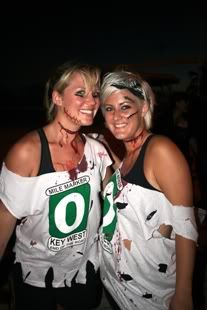 Stop 2 was at the Green Parrot bar and once again we took over Southard Street and there were Zombies dancing in the streets outside of the bar. Most of the patrons there were unaware of the event and seemed stunned when suddenly hundreds of us descended on the place.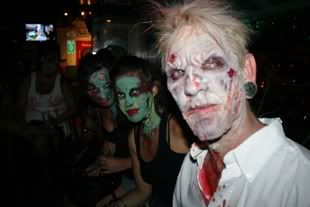 Kathy & I didn't stay there too long, opting to be at the head of the Zombie pack for the final stop at the Porch. Being the first Zombies on scene has its advantages as we were able to score the cool table, easily get drinks and comfortably watch the hoards of thirsty Zombies pouring in after us. It was a ton of fun.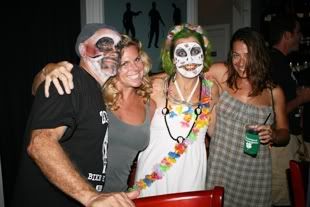 Michael, Kim, Kathy & Julie
Erika, Mike, Mike & Mike
More good news is that due to the early start time we did not have to stay out all hours and actually got home at a reasonably decent hour. The Zombie Bike ride has firmly established itself of one of our new staples of Fantasy Fest week. Kudos to all who planned it, painted faces and participated. It was a blast!
Christa & Kathy
Arlo, Ashley, Natalia & Kathy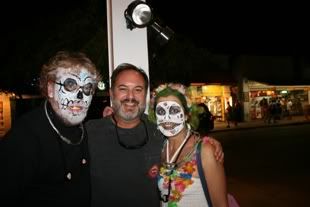 Michael,Billy & Kathy