Garden of the Gods
August 11, 2010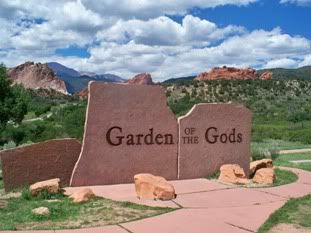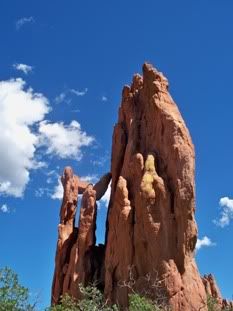 Cathedral Spires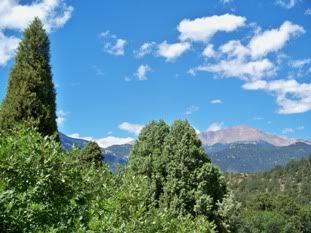 Pikes Peak
Garden of the Gods
One of the coolest places in the vicinity of Manitou Springs is the incredible park known as Garden of the Gods. We are very fortunate that the house that we own in Colorado is located on Columbia Road which dead ends at the border to this amazing place only a block or two up the road. In fact the stable to rent horses to ride in the park is just across the street from our house.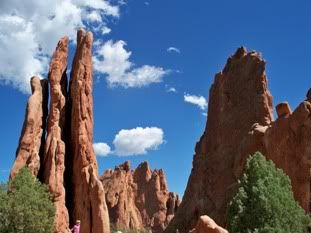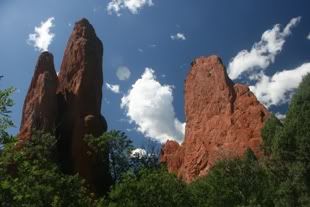 Balanced Rock
The place is impossible to really capture with words or photos, it is the sort of place that really needs to be experienced to be fully appreciated, so I like to take some time during each visit to check it out. So while Kathy went hiking with Kari and Jim went off to play tennis with Chris, Sophie and James, I headed alone over to check out the beauty of the Gardens.
Alone is really a misnomer since the amazingly beautiful summer day found the park packed with vacationers and tourists. The good news is that the place is expansive enough that other than at a couple of popular spots like Balanced Rock, the crowds were so spread out that you didn't really notice them.
The park is famous for the rare geological features of ancient sedimentary beds of red, blue, purple, and white sandstones, and limestone that were deposited horizontally, but have now been pushed up vertically and faulted by the immense mountain building forces caused by the uplift of nearby Pikes Peak. These beautiful massive jutting formations are popular with rock climbers and create a visually stunning foreground to the front range including Pikes Peak.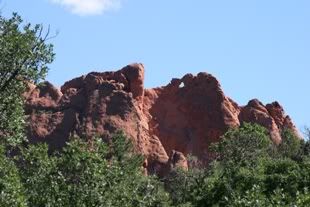 The park has numerous hiking trails and is full of wildlife including bears, mountain lions, rattlesnakes, mule deer and chipmunks none of which I saw on this visit. My guess is that they keep a low profile during the daylight hours with so many visitors around.
Kissing Camels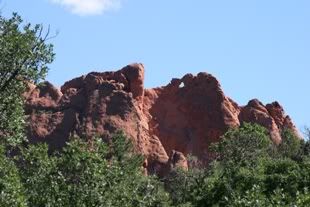 I did manage to check out many of the most interesting features of the park including balanced rock, steamboat rock, the kissing camels, cathedral spires, the hogbacks and the three graces. Each of these are inspiring and beautiful and well worth the visit.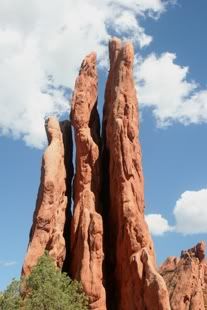 Three Graces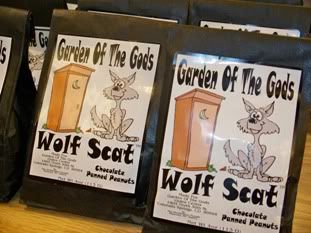 Garden of the Gods website