One Night Standing
August 7, 2010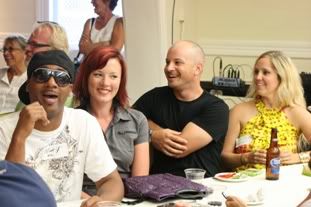 Mook J, Erin, Marky & Christa
One Night Standing
There are many awesome events that seem to occur on a constant basis in Key West and it is our pleasure to be able to attend, witness or participate in many of them and even more enjoyable to be able to share with the people who follow this blog. Ranking right up there with my all-time favorites is the "One Night Stand" that has been produced annually at The Studios of Key West.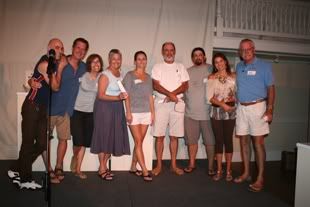 Cast & Crew of "Galactic Interface"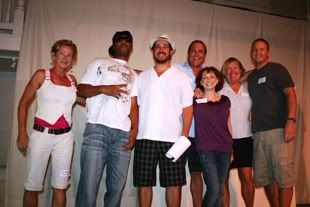 Cast & Crew of "Educating Ace"
This event, the brainchild of our talented friends Elena Devers & Mark Hedden involves teams of writers, directors, actors, stage hands, set designers and artists coming randomly together on a Friday evening and creating from scratch, five short plays which are then performed 24 hours later.
Cast & Crew of "Dengue Fever"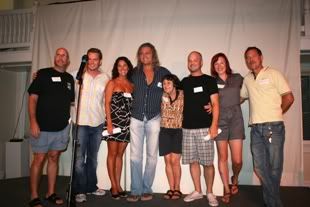 Cast & Crew of "The Horrific Dating Game"
Cast & Crew of "Adventures in Season"
The event has grown substantially from its humble creative roots four years ago into a massive undertaking with hundreds of participants, volunteers and attendees. This year for the first time, there was such a demand for seats that a second performance was added later the same night. My participation was in the form of being asked to be one of the photographers that documented the process.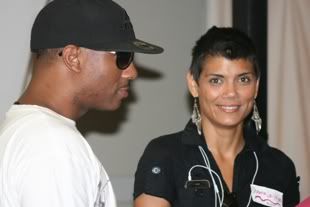 Mook J & Shawna
Elena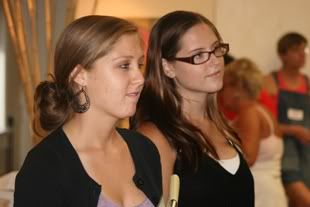 TSKW Summer Interns Elizabeth & Emily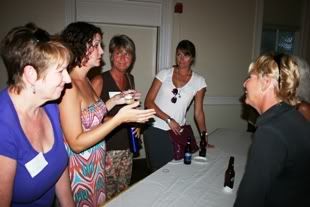 The initial gathering was held at the Studios at 7 PM on Friday and all those who had signed up to participate gathered for the random selection process. Five Directors had been pre-selected along with 5 Writers and many actors, artists etc. Each Director was called to the stage by Elena and picked the name of a writer out of a hat, the writer then selected a cast of actors, then an artist to create the backdrop and set and finally two sponsors were chosen to be incorporated into the plays. The rules were simple; each play must utilize a shared single line of dialogue and a common prop. Then the writers were off to write their plays, having 12 overnight hours before they had to meet with the directors and cast and get going with rehearsals, etc.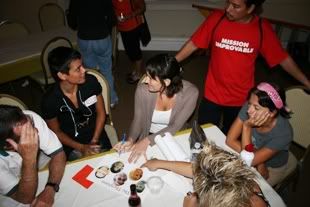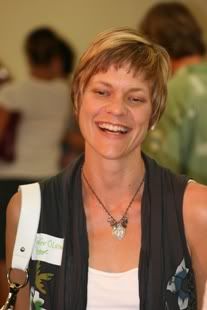 Jennifer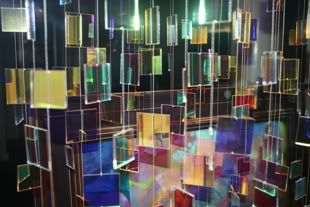 My real assignment was to begin on Saturday, but in the meantime we had other fun things to keep us busy, so upon departing the Armory, I rushed over to join the belated birthday dinner for our good friend Nadene at Origami restaurant where the party (and sushi feast) was already in progress. I missed most of the sushi, but was there in time for the post meal night out partying at the Rum Bar.
Melissa, Nadene & Fiona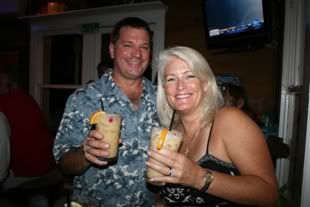 Greg & Beth
In many years in Key West, I am sad to say this was my first visit to the Rum Bar which is located on upper Duval. The bar specializes in Rum drinks and features Rums from around the globe including my favorite Haitian Rhum Barbenncourt. It was another great night out with great friends. Happy Birthday Nadene!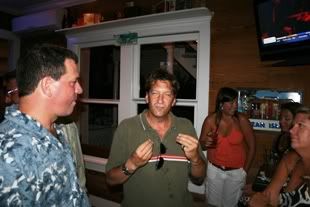 Rob
Saturday, I had a long day of shooting scheduled, but first I wanted to head down to Duval Street to attend the annual Lobster Fest. Lobster Fest celebrates the official opening of the commercial lobster season and includes many fine restaurants serving up their own variety of the tasty Florida version of the tasty crustaceans. I had a nice lobster lunch before heading off to photograph the One Night Stand preparations.
Mark Rossi