Happy Birthday Hemingway!
July 27, 2010
Happy Birthday Hemingway!
The summer in Key West brings a plethora of festivals and events that are designed to draw tourists to town during what otherwise would be a very slow, hot time. For the most part these are very successful and the upside for those of us who live here year-round is that there is invariably something going on each weekend that we can get out and participate in if we so desire.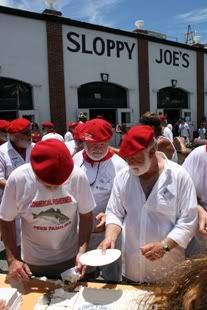 The annual Hemingway Days event is one of the longest running and most successful of these festivals. We don't do all the related events, but each year, we seem to find ourselves at an event or two. This year we choose to head down on a hot and sunny Saturday afternoon to attend the Hemingway Days Street Fair. The Hemingway look-a-likes were handing out cake celebrating Papa's birthday. The main draw was that Kathy needed to pre-register for the Hemingway Days 5K run that she was planning to run.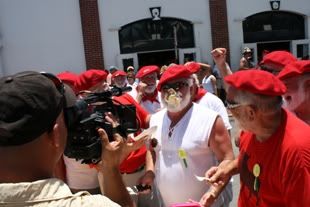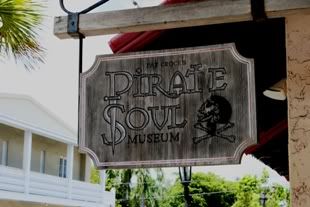 Since we were headed downtown, we decided to take advantage of a couple of other opportunities as well, visiting the newly opened bar The Porch and finally visiting Pat Croce's Pirate Soul Museum which will be closing at the end of this month and relocating to St. Augustine.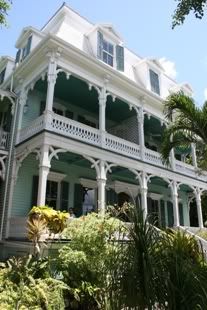 The Porch @ The Porter House
The Porch bar is about as hidden away as possible for a bar located on the corner of Duval & Caroline Street. The wonderful new addition to Key West features a wonderful wine selection as well as a bevy of high quality draft micro-brews all tucked away on the porch and front room of the historic Porter House. Only steps off of the craziness of Duval Street, yet you can sit at the Porch and watch without being overwhelmed by the madness. It has been mostly packed each time we have been there, mostly due to the positive word of mouth and popularity of the wonderful owners.
View from the Porch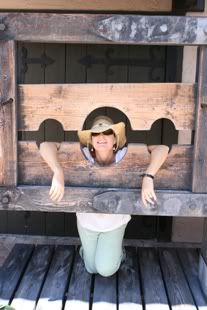 Pirate Soul
I must admit being somewhat remiss about not having previously visiting Pat Croce's Pirate Soul Museum until they offered the locals special during their last month in Key West. I have never been much of a Pirate fan, and I always assumed it would be a cheap tourist trap sort of place, boy was I wrong. The place has way more in common with the best museums than with any tourist trap. It is really well-done and literally has some amazing treasures including the only known surviving pirate treasure chest, one of two remaining actual pirate flags and a number of actual weapons from well-known pirates. It is well worth the visit and if you ever find yourself in St. Augustine check it out.
Tropic Cinema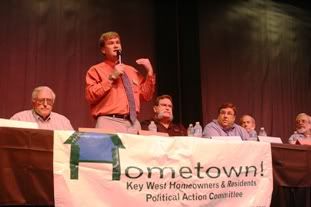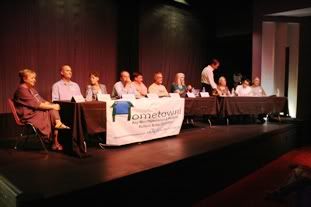 Candidates
Carol, Alex & Sheldon grill the candidates.
Hemingway Days wasn't the only thing keeping us busy this week; we also attended the Hometown PAC election forum held at the Tropic Cinema where local candidates for School Board and Mosquito Control answered questions posed by my fellow Hometown board members. There are a ton of candidates and these forums help voters distinguish between them. We also spent a nice evening out with our friends Gae & Nadene at The Hog's Breath Saloon where our friend Jeff was the scheduled happy hour entertainment all week. It was a wonderful relaxing evening with drinks and dinner later at the Café.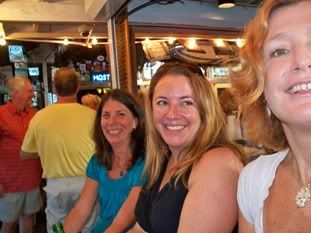 Gae, Nadene & Kathy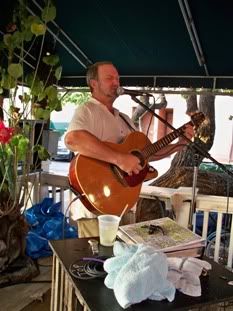 Jeff Syman