Universal Studios
July 17, 2010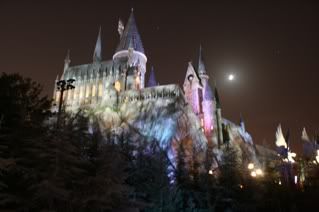 The Wizarding World of Harry Potter
Kathy & Dakota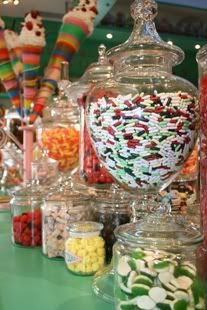 Universal Studios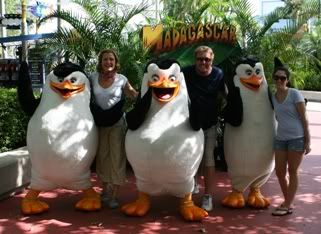 Just last month a new attraction opened at Universal Studios in Orlando that has garnered a ton of hype and throngs of visitors clamoring to be among the first to experience it. The Wizarding World of Harry Potter is a multimillion dollar expansion that includes an entire new area of Universal's Islands of Adventure amusement park. It is just the sort of place that we tend to avoid, especially so soon after the grand opening and even moe so in this particular case since Kathy & I are two of the very few people in America who have neither read or seen a single Harry Potter book or movie.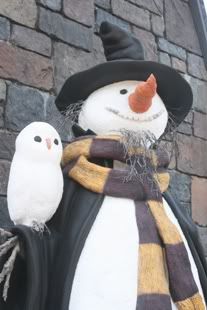 But as fate would have it, my favorite band, the Counting Crows booked a date to play as part of Universal Studios summer concert series, the only Florida date on this year's tour so we found ourselves headed to Orlando in the heat of the summer, where we met our friend (and Kathy's former mentee) Dakota for a weekend at Universal and to see the show.
We stayed at the nearby Wyndham Orlando resort which is just up the street from the parks. To avoid the masses, it takes a good bit of planning and we did our research. The only way to see the new attraction and avoid total chaos, is to get there first thing in the morning. The park opens officially at 9 am, but they allow people in before that and the line forms just to get in to the new section. So there we were, bright and early and it paid off because we neither had to wait to get into the Harry Potter section (where waits can be over 2 hours) or to ride the main attractions once inside (where wait times soar to 3 hours plus at times).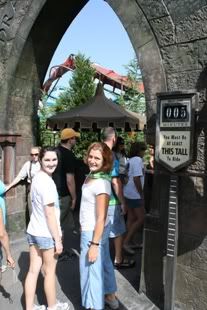 Butterbeer Anyone?
With-in 45 minutes, we had ridden the incredible new Harry Potter and the Forbidden Journey ride and the Dualing Dragons rollercoaster as well as checked out the great stores and even sampled some Butterbeer. As a non-Potter fan, I was still majorly impressed. The entire new section is as good as it gets for theme park fans and the Forbidden Journey ride is one of the best theme park rides in existence., impossible to describe, but well worth a trip to Orlando.
Kathy
Dakota
It was with great satisfaction that we were wondering out of the attraction past literally thousands of people in a long hot (2 hour plus) wait just to get in, simply because we got there early. This strategy also made for shorter lines at the other Islands of Adventure attractions, because everyone was clamoring to get into Potter-land.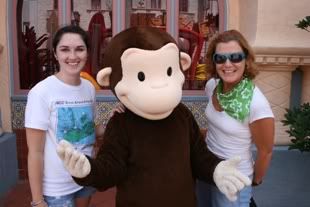 When we headed over to the other Universal Studios theme park later, the crowds were even sparser and there was virtually no wait on any of the rides there. We purchased the annual Florida resident two park pass that allows for unfettered access to both parks and allowed us to jump back and forth and see more in less time.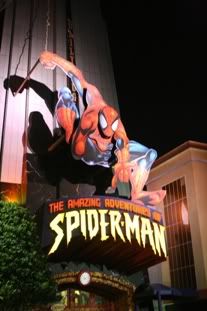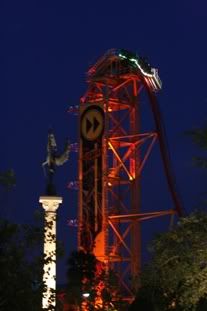 Our early arrival also allowed us to be able to take a mid-day break and head back to the hotel to lounge about the pool during the heat of the day, before returning for the night in time to catch the firework spectacular that closes each night at the park. It was a great first day in Orlando.