Gentlemen Start Your Dremels
September 26, 2013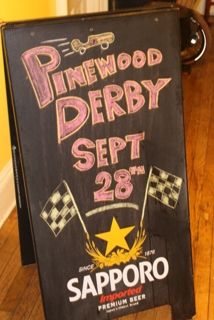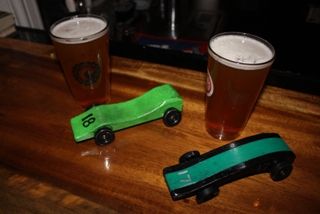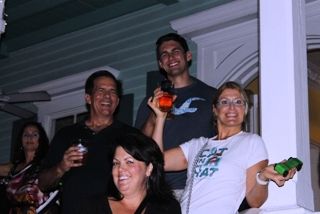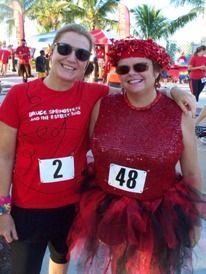 Kathy & Joanie
Gentlemen Start Your Dremels
As a kid, I was in the cub scouts for all of about two weeks, I joined at one point when I was about six or seven. I remember spending time going shopping for a uniform with my grandparents. There is I believe a single photo of me someplace showing me proudly wearing the uniform, but it was short-lived. I could never seem to get a ride to the meetings and after a couple of weeks of going to meetings and not collecting a single merit badge, I sort of just stopped going.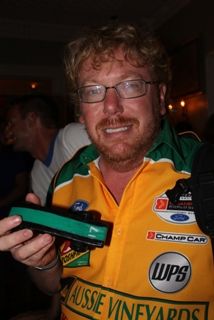 Michael
Erica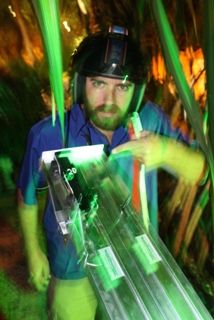 The point of this sad tale is that I never got to do a lot of the things that come with being in the scouts, including the ubiquitous pinewood derby, something that I most certainly would have been interested in doing. So when my favorite Key West watering hole announced that they were sponsoring a pinewood derby, I immediately purchased two sets of car building materials- basically two blocks of pine with wheels and axles and that is about it.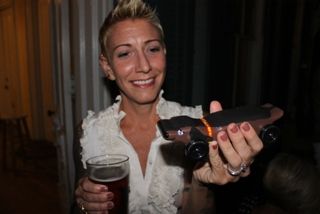 Jen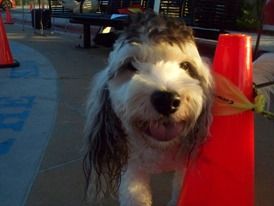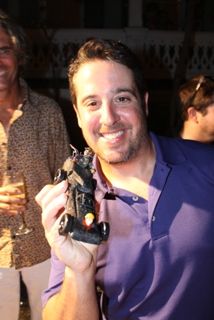 Michael M
I worked for a week or more building my car to the exact specifications of the pinewood derby rules, dutifully measuring and precisely trimming my car in to a lean and seemingly fast piece of racing machinery. When Kathy did not show the same level of enthusiasm and on race day morning still basically had a block of wood- I hurriedly built and painted a car for her- without any of the care and detail of my own car.
Michael & Carolyn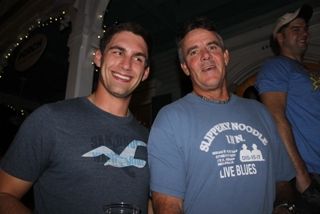 Cameron & Howard
Of course the night of the race, my car did not even cross the finish line being one of the only cars to crash out after losing a wheel midway down the track in its first race attempt while Kathy's car of course won its first race going away to advance in to the second round where she came up just short.
I should now say something trite like how it was not really about the competition and it was all in good fun etc., but damn I wanted to win, one race at least. Oh well there is always next year- since the Porch purchased the track and now needs to come up with a reason to use it. It was a ton of fun, added to by a visit from our friend Cameron- who was a participant in the RPM field school in Albania this summer along with his father Stuart.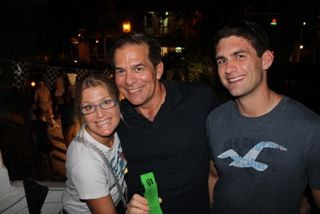 Kathy, Stuart & Cameron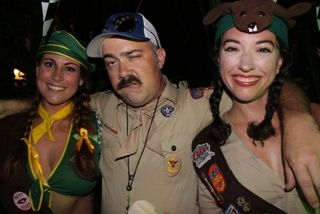 Jenn, Landon & Carolyn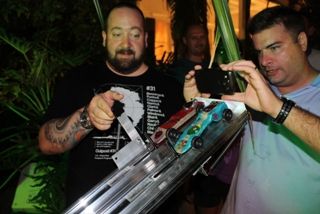 They were here checking out Key West and as fate would have it, a second student from the field school was here during the same time as Leslie was visiting with her mother. While they did not make it to the pinewood derby, we did all get together for a great breakfast at Pepe's before Kathy and I had to take off to head to Europe.
Jeff, Stuart, Cameron, Leslie & Howard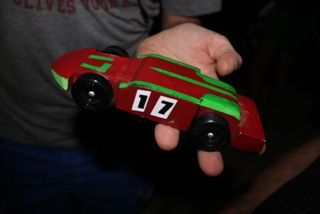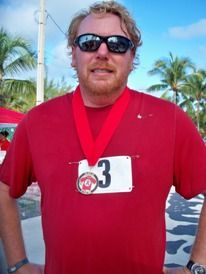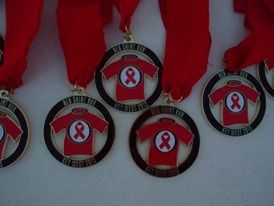 This week also saw us competing in yet another 5K race, this one was the "Red Shirt Run" and was a benefit for one of the candidates for Fantasy Fest King and AIDS Help. Kathy and I each finished in first place- she as female walker and me as male walker which was pretty cool.
Arlo, Jennifer & Elena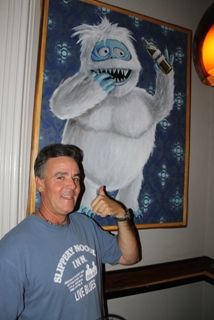 Howard
Our friends at theme runs sponsored the race and they also were busy this week promoting their next event, a Fantasy Fest race that shares the theme of "Heroes and Villains".
They were filming a commercial and taking promotional photos this week when Kathy and I came across them and got some photos of our own. I think we will be participating in that one as well.