Floatopia Miami
September 15, 2013
Floatopia Miami
So if you are reading this, you may have noticed that I have fallen somewhat behind in my blogging efforts, eventually life just catches up and somehow I just kept falling farther and farther in arrears as far as posting timely and up to date blogs. I found myself with three options, stay behind and just post updates as I found the time- meaning my posts would continue to be months out of date, skip ahead to current
events and just forget about the past few months or skip ahead and try and go back when I get the chance to fill in the blanks.
I choose the third option, meaning that I will be posting both current and sometimes past events so that I can hopefully keep current and fill in the past few months that seems to have slipped by so quickly. This means that the blog postings will not always be in chronological order and that current events will take precedent over past ones until I hopefully eventually get caught up.
In keeping with that, this post will be about the past weekend when Kathy & I headed up to Miami for a great weekend getaway, mostly to attend a Depeche Mode concert on Sunday, but we went up on Friday afternoon and made it an entire weekend filled with various activities.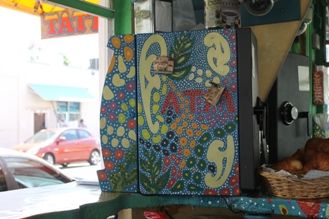 We headed up on Friday afternoon, staying near the University of Miami campus where we spent some time hanging out at the Titanic Brewery on the UM campus tasting some yummy craft beers before heading to South Miami to find a little hole in the wall restaurant called the Caribbean Delite Restaurant where Kathy could get an authentic Roti that she has been craving since returning from Trinidad and Tobago.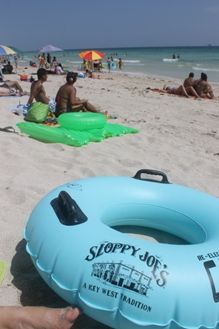 Saturday morning dawned another beautiful sunny Miami day, a perfect day to fulfill our goal of heading to Miami Beach to enjoy a glorious beach day. We decided to head to South Pointe Park, which is the southernmost point of South Beach where we were happily surprised to discover there was a cool event happening called Floatopia.
Floatopia is a semi-organized gathering of people at the beach with all manner of floatation devices that they raft up and basically party away on. It began in 2003 in Santa Barbara, California where it has been held annually ever since, it has also spread to other beach communities including Miami Beach where this was the second Floatopia event to be held at South Pointe Park.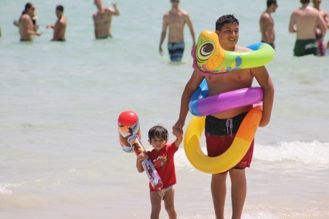 Literally hundreds of revelers and all sorts of inflatable floating devices were on hand and thousands more packed the beach for the massive beach party. It may have gotten even larger if not for the prevalence of moon jellyfish that were plentiful in the shallow nearshore waters that scared many from entering the water, even though they are mostly harmless – delivering a very slight stinging sensation if you happened to brush into one.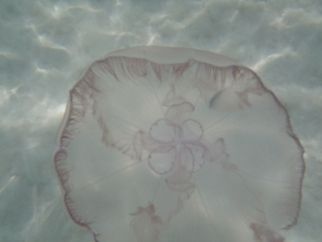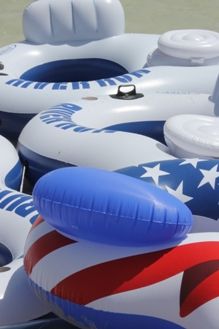 The vast majority of the partiers seemed to be college students from UM, but there were others there as well, including families and a few older floatopians like Kathy and myself. It was a ton of fun, I especially liked the diversity and variety of the various floatation devices. Kathy & I had the float from last month's Tubeathon in Key West.