Zombiefest
October 26, 2012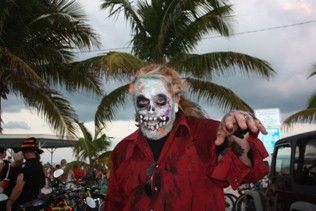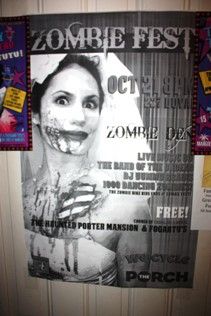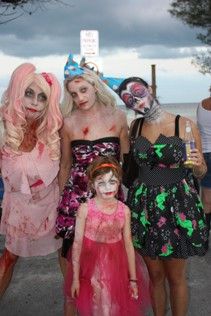 Zombiefest
The Zombie Bike ride has grown so much that it is actually sort of broken in to separate events, the first being the ride from Recycle to Salute, then a party at Salute and finally the last leg that culminates in what is an even larger party at two locations, the Porch and Fogarty's which is collectively known as Zombiefest.
There are some people who only complete one of the sections, some just ride the first leg (mostly people with kids- who are welcome at this Fantasy Fest event), some who just show up at Salute and others who skip the ride altogether and just show up for the late night Zombiefest.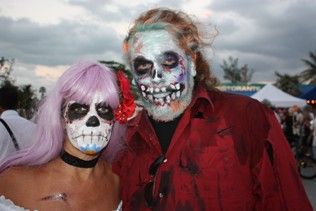 Carol & Michael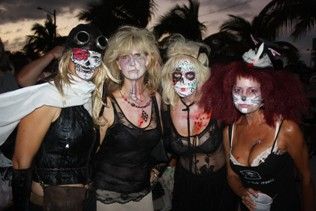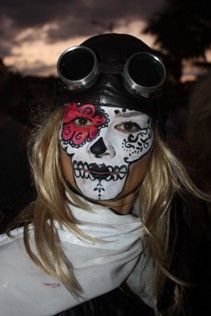 Then there is also a huge contingent which completes the entire thing, count us in that crowd. The party at Salute was fun; it is here where a lot of people show up just to check out the Zombie scene and get up close and personal with the thousands of Zombies. In fact the crowds watching this year were up in greater proportion than even the growth of participants and thousands lined the route to watch the Zombie bike parade.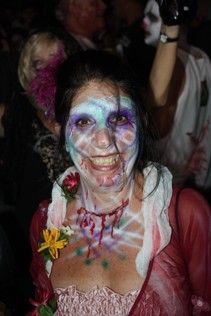 Gae
The Phoenix family
The crowd along Duval Street was especially huge this year, bigger than most any other of the many annual parade crowds with the exception of the holiday parade and main Fantasy Fest parade on Saturday. We had the entire street to ourselves as Zombie Bikers pretty much took over the length of the street and had the crowd snapping photos and cheering as we passed. It was such a cool experience.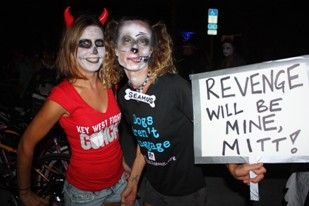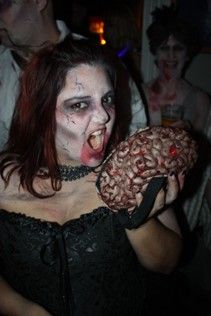 Danielle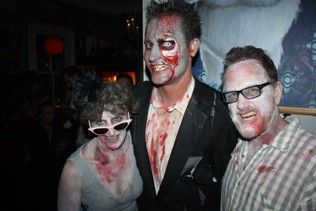 Greta, Jeremy & Tom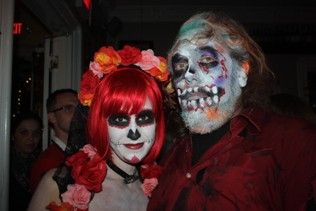 Eliza & Michael
The parties were great as well, both at Salute which featured a DJ and even a Zombie flash mob that recreated Michael Jackson's "Thriller" to remarkable effect. Really cool and fun for the huge assembled mob. The kids seemed especially excited and unlike many Fantasy Fest events, this one was totally family friendly. Nothing raunchy or really even risqué and other than some gory blood and fake guts- kids seemed to really enjoy the Zombie theme. Entire Zombie families participated.
Dan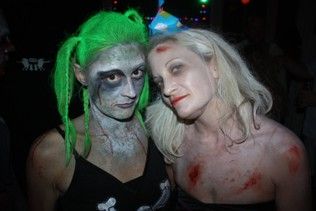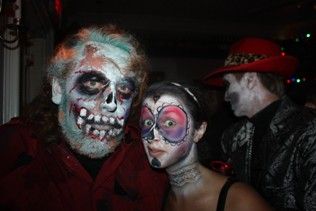 Michael & Livi
Erin & Carolyn
The late night Zombiefest was a more adult version of the Zombie fun as the Porch and Fogarty's were both completely filled to the gills with Zombies out for a fun evening. I staked out a good spot in the porch to witness the fun and mayhem that is Zombiefest and hang out with friends who were there and passing by. It is amazing how much you can see sometimes just by staying in one spot.
Layla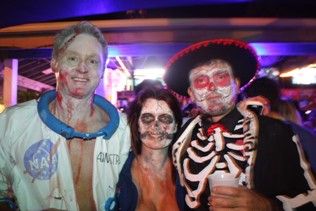 The entire Zombie Bike Ride/ Zombiefest event remains one of my most favorite events of Fantasy Fest week. The amazing fun spirit, the creativity, the (somewhat) familiar faces and the overall vibe of the event is really the perfect way to kick off the week of fun and frolic that is Fantasy Fest.