Zombie Bike Ride III
October 26, 2012
Zombie Bike Ride III
Zombies have been all the rage for the past couple of years, before that Vampires took center stage, but the pendulum of popularity of fictional occult characters has definitely swung toward the Zombie of late. Countless movies, a super popular cable tv series based on an equally popular comic book ("The Walking Dead") and even more zombie literature than ever; show that people are crazy about Zombies.
This trend has been obvious locally through the huge growth and expansion of our own annual Zombie event, held the Sunday before Fantasy Fest, the Zombie Bike ride. This year marked the third annual event and was by far the largest and most popular one ever as the crowd has grown from hundreds the first year to the more than 2000 bikers who participated this year- all dressed up in crazy Zombie garb and make-up.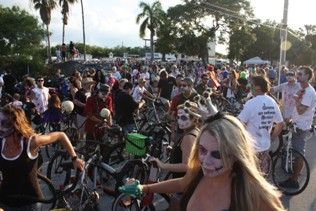 Liz
Jeremy
The event which starts at ReCycle bike shop on Stock Island and heads down US 1 and along South Roosevelt Boulevard to Salute Restaurant, where a break is taken for drinks, dancing and fun, before the entire Zombie mob hits the streets again heading downtown and down the length of Duval Street to Fogarty's.
Tom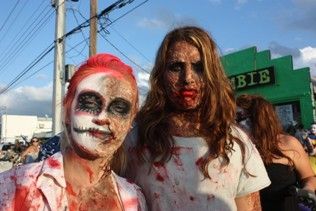 Jennifer & Wendy
TJ
Knowing the massive popularity and incredibly strong word of mouth for this event, I made sure to get up to Recycle early to get a prime spot in line so that I could assure myself to get my face painted by my favorite of the many excellent face painting artists that were on hand to create Zombies, Tony Gregory. Tony has done my face all three years and is one of the most talented artists in Key West. I was thrilled to get there in time to have him once again turn me in to a zombie.
Richard & Tony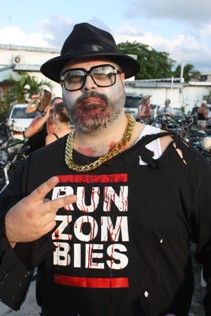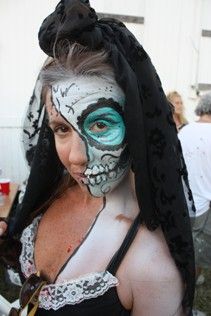 Being a mostly Key West locals event and sponsored and hosted by some of the most creative talents in the Keys, it is really no wonder that people go all out and spare nothing in turning themselves into some of the coolest Zombies you will ever see. Hollywood make-up artists have nothing on some of the amazing Zombie creations that people came up with.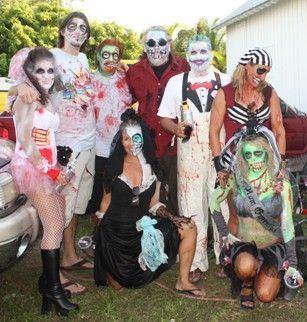 What is it about a Zombie that gets people so excited? You would think that people might be repulsed by the very idea of a Zombie, but after observing the relish with which so many of my friends (and myself) took to their zombie personas, it is abundantly clear that the fascination with all things Zombie is alive and well in Key West. The sheer number of people participating was mind boggling.
Elaney
A police escort was provided to safely guide the Zombies through the city streets and this year, it was really a necessity as the throng of biking Zombies simply took over the streets along the path. In both previous years, the Zombies were contained to the sidewalk along the beach on South Roosevelt, this year the entire street was overrun and traffic in normal vehicles was brought to a standstill. The drivers and their passengers did not seem to mind the hold-up at all.
George
The Collins family