Pog Mo Thoin
March 21, 2012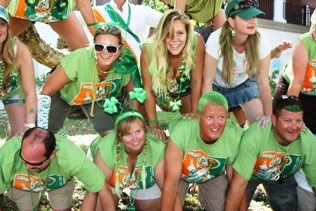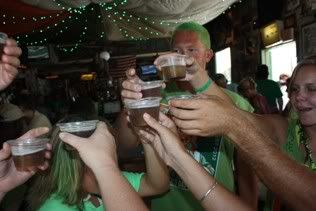 Pog Mo Thoin
The 34th annual St. Patrick's Day bar stroll took place this past weekend and for the first time ever, Kathy & I got to participate together. For the past few years, I have taken photos for the founder and organizer of the event, our friend Rick who has been there since the beginning when the stroll was actually a race, known then as the St. Patrick's Day Suds Run. The competitive nature and increasingly number of ill participants who could not handle running over a mile and downing beers at a series of a dozen or more stops precipitated a move to a more leisurely and popular bar stroll a few years in and it has been one of the largest events of the spring in Key West ever since.
Deb
Richard
Traditionally held on the Saturday that is closest to St. Patrick's day itself, the event actually fell right on March 17th this year. We gathered at the starting location along with perhaps a thousand other revelers, both official participants and those who simply tag along, often pulling wagons, kegs and small homemade bars along with them on the route.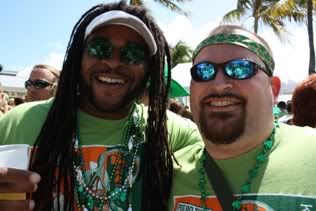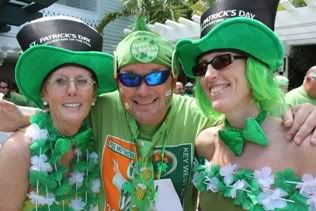 The weather was perfect and the crowd, which was a diverse mixture of locals, spring breakers, old-timers and young kids almost all wearing green, either the t-shirts from the event or some other manner of festive St. Paddy's gear. At noon sharp the beer started flowing at the Southernmost Beach Café as Rick gave the official starting command. Kathy & I had two large groups of friends that we sort of took turns hanging out with in a very disorganized meandering as we headed down Duval Street, stopping at every official stop for our free beer plus a number of unofficial stops that were not actually part of the organized stroll.
Melissa, Rhett & Kathy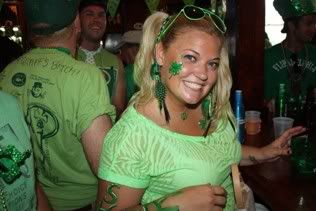 Liz
With-in a few stops the mass of participants was strung out along the length of Duval Street, a green-hued parade of happy people enjoying the day. Stops included the Tiki Bar at the Southernmost Hotel pool, Sweet Tea's, McConnell's Irish Pub, Cowboy Bill's, Jack's Seafood at the La Concha, Kelly's, The Bull, Rick's and the Schooner Wharf Bar.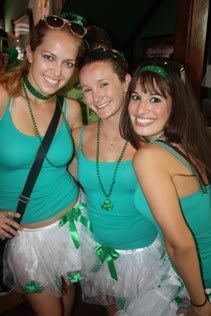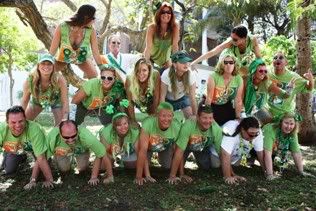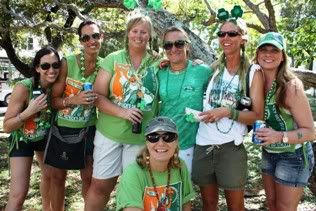 Kathy & I made additional stops at the likes of the Green Parrot and Grunt's as well and we stopped with our friends in front of the Court House for their annual St. Patrick's Day pyramid photo, which is always fun. In fact the entire day was fun, a lot of fun. I'm sure that I had a few too many, but Kathy was there to keep me on the straight and narrow.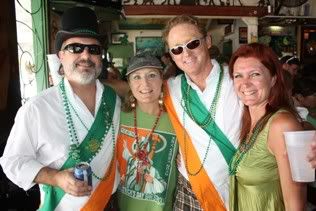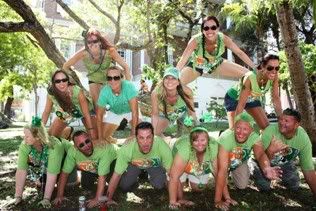 Kelly
One of the traditions of the stroll is for pairs to perform wheelbarrow walks across Duval Street in front of Rick's & Sloppy Joe's. The police actually stand there and stop traffic for the generally drunken strollers to perform this feat, which often has hilarious spills and thrills as drunken wheelbarrowers often face plant into the asphalt.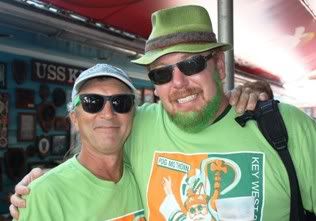 Buco & Michael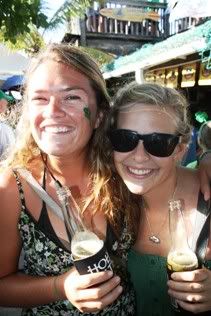 We completed the entire stroll and additional stops and then, not having enjoyed enough St. Paddy's shenanigans, headed over to the huge annual party at Finnegan's Wake Irish Pub, where we ate a delicious meal of corned beef and cabbage to complete the day. Thanks to our friend Mark, who kindly gave us a ride back across town to where our bikes were waiting, I sort of doubt that I would have made it back across the island. It was a fun time and a happy St. Patrick's day.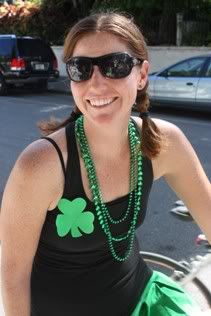 Breanne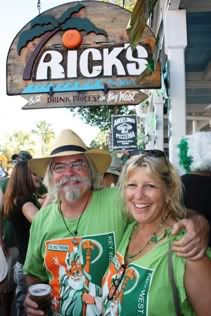 Rick & Cindy