Grand Haven
July 16, 2011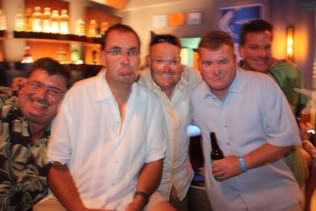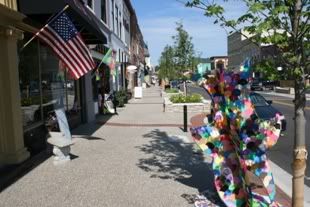 Grand Haven
Our first night in Grand Haven, Nadene & Trevor hosted a wonderful welcome party at a wonderful downtown restaurant called the Kirby House. The party basically took over a large section of the upstairs that filled with family and friends from out of town who were in Grand Haven for the wedding. It was here that we were able to meet many of their friends who do not live in Key West, people from their lives and experience the undeniable curiosity of seeing childhood, high school and college friends mingling with their current crop of Key West friends that only a wedding can produce.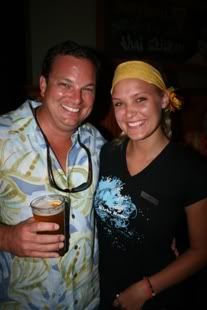 The restaurant was fantastic, the food superb and the service was lightning quick. It took merely seconds to get any drink you wanted from the open bar- a truly fun and frightening prospect for the Key West contingent. There was a good representation of Key West folks who made the journey up, a testament to the type of friends that Trevor and Nadene are to us. It was great fun seeing so many friends in a totally new setting.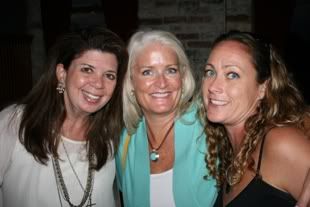 Brenda, Beth & Eileen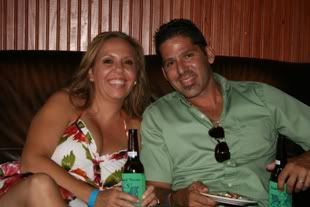 As great at the party was, it was just the start of a fun night that saw us all heading across the street shortly after 10 PM, (Crazily it does not get dark in these parts this time of year until that time) to witness one of the rituals of life in Grand Havcn, the nightly performance of the famous Grand Haven Musical Fountain.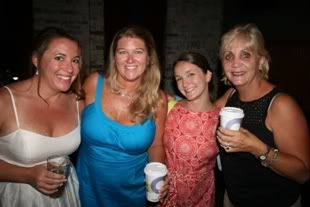 Nadene, Fiona, Suzanne & Marilyn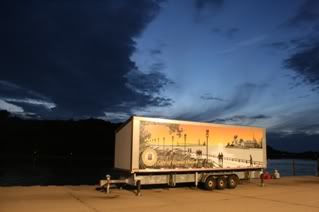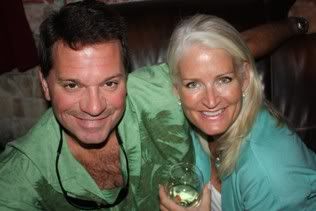 Greg & Beth
Built in 1962, the fountain is billed as the World's Largest Musical Fountain and each night performs a synchronized display of water and lights on the North shore of the Grand River across from downtown Grand Haven and the waterfront stadium which was built so that the hoard of tourists like us could watch its nightly performance. Each performance lasts about 25 minutes and features different musical selections each evening.
Kathy & Michael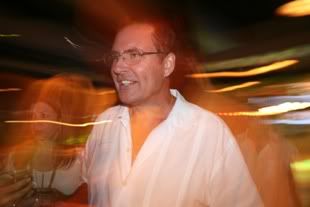 Uncle Jim
After the fountain, we decided to take in some of the night life in Grand Haven, starting out at an open mike night, which lasted about five minutes, then heading to a more upscale and happening bar called 22 Below, which featured chilling coasters built into the bar to keep drinks cold. We had a great time.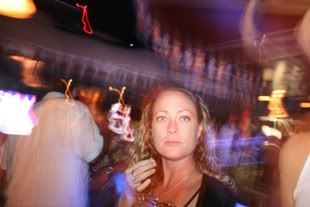 Eileen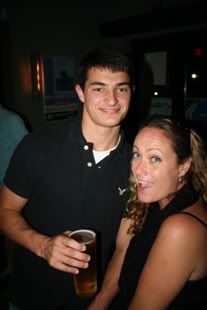 Cougar Alert
The next morning, Kathy & I took the Grand Haven Trolley tour to get an overview of the town. Unlike the highway robbery that Historic Tours charges for the Key West trolley tour, this one cost all of $1.50. It was a great little tour that went though out the town, past all the beaches, through downtown and back to the fishing marina where it started. Next it was over to join a Key West crowd at Snug Harbor restaurant where they were having lunch, though I actually had eaten previously at the famous Pronto Pup stand where I ate a Pronto pup, which is a famous corn dog like creation.