Typhoon Lagoon & Downtown Disney
June 11, 2011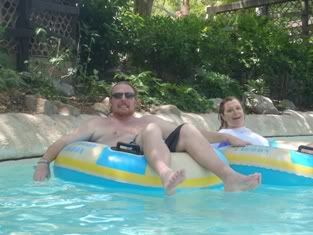 Michael & Kathy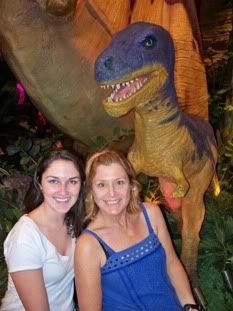 Dakota & Kathy
Typhoon Lagoon & Downtown Disney
With time running out on the annual passes that we purchased last year for Universal Studios in Orlando, Kathy & I wanted to squeeze one more trip along with our friend Dakota. We waited until the school year ended for both Kathy and for Dakota, who is attending the University of Florida in Gainesville. Kathy had been Dakota's mentor in the Take Stock In Children program while she was in middle school and high school, but now we simply count her as a friend and we have a great time hanging out with her in Orlando
Dakota & Kathy
Kathy & I flew up to Orlando on Air Tran late Friday afternoon, It was an easy 50 minute flight and before we knew it we were eating at one of our favorite Indian restaurants. There is a sad lack of Indian food availability in Key West and Kathy likes to enjoy Indian food when we get a chance.
After dinner and eventually getting settled in to the hotel, Dakota met us and we all headed over to the Downtown Disney complex for our first evening in town. Downtown Disney is an incredible complex of dining, shopping and nightlife that features a large number of mega- bars and restaurants such as a House of Blues, Planet Hollywood, a permanent Cirque du Soleil and the Pleasure Island complex of bars and stores.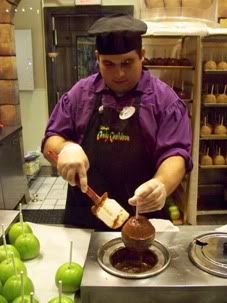 We did not stay out too late, opting to get up early and hit our first theme park early the next morning. The weather was sunny and warm, so we decided to spend most of the day on Saturday at Disney's spectacular water park, Typhoon Lagoon. The massive water park is home to the World's largest wave pool, a large number of amazing water slides and water attractions, a long lazy river and a snorkeling attraction that allows visitors to snorkel with live sharks, rays and reef fish.
Dakota & Michael
By arriving early, we avoided the crowds that tend to build as the day goes on and were able to go on all of the rides and attractions with virtually no waiting. Some of the water slides allow you to ride aboard inner-tubes, even with multiple people and others are more traditional slides that plunge you through twisting and turning mazes without a tube.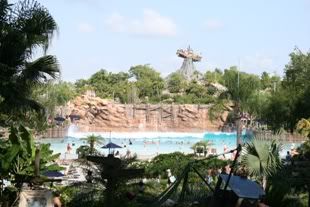 Dakota, Michael & Kathy
It was a ton of fun, Disney knows how to design and engineer a theme park, water or otherwise and we had a great time. The wave pool is especially cool as giant waves are created every few minutes. The park is also beautifully landscaped and features plenty of sandy beach areas to relax as well.