Island Summer
July 12, 2011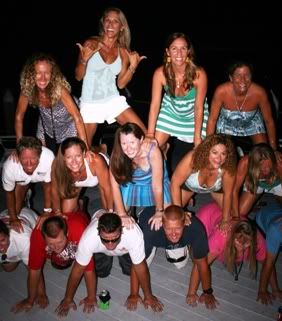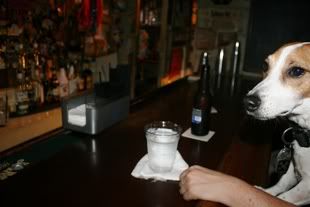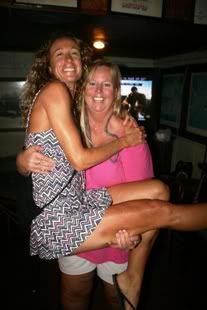 Robyn & Kathy
Island Summer
The pace of life slows down during the height of summer. With no snowbirds around and not so much to fill the social calendar like during the tourist season, the pace of life tends to be much more relaxed. The weather can get hot, but so far it has been about average and you really come to appreciate the fact that there are just less people around. Traffic is actually manageable and when you go out, you are much more likely to see locals than at some points during season.
Rick & Kathy
I love the pace of the summer in Key West. And just because it doesn't match the frenetic pace of the winter and spring, it does not mean that there is nothing going on, just that there are a few less options of things to do. It also means that the pace of on the water activity increases greatly and Kathy has spent much of her free time kayaking and paddleboarding.
Carolyn, Ron & Tom
Last weekend was sort of typical in that we had a plethora of events to attend on Friday evening and then the remainder of the weekend was just low key with some relaxing at home and a few water activities.
Friday evening started out at the Bottlecap Lounge for their non-profit happy hour benefit, this week's recipient was Heron Peacock supported living. Heron Peacock provides housing and services for the chronically mentally ill of Monroe County. It is a fantastic organization and it was nice to help support them. They had a silent auction, a spin and win wheel and of course all of the tips went to the organization as well.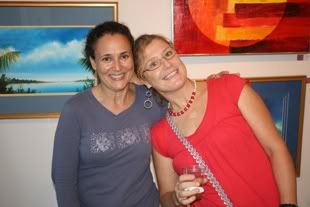 Marci & Kathy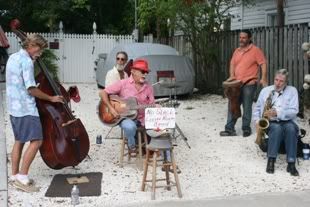 Theresa & Eric
Our next stop was at the Frangipani Gallery on Duval Street where our friend Will Fernandez was having an art opening featuring new works of sculpture that he had created. It was a nice show and it was great to see friends out and about enjoying the arts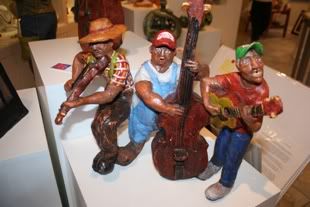 Finally we joined a large group of friends at the Galleon Tiki Bar for a bar stroll birthday party for our friend Kathy, who is one of the nicest and coolest people in Key West. She had organized a bar stroll to help celebrate her birthday and her friends turned out in big numbers to join in the fun.
We were already tired, but felt we had to make a short appearance to wish Kathy well, she is just that sort of person. We made it to three stops at the Chart Room and the Tree Bar at Rick's before calling it an evening. I am sure the festivities went late into the night with many additional stops. Kathy & her friends are a fun loving and great group of people to hang out with. We hope she had a great birthday.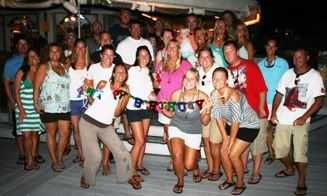 Heron Peacock Website