ACL Day 1
September 16, 2006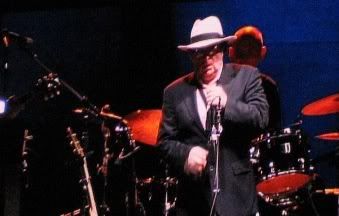 Van Morrison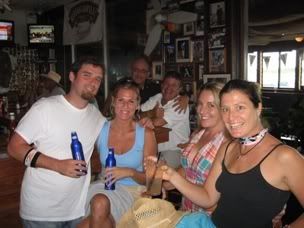 At the Conch Flyer
Wow- One day at the Austin City Limits music festival and I'm blown away…I'm also pretty exhausted. The sheer size and scale of the event is incredible and our first day was a 12 hour music extravaganza.
We almost didn't make it, thanks to the wonderful folks at Delta airlines. Our flights from Key West to Austin were a complete mess as we were delayed 5 hours and ended up having to fly to Orlando and Cincinnati before heading to Austin arriving late Thursday night. We spent the five hours hanging out at the Conch Flyer with friends David & Kim before flying off to Orlando. Melissa made it as well, but poor Nadene ended up spending the night in Atlanta arriving Friday morning just in time to head to the festival.
Kathy, Michael, Nadene & Melissa
The festival, held in a huge field at Zilker Park, features continuous music on 8 stages and over 130 bands, the main problem is selecting which of many different simultaneous bands to watch. Thanks to Nadene and BMI, we had awesome VIP passes and BMI stage backstage passes. The passes got us free admission as well as admission to the VIP Grove where they have delicious catered food, free beer, air-conditioned bathrooms and even free massages. It was a welcome respite from the 90 degree heat and 65,000 people crowding most of the stages.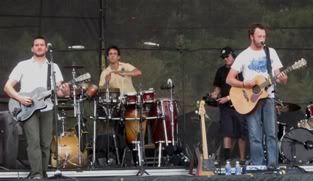 Guster
We saw a ton of fantastic music, at times separating to see our own personal choices. Among the bands that I saw were David Ford, Ghandaia, Asleep at the Wheel, The Greyhounds, Terri Hendrix, Guster, The Gospel Silvertones, Wolf Parade, Matt Nathanson, The Subdudes, Gnarls Barkley, Nickel Creek, Cat Power, Daniella Cotton, Thievery Corporation, Ray LaMontagne and Van Morrison.
Ray LaMontagne
Picking highlights is pretty tough, but Van Morrison, Guster and Matt Nathanson were the most impressive that I saw. Van Morrison looked and sounded fantastic and played a wide-ranging and impressive set that included a great cross-section of his magnificent career. Guster's set was awesome as well and we managed to get up front and center for their show. The best person who I was mostly unfamiliar with was Matt Nathanson, he was great, relaxed and funny and talented as well. Both Nadene & I bought his CD. All in all it was an amazing, and tiring day. We got caught at the end in a huge long line waiting for the free shuttle that will not happen again. It takes some time to move 65,000 people all at once using busses.
Matt Nathanson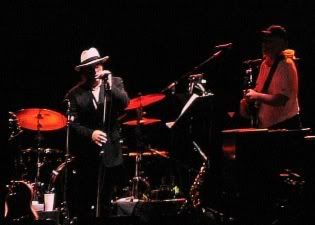 Van Morrison
http://www.asleepatthewheel.com/
http://www.mattnathanson.com/
http://www.vanmorrison.co.uk/