More Coachella
April 15, 2013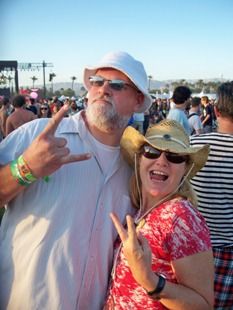 Abe & Kathy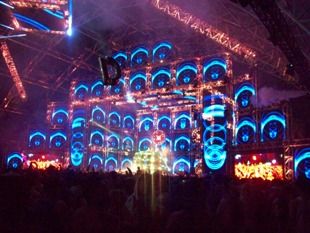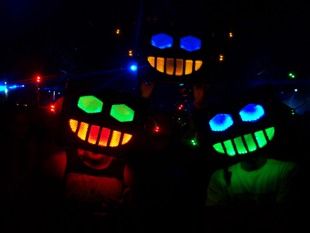 Ben Howard
More Coachella
The experience of attending Coachella is tough to explain, it is massive and intimate at the same time; it is a variety of experiences that are as diverse of the music that is found there. As the first major music festival of the busy summer festival season, which seems to grow by leaps and bounds each year, Coachella is one of the most important for bands to play. The proximity to Los Angeles provides additional cache as the entertainment industry, especially the music industry has made Coachella one of the "must play" festivals of the year.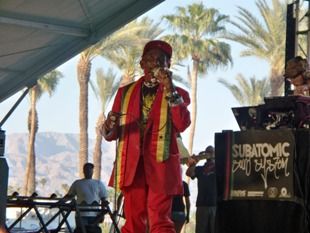 Lee Scratch Perry
Of Monsters and Men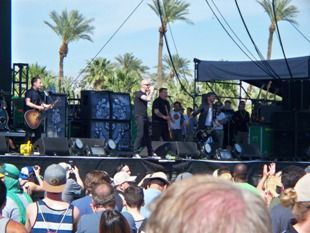 Dropkick Murphys
Major band reunions take place almost every year as well as major bands' debut performances. Also crazy interesting once in a lifetime collaborations are fairly common here as well. All these things took place once again this year at the show. Which featured the typical mélange of acts performing in front of 80,000 plus fans spread out over the Polo grounds.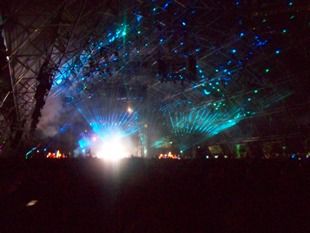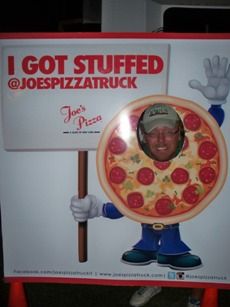 Kathy and I have had the good fortune to attend a few of the major festivals on the summer festival circuit including larger mega-fests like the ACL (Austin City Limits) festival in Austin, Lollapalooza in Chicago and Langerado in Miami as well as a number of smaller, more intimate festivals such as Folks Fest. Coachella had many of the same features of the bigger festivals with pretty damn good weather. The sunshine warmth, low humidity and breeze made for a fairly pleasant experience.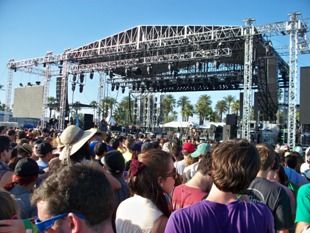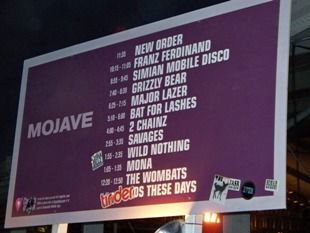 In addition to George and Jalak who we came with to the festival, we had another friend who was in from LA for the show. My friend Abe, who is an actor was coming for both weekends is a Coachella regular and music guru. He has always had some of the best taste in music of anyone I know and so it is no surprise that he would be there and it was great to see him.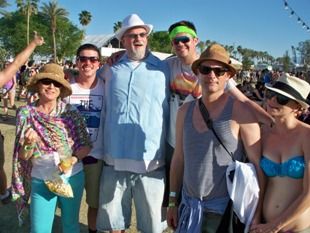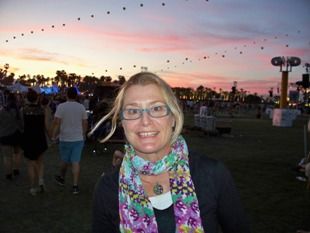 Kathy
Some of the acts we caught all or parts of included Passion Pit, Local Natives,
Wolfgang Gartner, Grinderman,FOALS, Bassnectar and Trent Reznor's new band How to Destroy Angels. On Saturday, we followed pretty much the same plan, arriving in the early afternoon in time to see a crazy set from the Irish band Dropkick Murphys, followed by the British singer Ben Howard, who was one if the acts that I was most looking forward to seeing. Howard played a low key, yet very well received set that did not disappoint.
Ben Howard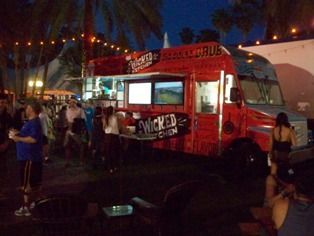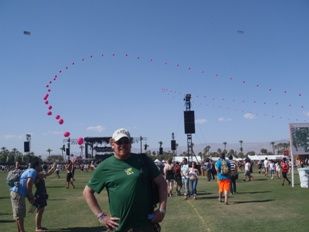 Next up was a sort of odd set from Bat for Lashes, then some of Major Lazer and Grizzly Bear before heading over to the craziness that was the Sahara tent where Benny Benassi had a set as a DJ before thousands of screaming and dancing fans. The incredible light show and energy from the EDM tent was unbelievable. I have never been much of a fan, but I have to admit that we were mesmerized by the shows every time we went to that stage.
Of Monsters and Men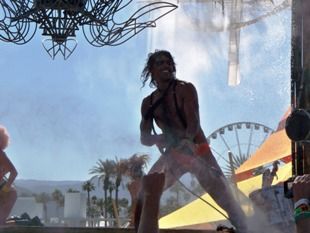 During the day, many of the smaller stages and arts areas hosted some great live arts displays including multiple performances by the artistic burlesque troupe know at the Lucent Dossier Experience, who performed a show that was part burlesque, part acrobatic display and part humor including vigorous dousing of the assembled crowd and each other with water hoses that provided relief from the desert heat.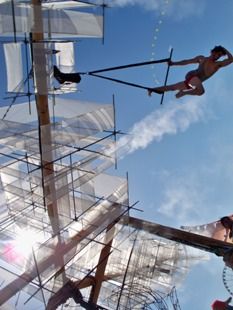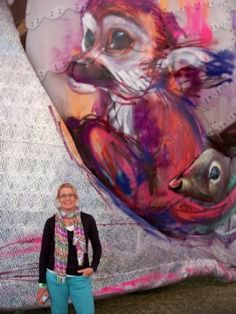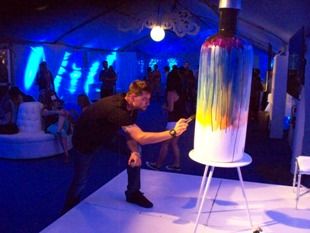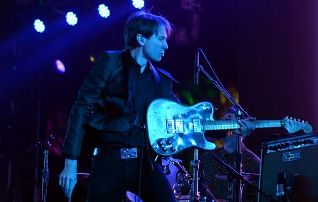 Franz Ferdinand
Some of the bands that I most enjoyed played Saturday evening and night. We saw a wonderful set by the reunited band The Postal Service, the side project of Death Cab for Cutie lead singer Ben Gibbard. The reunion to mark the 10
th
anniversary of their only CD release was another huge coup for Coachella and the band played together for the first time in years.
Next was another incredible DJ set in the Sahara tent, this time by the legendary Moby who had the crowd in an absolute frenzy. We watched that for a time before heading over to watch a terrific high energy set by the band Franz Ferdinand which was in my mind the most positive surprise of the weekend. I had not originally planned to see them at all and their set was among my favorites.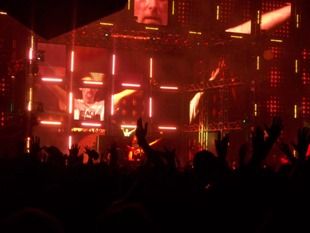 Moby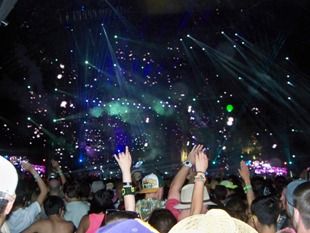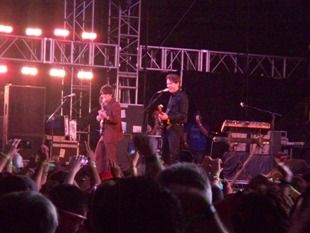 Franz Ferdinand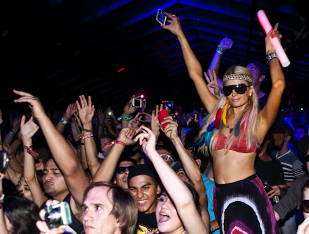 Paris Hilton
We closed out the evening with sets from the XX, Phoenix, Janelle Monae and another reunited band, New Order, who played a fantastic set that was a mix of their new stuff and their classic new wave hits from the eighties. Their set drew its share of celebrities including the likes of Paris Hilton and Leonardo DiCaprio and Alexander Skarsgard who was standing just in front of us.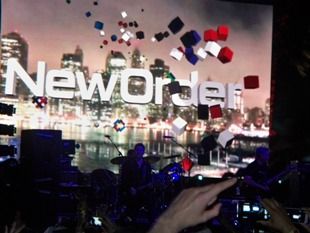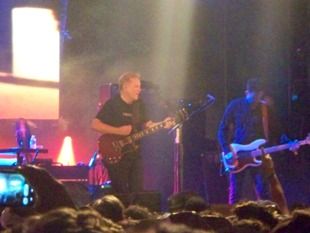 New Order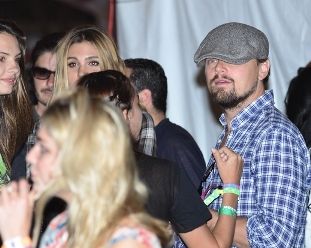 Leonardo DiCaprio
New Order, "Perfect Kiss"
http://www.lucentdossier.com/