35th Annual St. Patrick's Day Bar Stroll
March 18, 2013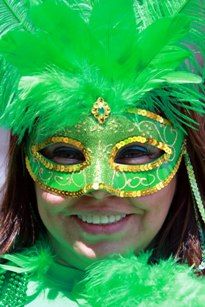 * photo by Noa Siegrist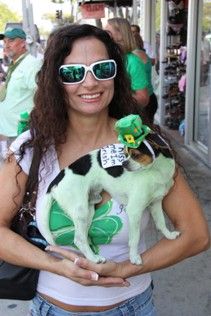 Kim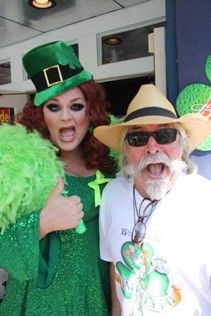 35
th
Annual St. Patrick's Day Bar Stroll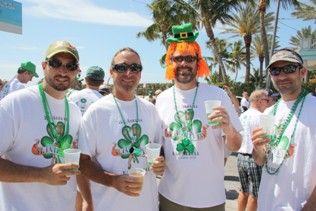 Matt
The competitive nature and increasingly number of ill participants who could not handle running over a mile and downing beers at a series of a dozen or more stops precipitated a move to a more leisurely and popular bar stroll a few years in and it has been one of the largest events of the spring in Key West ever since. A few of the old original suds Run crew are still around, including our friend Buco, who won some of those earliest races and as recognition is given entry # 0001 every year.
With-in a few stops the mass of participants was strung out along the length of Duval Street, a green-hued parade of happy people enjoying the day. Stops included the Tiki Bar at the Southernmost Hotel pool, , McConnell's Irish Pub, Aqua, Charlie Mac's, Jack's Seafood at the La Concha, Kelly's, The Bull, Rick's and the Schooner Wharf Bar.
Kathy & I made additional stops at the likes of the Green Parrot as well and we stopped with our friends in front of the Court House for their annual St. Patrick's Day pyramid photo, which is always fun. In fact the entire day was fun, a lot of fun. I'm sure that I had a few too many, but Kathy was there to keep me on the straight and narrow.
One of the traditions of the stroll is for pairs to perform wheelbarrow walks across Duval Street in front of Rick's & Sloppy Joe's. The police actually stand there and stop traffic for the generally drunken strollers to perform this feat, which often has hilarious spills and thrills as drunken wheelbarrowers often face plant into the asphalt.
We did not see that happen this year, but sadly heard that it happened to a friend of ours who bruised her face up pretty good. Ouch. Well time heals and maybe next year she will be content to just watch with us.