Fantasy Fest
October 30, 2012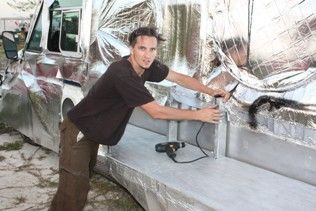 Rock
Fantasy Fest
For most of the past twenty years that I have lived in Key West, I have spent the final night of Fantasy Fest riding aboard a float in the main parade. I think it has been more than fifteen straight years on a float created by my friends Rick, Steve, Hutch and David. That's a lot of years of fun, many prizes including winning the overall float grand prize a few times..it has been a great ride. But nothing Gold can stay and alas this year, our group did not actually enter the parade for the first time and Kathy and I were left not knowing exactly what to do.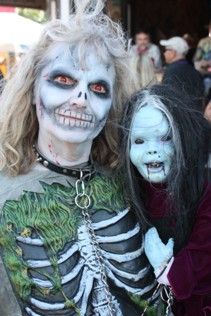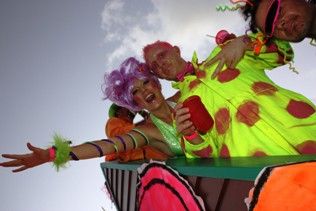 Erin & Chris
Every year for at least the last five, we have heard that, "This was the last year we are doing this….", apparently last year it was actually true. As fun as the float is for most involved, it is a ton of work and a huge expense and also takes an inordinate amount of time and can often be exhausting, so this year there was no entry from us.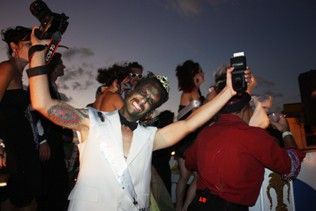 Tom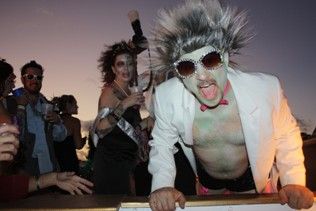 Marky
Kathy and I had a few offers from other friends who also create floats, any of which would have been great fun, but we made a conscious decision to take in the parade as spectators this year and watch with the thousands of other revelers from the street. I did not even don a costume for Fantasy Fest night, for the first time in years. It was a very different experience.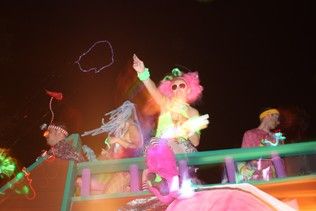 While it was bittersweet not to be riding on a float, in a way it seemed very freeing and we were able to go and do whatever we wanted and watch from wherever and actually go out and enjoy the massive party that is Fantasy Fest.
Lisa & Kathy
Carolyn
One of my favorite parts about riding on the float has always been hanging out in the marshalling area in Truman Annex prior to the start of the parade. It is always fun, full of anticipation and everyone always looks as good as they are going to the entire night. There was nothing to stop us from heading down and taking part, even though we were not on a float, so that is exactly what we did.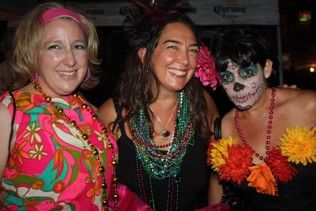 Ann & Dan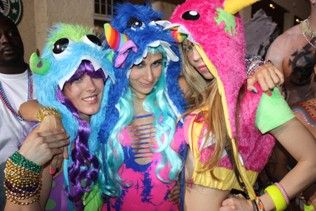 It is so cool to see all the floats lined up and everyone making their last minute preparations. We ran in to lots of friends including many refugees from our old gang including two of the principles who each joined in the parade without all the stress of being responsible for a float. It was nice to see so many friends.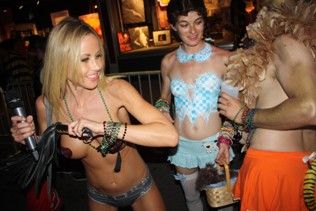 Esme & Cayman
As the parade started, we walked over to watch from near the very start of the parade route and watched the floats as they exited the marshalling area and begun the long parade. Well actually it wasn't that long, in fact it was sort of short, over in a little more than an hour – due to the combination of fewer floats and that at the beginning the parade does not have time to get all strung out.
It was pretty decent parade and fun to watch from the throngs on the street. The early finish for us allowed us to sneak over to Braza Lena to grab a bite to eat while the parade was still heading down Duval street and to once again finish our evening and Fantasy Fest celebration at the Porch. It was another wonderful and wacky Key West experience.