Walking in a Wiener Wonderland
January 1, 2011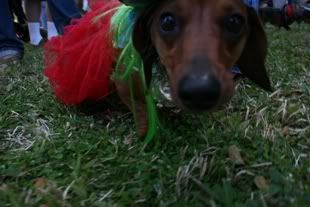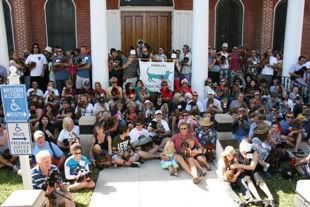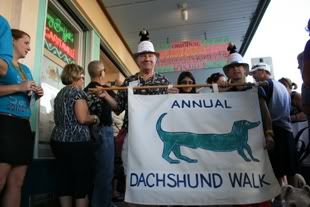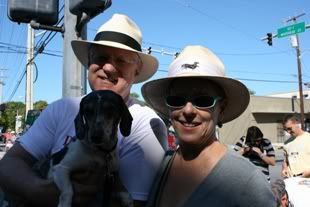 Dan & Ruth
Walking in a Wiener Wonderland
One of the wackiest, most interesting and fun of the many events that surround the New Year's Eve celebration in Key West is the annual Dachshund Walk that marked its sixth year this year on New Year's eve day at noon. The event is loosely organized by my friends Ruth & Dan each year as a way to bring together owners and their pet wiener dogs.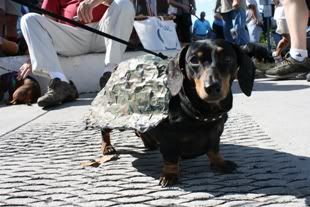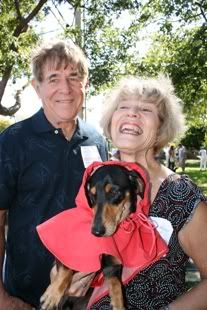 Bert & Clare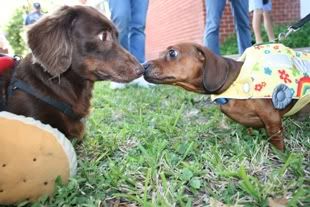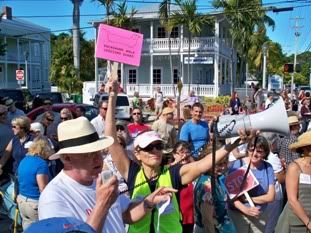 Each year the event has grown in size and scope both with participants and their pets as well as ever larger crowds that line the route to watch the parade of pooches. Participants and their dogs gathered on the grounds of the courthouse on Whitehead Street then somehow manage to pose briefly for the ubiquitous group shot photo before heading off on the short walking route.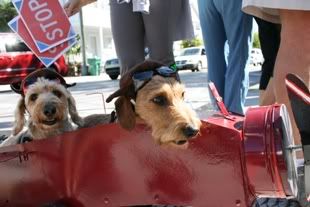 The route this year was the same as always, down Fleming Street to Duval, turning right and heading down Duval 1 block, crossing the street and heading back down the other side of the street and returning down Fleming to the starting location. Sounds simple enough.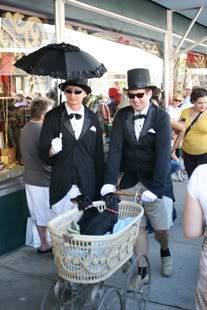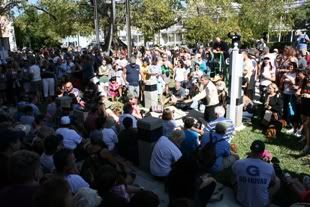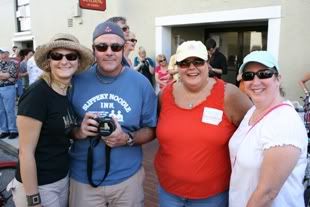 Najada, Howard, MK & Kris
Ruth & Dan have been ultra conscious about keeping the event fun and low-key as well as safe and enjoyable for both participants and those who turn out to watch the festivities. Pretty much right away, I could tell this year was going to be somewhat different than past years.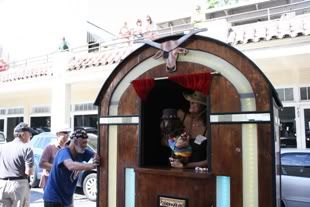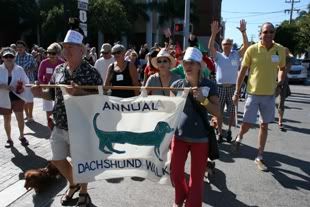 The crowd was already large 30 minutes prior to the scheduled start and it was obvious that an all-time record number of wiener dogs and owners were participating. In fact there were 198 dachshunds in the walk and that does not count the large number of wiener wanna-bes (other pets, dogs, cats and even a bird) that were there but not actual dachshunds.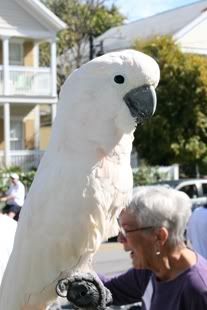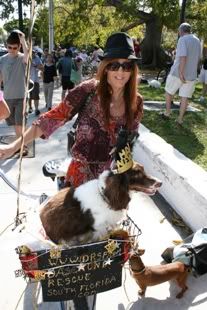 By the time the group photo was set-up the crowds had swelled even more and the walk itself was unlike any previously held. First off the crowds were huge, spilling out into Fleming Street and into Duval, the procession was constantly slowed by the large crowds blocking the path. It was especially chaotic at the corner of Fleming & Duval where the event experienced the first mishap in its history when a spectator had a foot run over and was injured.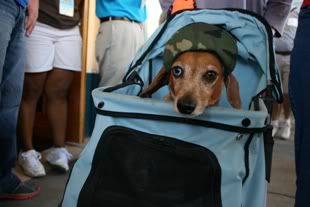 That sort of cast a pall over the event and the large number of police suddenly on scene took the focus off the dogs and on to the crowd. The event, like many Key West events is in the process of becoming a victim of its own success. It is still a remarkable thing to see the large assemblage of wiener dogs, many in costumes and out to enjoy the day, but something may need to be done to ratchet back the intensity a little in future years. I hope a happy medium between the event becoming too large and organized and somehow it can retain the funky silliness that Ruth & Dan have created.