Foodie Frenzy
January 11, 2011
Calvin Trillin & Roy Blount, Jr.
Ruth Reichl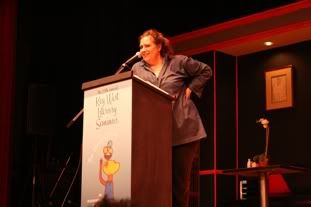 Molly O'Neill
Foodie Frenzy
"Anyone who thinks they're too grown up or too sophisticated to eat caramel corn, is not invited to my house for dinner." – Ruth Reichl
The first session of this year's Key West Literary Seminar was a wonderful mélange of delightful readings, panel discussions, amazing dinners and enchanting receptions all focused on something that everyone has some interest in, food. More specifically food as it seen through the lens of the written word, though that seemed at times lost on many of the participants and food itself became the focus.
Billy Collins, Harry Matthews & Roy Blount Jr.
After all, everyone has an opinion on food, from the neediest hungry people who are simply seeking out their next meal to exist to the most elegant gourmands who spend their lives eating in luxurious excess. This conference tended to lean towards the latter, though some of the panelists made it a point that we at least consider the former as we made our way through the weekend.
Judith, Diana, Julia & Madhur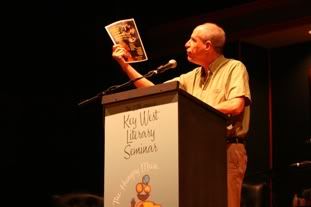 Miles
It would be impossible to pick out the best of what was a truly enjoyable and entertaining session. The readings and panels were fantastic and I think that was in large part due to the fact that so many of the speakers seemed to know each other and certainly loved the subject matter. They all seemed to be having a great time, which always translates into an enjoyable experience to those in the audience.
Madhur Jaffrey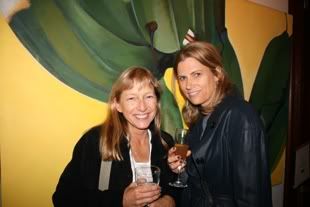 Margaret & Margit
Julia Reed
Judith Jones, Jason Epstein & Molly O'Neill
Some of my favorites were the beautiful reading from "The Language of Baklava" by Diana Abu-Jaber, which prompted the audience to flood the bookstore and buy up every copy available as soon as it ended. Julia Reed was also a revelation; she seemed like the panelist that I would most like to hang out with for a few days, though I don't imagine that I could keep up with her.
Ruth Reichl, Jonathan Gold & Frank Bruni
Of course the Saturday evening pairing of Calvin Trillin & Roy Blount Jr. was about as enjoyable as anything I have ever seen at the seminar. Amazingly funny, witty and totally at ease with each other, the two shared a wide-ranging discussion that included everything from Key West Chickens to the infamous Scrub Club. The seminar staff had worked a few shenanigans into the program, hoping to catch them off guard by having drinks delivered on stage, then having them serenaded by Nancy3 Hoffman on accordion and finally having Chinese food delivered to the stage. It was a fun evening.
Nancy3 with Calvin & Roy
George Kamide, Kim Adrian, Judy Blume & Brynn Saito
I also much enjoyed the readings by this year's award winners. Three young writers were honored this year, Kim Adrian, George Kamide & Brynn Saito, each being introduced by our board member Judy Blume and then allowed to read from the work that earned them the award. It is an exciting time for them, but they each did beautifully.
Ilana
Liam
The social aspect of the seminar was in full swing as well; the reception on Saturday evening at the Customs House was especially nice and included a preview of their new exhibit on Henry Flagler's railroad as well as delightful food and music by the lovely Melody Cooper. All in all it was a wonderful first weekend.
Jason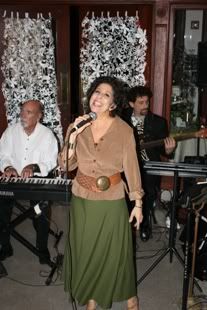 Melody Cooper
Doug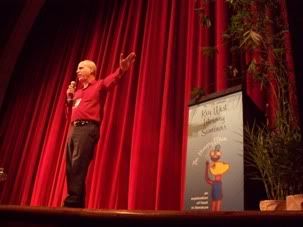 Miles