Willie & Lobo
May 16, 2011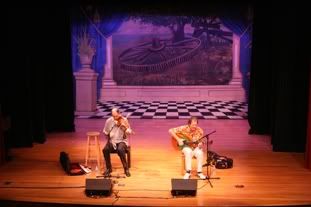 Willie & Lobo
The end of the songwriter's festival certainly did not mark the end of great music in Key West. While the condensed schedule and numerous shows and performers were an amazing treat, the regularly scheduled entertainment options found in Key West continue throughout the year. In fact there has already been another fantastic show held here at the San Carlos Institute this week with the return of the incredible Willie & Lobo.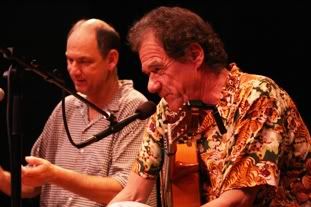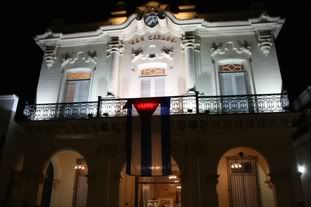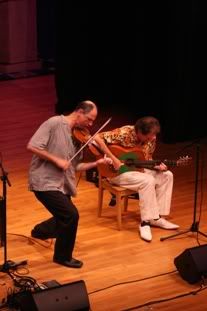 The incredible World music duet featuring Willie Royal on violin and Wofgang "Lobo" Fink on guitar was returning once again to Key West as a part of their reunion tour. They had officially disbanded in 2007, but popular demand and an intense desire to return to the stage had them back on tour this year.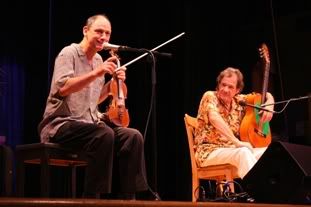 The show was organized by Charlie Bauer who also brought us the songwriter fest and was held in the most beautiful music venue in Key West. I was not really familiar with the duo, but had been asked to photograph the show and was able to go while Kathy was up in Marathon practicing for the Dragon Boat Races.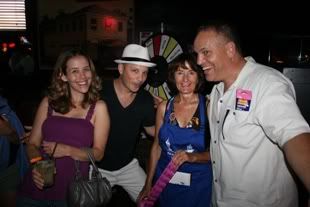 After seeing the immense talent and getting to watch the pair up close and personal, I was thrilled to discover what the crowd assembled at the San Carlos was already well aware of. The place wasn't full, but the people there seemed to have a cult-like devotion to the incredible music that the pair performed. You should check out their website, which I have linked below to get a taste of their eclectic music.
The other event that I attended that evening was actually before the show.
The weekly happy hour benefit at the Bottlecap Lounge, which this week was held to raise funds for another of our favorite Key West institutions, The Studios of Key West. The event featured two canvases that were painted on the spot by a series of Key West artists and then were raffled off to a lucky pair of winners.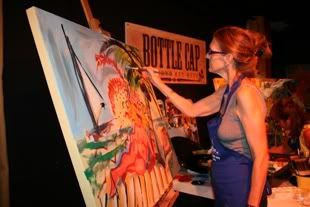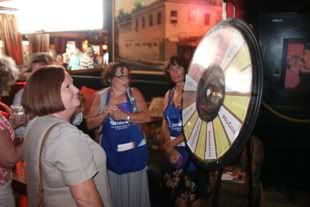 Many of the studios artists contributed to the finished paintings which were created in front a large and enthusiastic crowd. It was a fun evening that hopefully raised a decent chunk of change for the Studios. The tips collected by such "celebrity" bartenders as Mark Hedden also added to the take for the Studios.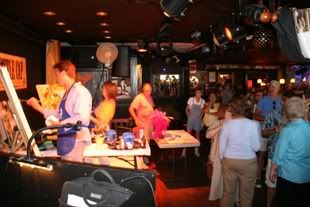 Willie & Lobo website