Honky Tonkin'
May 2, 2011
Jamey Johnson
Honky Tonkin'
For the past seven or eight years, the hottest ticket of the annual Key West Songwriter's Festival has been the late night party hosted by Jamey Johnson at Irish Kevin's bar. Ticket might be a misnomer as the show is free and open on a first come first served basis. The show features Johnson and most of the top draws of the festival in a free-for all style during which the performers take turns performing whatever the heck they feel like – all the while consuming as copious amounts of alcohol as the packed house.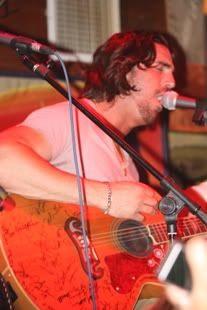 This year featured the likes of Johnson, Dallas Davidson, Jerrod Niemann, Rhett Akins, Randy Houser and Lee Brice as well as just about any of their friends and fellow songwriters who happened to want to perform. The packed atmosphere, free flowing alcohol, rowdy crowd and performers and anything goes attitude provides the closest thing to a real life Honky Tonk as anything I have seen in Key West- with the possible exception of similar shows held at Cowboy Bill's.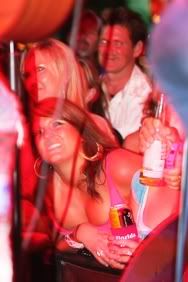 This show is the one that everyone wants to see though, as evidenced by the huge line of people that formed hours before the 10 PM scheduled start time. Once full, getting in was even more difficult and some people waited two and three hours just to get in. Thankfully Kathy & I could avoid that mess thanks to our press passes and got in fairly easily. Of course getting in was only part of the problem as once inside it was so crowded that moving anywhere in the place proved problematic. I was able to push my way up front to get a few shots- none of which come close to capturing the atmosphere of what it was actually like in the place.
Whether the performers or audience was having a better time was also difficult to determine, but it certainly was an experience. It made for a late night as well as they played well into the early morning hours, much to the delight of the assembled masses.
Morning arrived early the next day and we just so happened to have signed up for an early morning 5K at St. Mary's church, so we dragged ourselves over to walk the 5k. Perhaps I should be exhausted and hung over for every 5K I do as I managed to finish in first place in the male walker division with my best time ever. Kathy came home 4th in the women's category.
Caryl Parker
Wendy
Our next stop was at the Southernmost on the Beach for the afternoon pool party where Kathy & I were scheduled as official volunteers. It was another perfect Key West day- sunny and warm with a gentle breeze off the ocean that made just about a perfect setting for an afternoon of music.
Aaron Scherz & Greg Crowe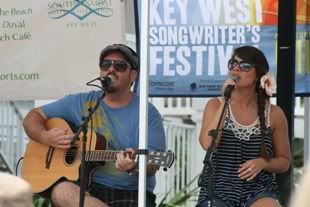 The line-up of songwriters performing poolside included Lisa Torres, Jon Roniger, Phoenix Mendoza, Dan Adams, Aaron Scherz, Greg Crowe, Jason Saenz, Caryl Parker, Jeff Cohen, Kate York and Tami Hinesh. It was an excellent line-up but one that passed by like a blur as we were still recovering from the previous night and the early morning race.
Lisa Torres