500 Festival Parade & Fashion Show
May 28, 2012
500 Festival Parade & Fashion Show
"So far as I can see, a parade has value in but two ways--as a show and as a symbol, its minor function being to delight the eye, its major one to compel thought, exalt the spirit, stir the heart, and inflame the imagination." – Mark Twain
The Indianapolis 500 is way more than a simple race, for the city of Indianapolis is part of a much larger month long festival of events and activities that in many instances have really very little to do with racing at all. Each year, I attempt to attend and participate in some of these peripheral events and soak in the spirit that is May in Indianapolis. Two of the biggest and most prestigious are the annual Cara charities Indy 500 fashion show and the huge Indy 500 Festival Parade, both of which we attended this year.
The Cara charity fashion show and luncheon is an annual event to raise money for various local and national charities through the Championship Auto Racing Auxiliary (CARA) that has been held for thirty-one years. This year the event was held once again in the ballroom of the downtown Indianapolis Marriot Hotel and was another huge success with a packed house of local dignitaries and fashionistas who came to watch Indy 500 drivers, minor celebrities and models as they donned the latest fashions to support the charity.
This year in addition to taking my sister Michele, who came with me last year as well, my mother Marta and wife Kathy were both in town and able to attend and take in the festivities. Honorary driver chairs James Hinchcliffe and three-time winner Johnny Rutherford were on hand as was host Bob Jenkins to keep things moving. It was a pleasant enough afternoon and it was fun to spend a fun lunch with three such wonderful and important women in my life.
When the luncheon was over, I dragged Marta and Kathy out to the Indiana State Fairgrounds to attend the annual Indy 500 memorabilia show. I am sure they were not too excited, but they gamely went along, actually enjoying the huge Lego recreation of the Indianapolis Motor Speedway.
The Saturday prior to the race, Kathy, Dakota, my nephew Chris & I all headed to downtown Indianapolis along with about 300,000 other people to watch what is now the third largest parade in America after the Macy's Thanksgiving Day Parade and the Tournament of Roses Parade. The parade has been an annual tradition since 1957 and features everything you might expect from a traditional parade. Huge college and high school marching bands, Floats including many featuring minor celebrity types and the huge floating balloons like you see in the Macy's parade as well as all thirty-three starters for the Indy 500.
It is quite a spectacle and quite enjoyable and one that in spite of the massive crowd, it is relatively easy to find a free unobstructed view along the route to catch all the action. The weather was hot, but not totally unbearable and the ninety minute parade seemed to go by pretty quickly.
It was a pretty fun afternoon and we were able to get in and out and avoid any traffic and get a good vantage point so it was all good. I really haven't been to the parade all that often since I was a kid, but it is still pretty cool to see and I think both Dakota & Chris seemed to enjoy it so that was cool. It has a very middle-America wholesome patriotic feel to it as well, partly because it is held on Memorial Day weekend, but also I think those values are still fairly strong in the Midwest and it is sort of nice to know that everywhere in America has not turned totally cynical and bitter.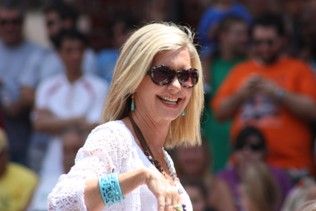 Olivia Newton-John
Florence Henderson
Scott & Emma Dixon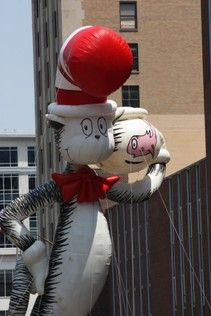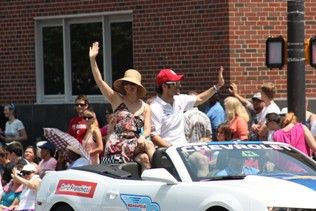 Ashley Judd & Dario Franchitti
Maria Menounos & Derek Hough