Carb Day Mayhem
May 24, 2209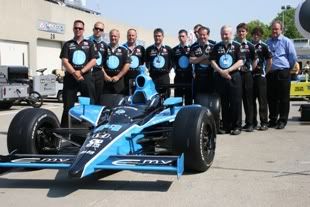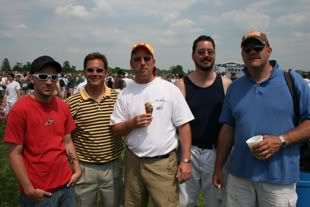 Carb Day Mayhem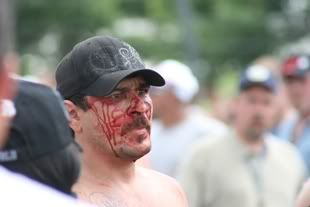 The final practice day for the Indy 500 has been known for years as Carb Day. It is a misnomer since the cars that compete in the race do not actually have carburetors but people don't seem to mind. For many years the festivities were held on the Thursday prior to the race but for the past few years they have switched things to Friday and added a bunch more to the entertainment bill in hope of drawing larger crowds. This year provided a perfect confluence of perfect weather, great entertainment and a fast and deep field of drivers.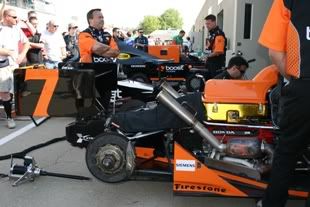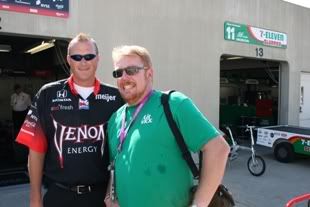 Jason & Michael
For the past few years, I have joined my friends Mark Wolfe, Kevin Love, Pat Davis and JR Lynch in attending carb day which has become more of a raucous party than anything that focuses too much on racing. Pat & I got there early enough to go through the garage area before securing a space along the main straight to watch the single hour of final practice along with over 100,000 fans who crammed into the speedway.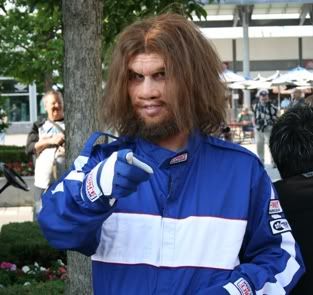 So Easy A Caveman.....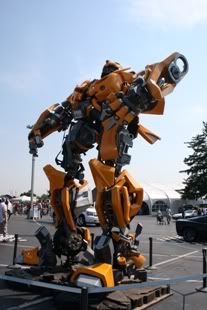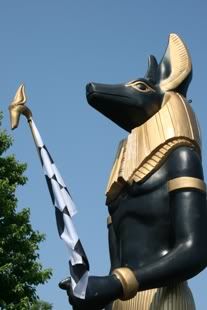 The practice itself was over quickly as all 33 drivers made their final preparations before the race. The practice was followed by the Freedom 100, a sort of minor league race for the Indy Lights cars that was won by Wade Cunningham. Next up was the Miller Lite Pit Stop completion which was won by team Penske and Helio Castroneves.
Pat
3 Doors Down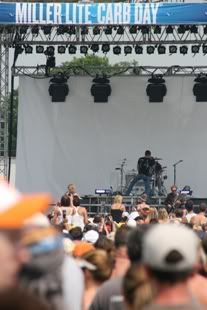 After the pit stop competition, we made our way over to the Carb Day concert to watch the amazingly drunken mayhem that was the concert by 3 Doors Down. There was a massive, wild crowd complete with drunken fights. We saw one poor guy who had been hit over the head with a bottle and just wanted to keep partying when offered a choice by police to either seek medical attention or go to jail.
3 Doors Down at Carb Day
As fun as the activities were, Pat & I ducked out early so that we could join his mother and his sister Evelyn and her family for dinner at Bravo on 86th Street. It was a wonderful opportunity to catch up with friends that I hadn't seen in ages and about a million miles away from what was happening at the track. Visiting with old friends is what makes coming back year after year to the race extra rewarding and the Davis family are among my closest friends.
The Davis clan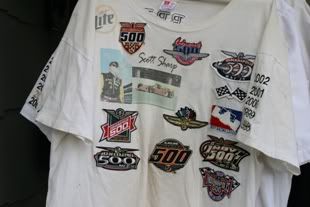 100 lap club shirt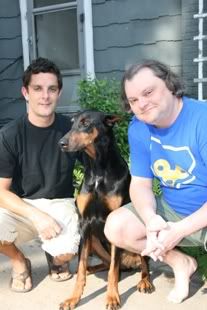 Eric & Tim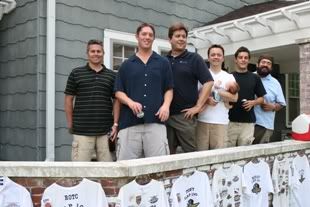 Speaking of close friends, I joined a bunch more that evening as I returned to the old neighborhood first to meet up with the Micheli brothers, Tim & Eric who were hosting their annual carb day cookout before heading off to another race weekend ritual, the Calcutta gambling event at the K of C. Generations of Michelis all gather with their friends each race weekend for a variety of events and activities.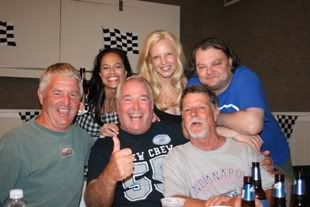 Eric and his friends even have the prestigious "100 lap club" that has been attending races together for years. The Calcutta was as fun as always, we managed to raise enough cash to bid on only the lowly row 10 of the field, but it seems to matter less and less each year as the big money seems to dominate.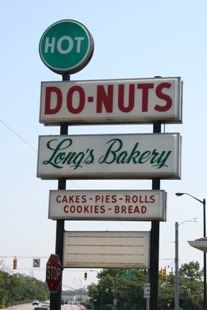 The best donuts in Indy
Beth & Lance